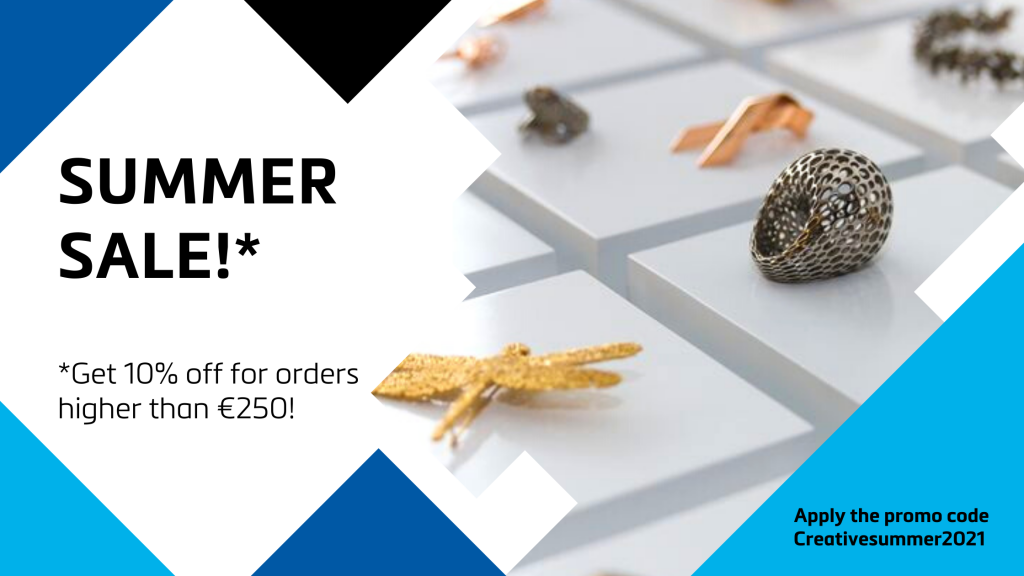 The Heat Is On: Get 10% Off On All Orders Over €250 With Our Promo Code "Creativesummer2021"! 
by Iva | July 15, 2021
This summer might be the perfect time to start a new 3D project and materialize your wildest ideas. If you are taking a holiday from work, you can dedicate more time to your hobbies, including exploring your creativity in 3D software and design something extraordinary. To give you an extra creative boost, this week, we are launching our special Summer Sale!
From July 15 to August 15 (incl.), you get a 10% discount on all orders over €250! That's right, for the entire four weeks, you can add the promo code Creativesummer2021 at checkout to apply the price reduction.
So, are you ready to start creating your next 3D-printed masterpiece? If you need some inspiration, we picked out a couple of neat ideas from our community members. From a reusable 3D-printed bag to an electric longboard, the options are limitless.
Let's check them out…
Following the road of sustainable, innovative design and rebelling against fast fashion is the essence of MALINKO design studio, run by Marta Cherednik. This Singapore-based 3D printing designer creates 3D-printed jewelry, homeware, and stylish reusable 3D-printed bags.
If bags aren't your thing, maybe you can create a unique and personalized piece for your ride! Miguel Vargas is a car enthusiast who designed the paddle shifters on the steering wheel of his beloved Ford Mustang.
With a bit of help from our Mammoth Stereolithography machines, the Raversyde Museum in Ostend, Belgium, printed a 3D replica of the Mauretania ship that carried out different but essential functions during WWI.
Bad sound kills good music, but amazing headphones take your experience to the next level. Industrial designer Jose Cunyat took his passion for music and 3D printing to create unique versions of the Sennheiser HD25 headphones and launched his own company — LOCONOISE.
As a visual artist and photographer, Noell Oszvald is curious about expanding her 3D sculptures and experiment with light and shadow. Thanks to additive manufacturing, Noell can create her intricate and poetic art pieces.
3D technology can help bring unique visions to life, especially when it comes to designing sophisticated jewelry. London-based jewelry brand Maria Piana strives to create a new aesthetic of abstract jewelry by combining industrial processes and 3D printing techniques.
After 40 years of puzzle-making, you would think that the flux of ideas would start to dwindle, but that is not the case for Oskar van Deventer. This senior scientist on media networking from the Netherlands creates mechanical 3D puzzles, like a Rubik's cube or Kaleidocus.
Kevin Nadolny, an American living in Tokyo, is the mind behind this 3D gadget for all avid urban runners out there. Since he enjoys designing and running and lives in a densely populated region, he came up with the idea of a small wearable bell for runners to courteously warn pedestrians on shared pathways.
Ready to get lost in the wonderful fairytale of Korean designer Se Yoon Park? With his background in architecture and fondness for 3D modeling and 3D printing, he created a stunning art installation made up of 3D-printed trees.
3D printing can be used to create an innovative range of urban vehicles. Sune Pedersen is a software engineer from Copenhagen who built a 3D-printed electrical skateboard called the Spine, with a top speed of 19 mph (30 km/h).
Are you ready to unleash your creative mind and build something amazing? Once you have your design ready, all you need to do is upload the 3D file here, apply the promo code Creativesummer2021, and get an instant quote for your professional print!
Also, don't forget to subscribe to our newsletter to get fresh updates and future promos directly to your inbox!