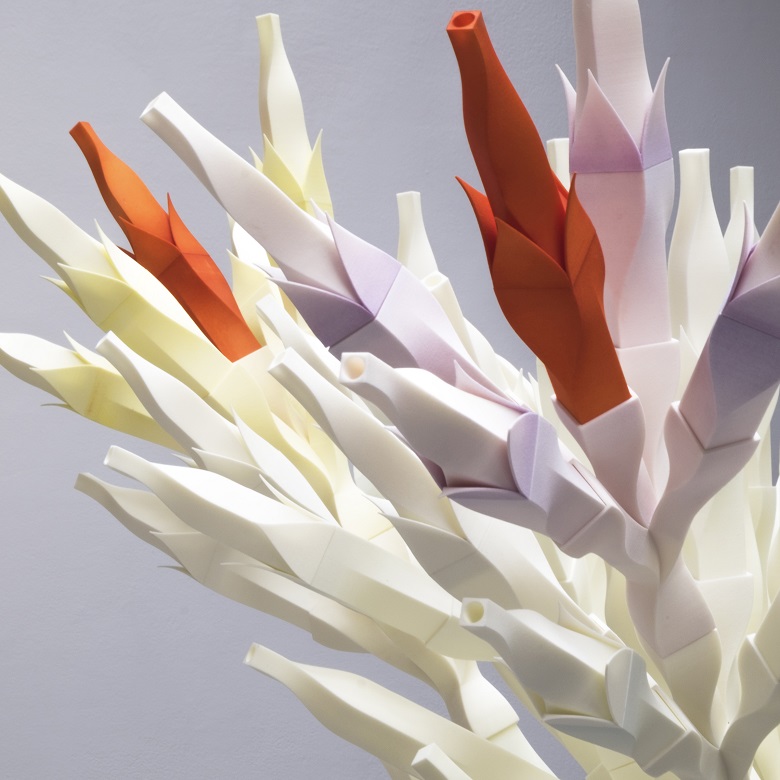 Korean Architect Se Yoon Park Designs Stunning 3D Printed Trees for His Art Installation
by Fabian | March 21, 2019
Armed with the knowledge of 3D modeling and 3D printing, a background in architecture, and the will to liberate his creative mind, Korean designer Se Yoon Park has created a stunning art installation made up of 3D-printed trees. His work imitates the organic structure of trees and consists of many small geometric elements. Dive into the world of "Light, Darkness, and the Tree".
An Architect and Designer: Se Yoon Park
Korean designer Se Yoon Park moved to New York in 2006 for his Master's degree in Architecture at Columbia University. Since 2008, he has worked for architecture firms such as OMA, BIG, FR-EE, and REX, participating in various projects internationally. In both the practice and study of architecture, 3D printing has become an essential tool for architects to express their complex formal visions, and he developed a keen understanding of the 3D printing process over these years as a result.
Equipped with these technologies, Se Yoon started to pursue sculpturing as a way to find and express his voice through the things he made, something he felt was sorely lacking during his work as an architect, where he felt so far removed from the final product.
About the Light, Darkness and Tree Project
Se Yoon's work explores the transitions between light and darkness, and in his sculptures, he seeks to contain both light and darkness within an exterior, a single object. Experimenting with light and its consequent shadows, he arrived at this particular form which plays with the gradations of light, producing ever-changing effects as it interacts with its environment. For Se Yoon Park, the dynamic between light and darkness is a metaphor for the ebb and flow of life, and he believes that his sculptures embody this difference and continuity.
The architect has been working on "Light, Darkness and the Tree" for the past three years, and has only just begun showcasing his sculptures, assembled from multiple 3D-printed components, at his gallery in Red Hook, Brooklyn in September 2016.
The 3D Printing Process behind the Art
Se Yoon Park chose to incorporate 3D printing into his design process as a way to straddle computer aided design and real tangible objects. In this way, he has managed to create a form both precise in calculation and beautiful in its interaction with the world around us. He began making his prototypes using PLA and ABS plastic but switched to i.materialise's Polyamide for the final product. Se Yoon chose Polyamide for its strength, lightness, and porosity, which allowed him to structurally employ the 3D-printed parts in his sculptures, and also gave him the flexibility of dyeing the pieces to explore a variety of artistic surface treatments. The translucency of Polyamide also allowed him to play with an electrical light inside his sculptures, creating the effect of a soft glow.
Polyamide is 3D-printed with a process called Laser Sintering. Unlike with most home printers, Laser Sintering printers do not use a filament. In fact, the 3D-printed parts are constructed from very fine, granular nylon powder that is heated and sintered by a laser beam within the 3D printer.
From Idea to Design to 3D-Printed Reality
The initial design spanned multiple media, from writing to sketches, to handmade models, to 3D models in Rhino: "When I finally arrived at my ideal form, I modeled all the parts on Rhino for production on the 3D printer. The biggest challenge was catering for the necessary margin of error while retaining a shape precision that was essential to the structural integrity of the overall sculpture."
Se Yoon Park embraces the advantages that come with this new technology: "Compared to traditional casting methods, 3D printing provides the benefit of being more accurate, free from shrinking issues, and multiple design materials."
"While I work with traditional casting and fabrication methods, I am thankful for the contributions 3D printing has made to my design and process, and believe the combination of these methods is the way forward. Through 3D printing, I was able to manifest my ideas tangibly, and i.materialise has aided me on my journey to capture light and darkness. With the help of i.materialise, I am now able to communicate my message to the people through my sculptures."
To learn more about his art installation you can visit Se Yoon Park's website. If you want to know more about the production process, check out our online 3D printing service with more than 100 different materials and finishes (including Polyamide).