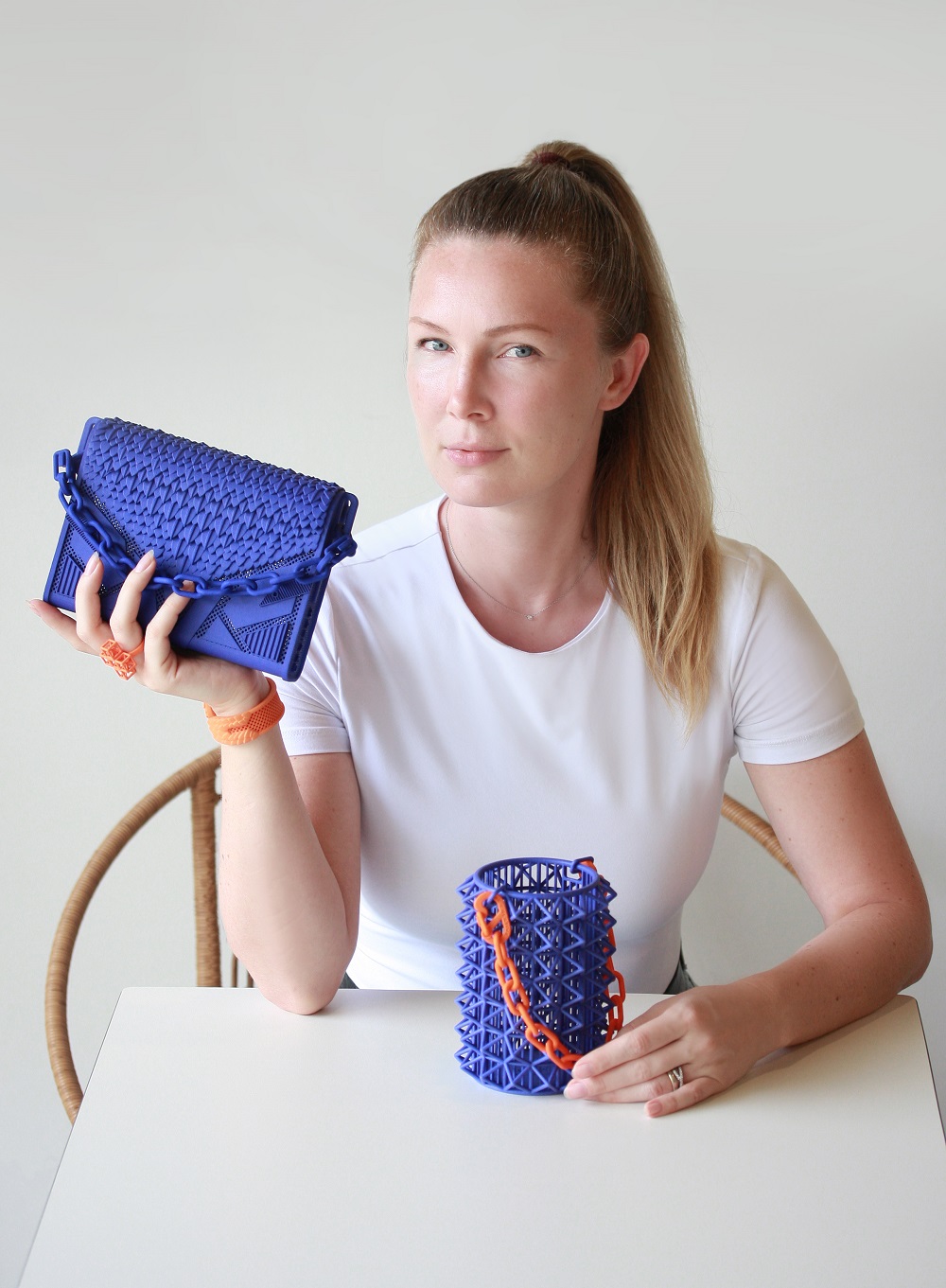 From Swarovski Competition To Reusable Bag: How An Innovative Designer Created A Fully 3D-Printed Purse
Since 2009, when we launched our i.materialise platform, our mission is to enable creative people worldwide to design and sell their unique 3D-printed objects. One of the makers who caught our attention is Marta Cherednik, a Singapore-based 3D printing designer who runs a design studio MALINKO.
Originally from St. Petersburg, Russia, Marta has quite a peculiar background story. First, she studied geology. After graduating, she moved to Australia, where she worked in mines for a few years as a geologist. Later on, she decided to change her career. She was interested in learning how things are made and how to find a creative outlet for her ideas, so she studied Industrial Design. For seven years, she worked for an Australian train company, where she honed her skills in designing trains and learning about highly technical aspects of industrial design.
Despite the exciting job, she wanted to express her creativity, even more, so she started designing small 3D-printed objects. Her design was loved by her acquaintances first, and soon, it was quickly picked up by the worldwide design events and shows where more people started to show interest. At that point, Marta decided to launch her little studio and become an independent designer.
"After work, I just wanted to do something that distracts me. So, I started doing a little bit of jewelry, and then in 2013, I officially opened the studio. I've made a large 3D-printed lamp that looks like plankton that was presented at the Sydney Design Awards. It's a 3D-printed lampshade in white nylon and covered with white flocks with a soft velvet finish. Then and there, I realized 3D printing is what I want to continue exploring," explains Marta.
Her fascination with 3D printing started already a decade ago while she was studying design. Marta understood the potential and immense value of 3D printing. "While still at Uni, I realized that 3D printing technology is a unique way of making products. Not prototypes, but products! I started experimenting with shapes and different finishes. Meanwhile, the technology kept evolving so fast!"
Marta believes 3D printing is the best way for designers to bring their wildest dreams to life and create truly amazing products that are impossible to replicate with any other manufacturing method. "3D printing allows you to do crazy complex shapes, which would be extremely hard to do by hand, so I started using that technology with the main idea of creating strange forms and models."
Marta finds inspiration in urban landscapes as well as in nature and its organic shapes. "I find so much inspiration in architecture, nature, and biology. I'm always drifting between these two worlds, between strict geometry and organic shapes."
"I think that in design, two things work. First, it should be so simple when people look at it, and they ask themselves: 'Why didn't I think of that? That's genius, simple!' Or secondly, it should be so complicated that people look at it and say: 'How did you do that?'" she continues.
Marta started using the i.materialise platform last year when, despite the pandemic, her shop of wonders was working better than ever. "Last year I wanted to test out i.materialise, so I've ordered a few samples. The communication went smoothly, and I was thrilled with the look and feel of the final products. It's such an easy, smooth process; you just upload the file. The communication is always clear and direct, and the customer support is great!" says Marta.
Among many outstanding items you can find on Marta's website, the 3D-printed purses really caught our attention. Marta created the first prototype for a 3D printed geometric bag three years ago for a prestigious competition by Swarovski. MALINKO's 3D bag printed in black nylon with all the moving parts and hinges won third place!
The "Swarovski" bag became a prototype for her "Reusable Bag", an entirely 3D-printed nylon purse that literally carries a strong statement against fast fashion. "For me, both professionally and personally, sustainability is crucial. I don't understand the concept of fast fashion. The idea behind my reusable purse was to make the buyer aware of how this item should be re-used. That's why I wrote in letters 'reusable bag' on it."
Sustainability is an ongoing framework for Marta and the main reason why she chose 3D printing as her medium. Her mission is to create unique, durable, and reusable items.
"Meeting demand and being more environmentally friendly were the exact reasons that drove my decision to focus on 3D printing as the main manufacturing process. 3D printing enables me to produce any quirky idea, embrace the most intricate shapes and stretch conventional features of homewares and jewelry designs to create unique products," concludes Marta.
When asked about future projects, Marta will continue to develop the idea of reusable bags and explore other possible 3D-printed items, like 3D printed fabrics and textures.
If you are interested in Marta's work, check out her website at https://www.malinkodesign.com/.
Marta's story inspires you to create your design and bring them to life with 3D printing? Upload your model today and get started!