Polyamide (SLS) is an exceptionally versatile, strong, and slightly flexible material. It can resist a small degree of impact and some pressure while being bent. Depending on the design, it can be flexible or rigid. The surface has a sandy, granular look, and is slightly porous. However, a lot of colors and finishing options are available, from color dyeing, polishing and waterproofing. Polyamide is a great material for beginners who want a well-priced model, extensive freedom of design, and who don't want to be bothered too much with the limitations of the printing process.
Ships as of 6 business days
Design Specifications
Minimum Wall Thickness
0.8 to 1 mm
Accuracy
±0.3% (with a lower limit of ±0.3 mm)
Maximum Size
630 x 330 x 550 mm (natural)
630 x 330 x 550 mm (spray painted)
200 x 200 x 200 mm (polished)
270 x 150 x 150 mm (dyed)
400 x 400 x 330 mm (dyed black)
200 x 150 x 150 mm (polished and dyed)
200 x 150 x 150 mm (satin)
200 x 150 x 150 mm (priority)
300 x 300 x 300 mm (waterproof white)
Pricing Info
The pricing for Polyamide is based on the volume your models take up in the 3D printing machine. This includes the volume of your models and the surrounding space they require in the printer's build chamber to ensure a successful print.
For Polyamide, we charge a minimum price per ordered piece. Unlike the startup cost (which is applied to most materials), this cost vanishes when the price is higher than the minimum price. If you order two or more copies of a model, the price automatically decreases because the preparation of multiple copies can be carried out more efficiently.
Typical Use
Polyamide is suitable for complex models, prototypes, small series of components, end products, and functional models. Applications range from casings to architectural models, twisty puzzles, art, fashion pieces, gadgets and jewelry.
Technology


Laser Sintering is used to build your design with this material. The models are printed layer by layer by a laser that draws thin lines in the powder, which melts and bonds it together in order to form a thin layer of the model. After a layer is printed, a new layer of fresh powder is spread over the surface by a roller. The printer has a print chamber that is heated to just below the melting point of the powder; the laser beam adds the extra energy to melt the powder, forming a solid model. After the print job is finished, the result is a big block of heated powder with the printed models contained inside.
Additional Information
Over time, natural white polyamide will start to show discoloration and turn slightly yellowish. You can only delay the process by, for instance, applying a UV protective finish. We recommend choosing a colored finish for your model such as dyeing, spray painting or applying velvet flocking
Polyamide can be treated with a sealant to fill small pores, thereby making your model airtight and watertight
The material is not food-safe
The color of dyed polyamide models may vary slightly
Sample Kit
Learning about our materials is one thing, seeing and touching them another. That's why we've designed sample kits based on our Periodic Table of Materials.
Basic Sample Kit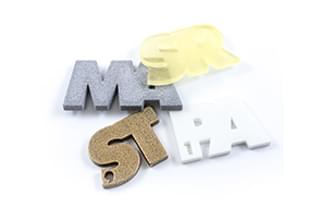 Includes a sample of polyamide, alumide, standard resin and steel (natural polished).
Polyamide (SLS) Sample Kit
Dyed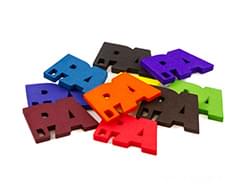 Includes a yellow, orange, green, red, bordeaux, blue, petrol blue, purple, brown and black dyed sample.
Polyamide (SLS) Sample Kit
Dyed and Polished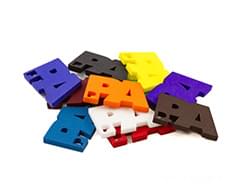 Includes a polished white, yellow, orange, green, red, bordeaux, blue, petrol blue, purple, brown and black dyed sample.
Polyamide (SLS) Sample Kit
Satin Dyed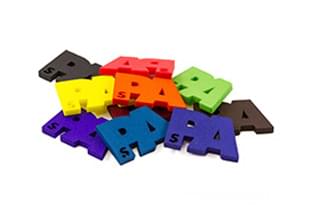 Includes a yellow, orange, green, red, bordeaux, blue, petrol blue, purple, brown and black satin dyed sample.
Priority Service
Polyamide priority gets your 3D prints faster. If you choose this option, we will 3D print your design within 48 hours*. Add 1 working day for Dyed or Polished natural white finish and 2 working days for Polish and Dyed.
Normally, most of our orders are shipped out within 6-10 working days. However, more and more people are requesting a faster way to get their 3D prints, especially when they are dealing with deadlines. So, we will 3D print your design within 48 hours and ship it. The shipping time depends on where you live. Let's explain this with an example. If you order before 12:00 CET on a Monday we will produce your order within 48 hours and ship it Wednesday. If you're in the UK, Belgium, France, the Netherlands or Germany your order should be delivered on Thursday. If you're in a US major city you should also get it on Thursday. Major Asian cities will get their orders on Friday.
To use this rush service choose polyamide priority when uploading.
You can order models of up to 200 x 150 x 150 mm.
Priority makes your order 30% more expensive.
If you miss the 12:00 CET deadline, your order will arrive one day later.
National and Public Holidays (Belgium) have to be added to the printing time.
If there's an issue with your model we need to fix or if we have to come back to you with questions, it will take at least one day more to process.
Customs hold ups or shipping delays might delay the arrival of your order.
* If you order before 12:00 CET, then we will ship the second day following the day of your order. Weekends and holidays need to be added to the printing days. A model in Polyamide Priority natural white ordered after 12:00 CET Thursday ships on Tuesday evening, orders after 12:00 CET on a Friday or anything ordered on Saturday and Sunday, will be shipped Wednesday evening
Additional Materials
We want you to have access to as many 3D printing materials as possible, so you can make the best choice for your project. If you didn't really find what you were looking for on i.materialise, you might want to take a look at Materialise OnSite. OnSite is our other online platform, mainly used by professionals who need rapid prototyping and manufacturing in an industrial environment.
This means you can additionally find this material on OnSite:
PA-GF: Polyamide powder filled with glass particles. This has a much higher thermal resistance (up to 110°C) than polyamide.