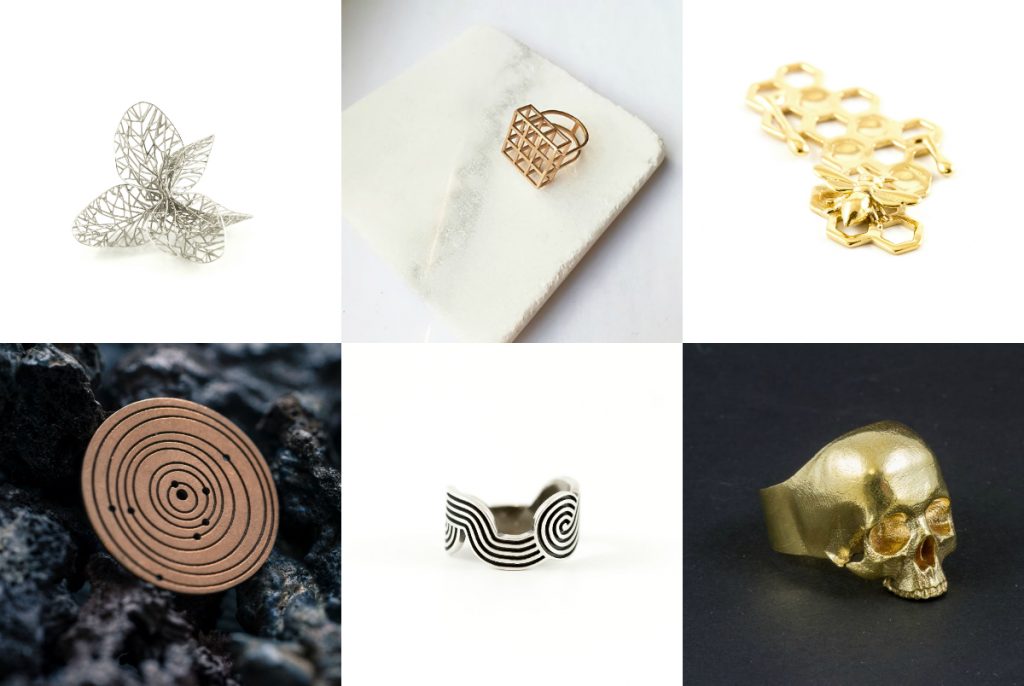 Top Four 3D Printing Materials For Jewelry Designers: Gold, Silver, Brass, Bronze
The most common misconception about 3D-printed jewelry is that it is printed in metallic plastic. This is not the case: it is produced as a real, solid piece of jewelry made out of the precious metal of your choice.
In this blog post, we will have a closer look at the four best and most popular materials for jewelry designers.
1. Gold
Our Gold comes with a high gloss finish, and you have the option to choose between 14 and 18 karats. Once again, this is not a gold-plated item, but your entire design will be made in 14 or 18 karat solid Gold.
Besides those options, we also offer three different color finishes for Gold: Yellow, White, or Red Gold. These color options are achieved by adding different metal alloys to the Gold. For Red Gold, we use a higher amount of copper, whereas White Gold contains a palladium alloy.
2. Silver
The most popular choice for jewelry designers tends to be sterling Silver, which is offered in several finishes.
The first of these finishes for silver 3D printing is a polished finish, which is achieved by post-processing your model in a magnetic tumbler. This technique is the least aggressive process for silver items. While this finish is perfect if you want to keep a high level of detail, the surface of your model would not be as smooth as high-gloss models.
Hand Polished models undergo a particularly vigorous mechanical polishing process that will
round off sharp corners. As a result of this technique, the silver will have the lowest level of
detail, but the highest level of smoothness and shine.
Brushed models are manually post-treated with a wire brush to obtain the effect of lines on
the metal.
Corundum Blasted (Matte) models are post-treated with an abrasive blasting operation. The
surfaces of your model will get an even, smooth, and matte look.
And last but not least, there's Polished + Black Patina, which features very shiny and smooth outer surfaces, while deeper areas remain darker and unsmoothed.
You can see some of the most outstanding silver 3D prints and have an overview of the different finishes for silver that we offer on our blog.
3. Brass
Another great material for jewelry designers is Brass, an alloy made from copper and zinc. Quite simply, it's a material that looks great and comes at a low price, just two of the good reasons why we love 3D printing in Brass.
You can have your Brass 3D prints with a basic finish: raw Brass. You will get your models without polishing, coating, or plating.
Once your model has been produced, it will be coated with a clear PU coating to protect it against scratches and oxidation.
Polished yellow-gold plating
You can also decide if you want to electroplate it with a shiny and razor-thin 18 karat gold layer.
We offer color-plating finishes too, by combining an electroplating process with a colored PU coating. A PU coating provides extra protection to the plating, enabling us to guarantee the plating for 6 months.
Polished red-gold plating for brass
Polish + black color plating for brass
We offer black color plated finish, which is achieved through an electroplating process in combination with a colored PU coating. Your model will first be finished with a very thin layer of palladium and silver. We then add the color by applying a colored liquid PU coating, which is cured in the oven as a final step. We offer a 6-month guarantee on this colored PU coating.
4. Bronze
Now that we have covered Gold, Silver, and Brass, we still need to talk about Bronze, of course. Bronze is an alloy that consists primarily of copper, and it's quite an affordable material. By nature, Bronze has a somewhat reddish-yellow color. An raw model will oxidize over time and won't be protected against scratches.
That's why you can optionally cover your bronze model with a PU coating. In addition to the PU coating, you can also get your bronze model polished. This post-process uses a magnetic tumbler to smoothen the surface and make the model a bit shinier.
Other 3D printing materials for jewelry
Next to Gold, Silver, Bronze, and Brass, we offer more than 100 other materials and finishes. These include 3D printing materials such as Polyamide (SLS), which is a nylon plastic that comes in many different color finishes and allows for maximum design freedom. For example, you can create interlocking parts with it.
There's also Alumide which is a mix of polyamide with aluminum particles and results in a sparkling effect. And don't forget Rubber-like, a flexible plastic option, regular Steel, High Detail Stainless Steel for a maximum amount of details, Titanium, Aluminum, or Copper.
Discover our favorite 3D-printed jewelry in non-metal materials.
These materials can be great for producing new and unconventional pieces of jewelry or affordable prototypes that you could use for your upcoming designs. 3D printing can be a great way to improve your creative business.
Now that you know which materials jewelry designers can use, simply upload your 3D file here and get an instant quote for your professional metal print.
If you are still struggling to create a printable 3D file, take a look at the best 3D modeling programs for jewelry designers, and learn the top 5 modeling tips to turn your 3D model into a stunning metal 3D print.