Models made in Steel are printed in steel powder that is infused with bronze.
Steel is the cheapest form of metal printing, very strong and suitable for very large objects.
Ships as of 10 business days
Design Specifications
Minimum Wall Thickness
1 to 3 mm (depending on dimensions)
Minimum Details
0.8 to 1 mm
Accuracy
± 1% (after 2-3% shrinkage compensation)
Maximum Size
762 x 393 x 393 mm (unpolished, unpolished black)
177 x 177 x 177 mm (unpolished gold-plated)
152 x 152 x 152 mm (polished, polished gold-plated, polished black, polished brown)
Interlocking or Enclosed Parts?
No
Pricing Info
The pricing for Steel is based on:
Model volume: The volume of your model is used to calculate the material cost (mm³)
Density: The ratio of the box surrounding your model to the model volume will influence the price, and will allow e.g. price corrections in designs with a low model volume and a large surrounding box (% mm³/mm³)
For Steel, we charge a minimum price per ordered piece. Unlike the startup cost (which is applied to most materials), this cost vanishes when the price is higher than the minimum price.
Typical Use
Steel is typically used for full functional parts, spare parts and jewelry.
Technology

With Steel 3D printing, your part is created by binding together layers of steel powder. Specifically, after a layer of steel powder is spread across the base of a "build box", a special print head moves back and forth over the layer, and deposits binding agent at specific points, as directed by a computer and your design file. Once the layer is finished and it has been dried via powerful overhead heaters, a new layer of powder is spread, and the process begins again. In this way, layer by layer, from the bottom up, your part is created.

Once the printing is done, the build box is placed in a curing oven and your part is sintered. The extra powder that was not bound, and is not part of your design, is then removed. At this point, your part is still very fragile. This so-called "green state" will be the base of some of the design rules and limitations that follow below. Finally, via the use of a flute system, your design is infused with bronze, which replaces the binding agent. Your part is now solid metal, and after the flutes are manually removed, it is tumbled and polished to produce a smooth finish.
Sample Kit
Learning about our materials is one thing, seeing and touching them another. That's why we've designed sample kits based on our Periodic Table of Materials.
Basic Sample Kit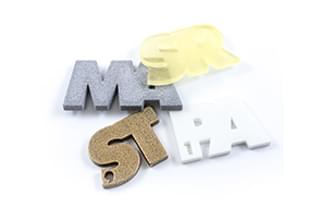 Includes a sample of polyamide, alumide, multicolor (matte), standard resin and steel (natural polished).
Steel
Natural Unpolished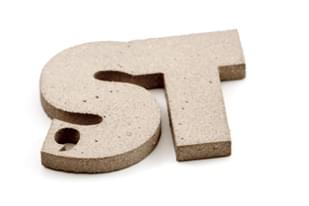 Includes a natural unpolished Steel sample.
Steel
Unpolished Black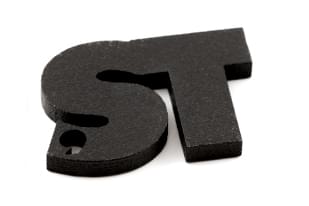 Includes an unpolished black Steel sample.
Steel
Unpolished Gold Plated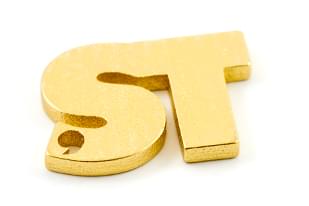 Includes an unpolished gold-plated Steel sample.
Steel
Natural Polished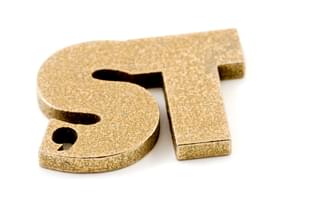 Includes a natural polished Steel sample.
Steel
Polished Black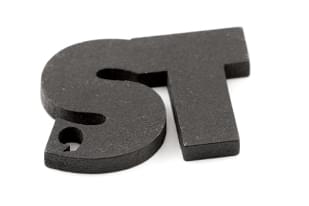 Includes a polished black Steel sample.
Steel
Polished Gold-Plated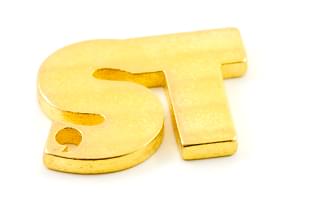 Includes a polished gold-plated Steel sample.
Steel
Polished Brown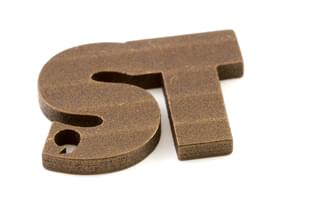 Includes a polished brown Steel sample.
Steel Sample Kit
Various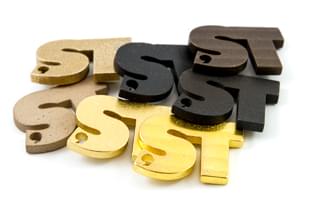 Includes all Steel samples.
Additional Materials
We want you to have access to as many 3D printing materials as possible, so you can make the best choice for your project. If you didn't really find what you were looking for on i.materialise, you might want to take a look at Materialise OnSite. OnSite is our other online platform, mainly used by professionals who need rapid prototyping and manufacturing in an industrial environment.
This means you can additionally find these materials on OnSite:
Stainless Steel (316L or 1.4404) : 316L, a low-carbon alloy of stainless steel also known as 1.4404, is a highly corrosion-resistant material and offers excellent strength. This 3D-printed stainless steel is produced via Select Laser Melting (SLM) and has high ductility and good thermal properties. It can be used for food-safe applications, machine components and production tools.