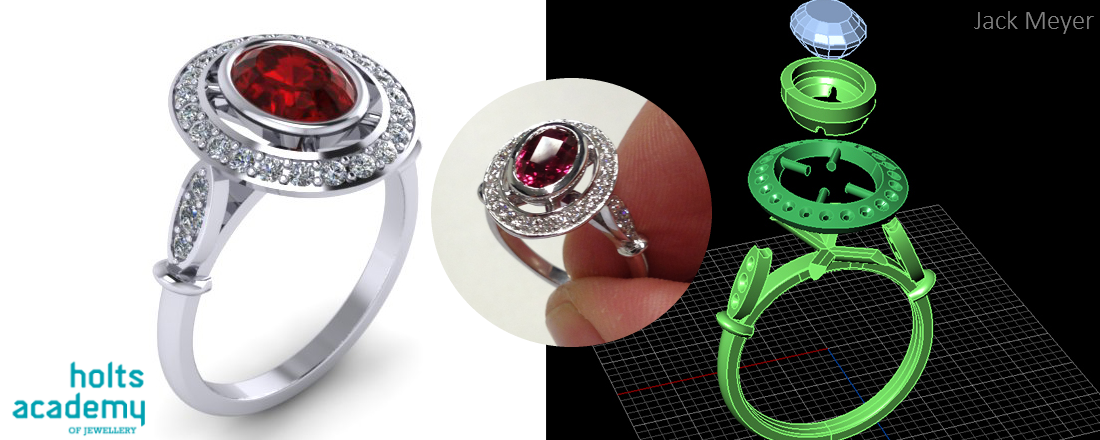 How to Design and 3D Print Metal Jewelry
From a career in computer science to one of London's foremost experts on 3D printed jewelry, it can be said that Jack Meyer's true passion found him. As the Senior CAD (computer-aided design) and technology instructor for Holts Academy in London, and owner of CAD Jewellery Skills, Jack's whirlwind discovery of 3D printed art and jewelry lead to launching his own manufacturing company, and then to teaching a new generation of award-winning fine jewelers. 
Jack's students increasingly use "made to order" services such as i.materialise's online 3D printing service to create their jewelry collections, and Jack's agreed to share some tips for creating timeless, old-fashioned 3D printed jewelry.
How did you become interested in 3D printed jewelry?
Many jewelers now talk about how they discovered technology after years at the bench. With me, the story of how I got into jewelry design went in reverse. I've been using 3D CAD software in some form or another since the 90s, and 2D graphics software for even longer. My first Bachelors degree was in computer science.
While working as a military contractor and building 3D flight simulators, someone showed me an old library book on Erté (the 19th century French costume jeweller). I started having the fantasy of designing my own wedding ring. Once I discovered an evening class at Oxford Brookes, I fell in love with the medium. Several years of studying and two apprenticeships later, I found myself working for a multinational fashion jeweler in California.
How did you get started with Jewelry CAD software?
They saw I knew computers and I knew jewelry design and manufacturing, so they asked me to learn jewelry CAD software. I then went on to work with my creative director and our factory in Indonesia to develop a better way of communicating designs for manufacturing (at that point, they were still using fax machines to make designs). That was in 2004.
Since then, I've been certified to use and teach just about every single major jewelry CAD software package on the market. This gives me a little bit of an unusual perspective on what's out there.
How do you print jewelry in 3D?
With online 3D printing service it's very easy: I first met the i.materialise team at the 3D Printshow in London, I've had a lot of respect for how willing they are to work with and help schools and educational facilities. Not only do they really know their machines and materials, but they're able to talk about them with the students. I would say they definitely know their stuff. They offer online 3D printing in gold, silver, brass, bronze… you name it.
Why did you choose to 3D print your jewelry?
With the advent of 3D CAD design, the initial design didn't get any faster, but the subsequent changes are embarrassingly fast compared to the old ways of working. Now the entry level for bespoke jewelry i slower than ever, and changes during the development process are so easy, customers now take them for granted.
Before 3D modeling software came along, a single bespoke ring or pendant would easily cost upwards of £24,000. Of course you would get your money's worth, but every small change would have to be inspected and redone the hard way.
How has 3D CAD software changed jewelry design?
When I started out, 3D modeling software in jewelry still seemed to be a dirty word among many jewelers (as if it was some form of cheating to use it). Since then, jewelry CAD software has grown to be so commonplace in workshops around the UK and USA, we're starting to see a new generation of jewelers who are proud to prominently advertise the fact that they create their jewelry primarily using computer-aided design and 3D printing.
Which tool or software do you use most?
The old expression: "The right tool for the right job" is my best answer here.
You can use any of the 3D CAD modelling tools out there for making jewelry basics (3 stone rings, full eternity rings, pendants, etc.), but since all of the different programs are based on different design philosophies, the advanced settings is where you start to see the real differences. For this reason, I try to recommend software based upon where a user wants to be in the longer term rather than the short term.

Which part of your jewelry design process is the most complex one?
From watching all my students work over the years, I reckon the hardest part of the jewelry process must be that point of transition between what they have drawn on the page and what they are interpreting into 3D. Being able to develop your mind's spatial perception ability is a separate skill entirely from any other design training, and it takes a staggering amount of practice.
Perhaps this is why design development gets so much emphasis in my diploma class– the clearer an idea you have on paper, the easier a time you'll have translating it into 3D.
Which advice would you give to new jewelry CAD designers?
Following on from the previous question, I would simply say every aspiring jewelry CAD user must know two things before they even begin to approach CAD:
Learn to draw! It seems to me that jewelry CAD software makes for a lousy conceptualization tool. The best designers I've ever met cannot design properly straight into CAD. I believe this is because refinement and feedback are such an essential part of any design process, and for the initial idea development, we need as unfettered a medium as possible.
Spend some time working at the bench. Whenever we design in CAD, we must always keep in mind the ultimate finished result. Therefore, the more you know about the material and process for which you are designing, the more you will be able to work within the capabilities of that material.
Want to start printing your own jewelry? Our online 3D printing service lets you order your high quality 3D prints in gold, silver, bronze, brass, titanium, steel, and 12 other materials.