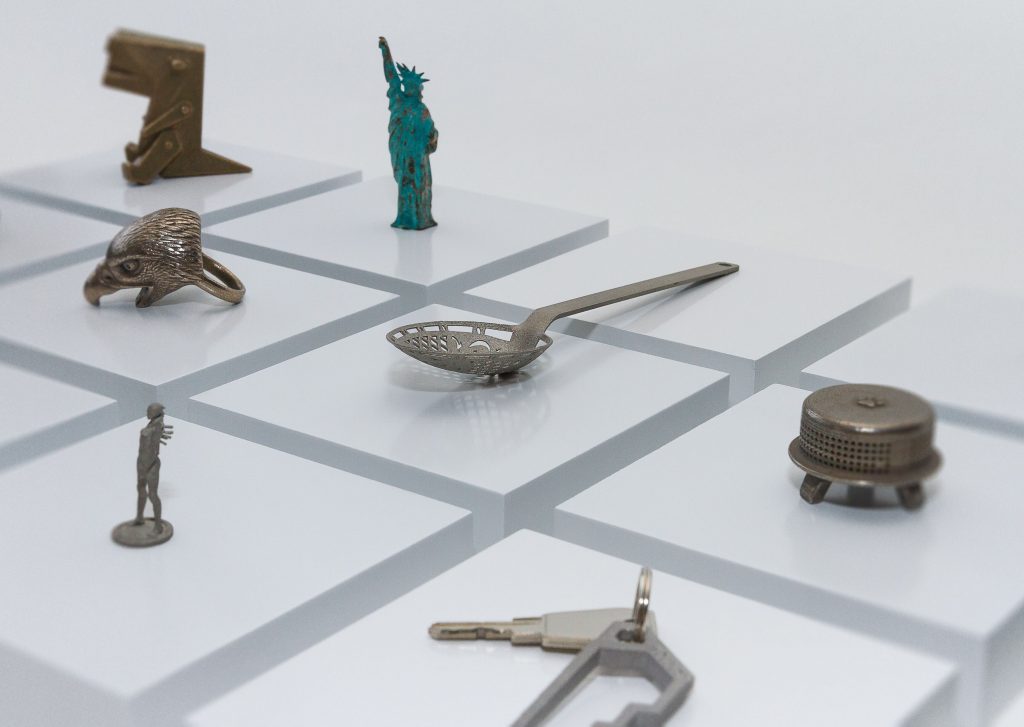 3D Printing in Metal: More than Jewelry!
by Aura | August 1, 2019
The shine of 3D-printed jewelry can eclipse other 3D-printed metals that could open up options for your next 3D design. Don't get us wrong, we love 3D-printed jewelry and the amazing jewelry designers we meet but we wouldn't want you to miss any opportunities to create the best 3D prints possible.
Learn more about 3D printing in metal and be amazed by some of our favorite 3D designs in aluminum, titanium, steel or copper. All that glitters is not gold, and that also goes for 3D printing!
This popular metal is great for 3D printing machine parts and it's commonly used for industrial purposes, but it has so much more to offer.
The 3D printing technology that makes aluminum possible is called Direct Metal Laser Sintering (DMLS). This is a laser-based technology that uses a high-powdered laser to selectively bind powdered metal together while the machine distributes even layers of metallic powder on top.
Models in 3D-printed aluminum will be lightweight and will have a matte grey finish with a rough, less defined surface. Look at this saw wrench by the designer Pekka Salokannel. It's a good example of a minimalist yet useful and beautiful design printed in aluminum.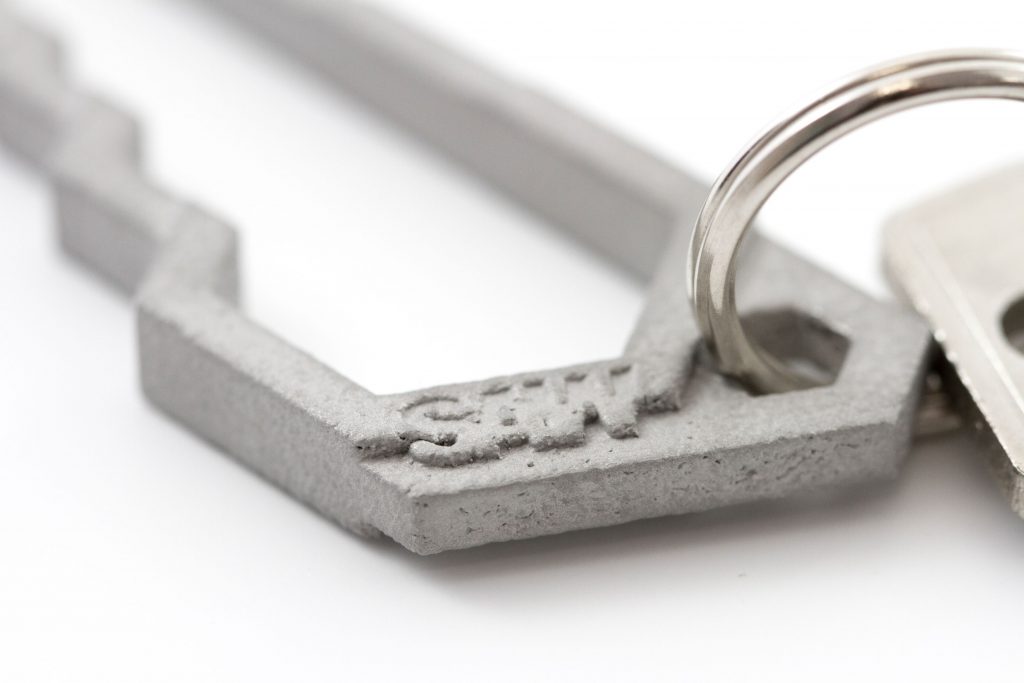 Though titanium is a great material for 3D printing jewelry, today we want to focus on a project from Studio Droog which caught our attention. This tableware is part of the collection Forgotten Tools, which has digitalized old shapes of tableware. It's a beautiful project that links the past and the present, bringing forgotten tableware to the present with the help of 3D printing.
Titanium was the perfect material for this 3D printing project because it's a very strong, corrosion-resistant and lightweight material. Like aluminum, the metal parts printed in titanium are as good as machined models.
The 3D printing technology behind titanium is also Direct Metal Laser Sintering (DMLS). Read more about this technology on our blog.
Steel is a strong, robust material printed in steel powder and infused with bronze. Another big plus for this material is the wide variety of finishes that it can have. Apart from its natural and polished finishes, which come in grey, the steel can be finished in gold, black or brown. Discover them all on our 3D printing platform!
A good example showing these colorful finishes are these chess pieces in different colors. Aren't they cool?
3D-printed steel is possible by binding together a layer of steel powder with a binding agent. The layer is dried with powerful overhead heaters before a new layer is spread and the process begins again. Once the printing is finished, the build box is placed in a curing oven and the part is sintered. Finally, the design is infused with bronze, replacing the binding agent. Read the material page on our website to understand how this 3D printing material works.
High-detail stainless steel steps up the game even more. This material is a great option when you want to achieve the highest resolution and quality of detail for your 3D prints, with an excellent surface quality.
High-detail stainless steel is achieved by using a 3D printing technology that binds together layers of ultra-fine grains of stainless steel powder in a precision printer similar to that of an inkjet. After a layer is spread, a special print head deposits a binding agent at specific points. Once the layer is finished and has been dried with a powerful heater, a new layer is spread. The process goes on, layer by layer until the part is created and can be sintered in an oven at 1300°C. Look at the following video and read all about 3D printing in high-detail stainless steel on our website.
This metal can be 3D printed in natural unpolished grey or alternatively, you can get a satin or gloss finish. High-detail stainless steel is perfect for 3D printing miniatures or watch parts. Look at the fine details of this figurine by Yarrid Henrad or the Sci-Fi Buts by Garry Lloyd. We can't get over all those details in such a small 3D-printed model!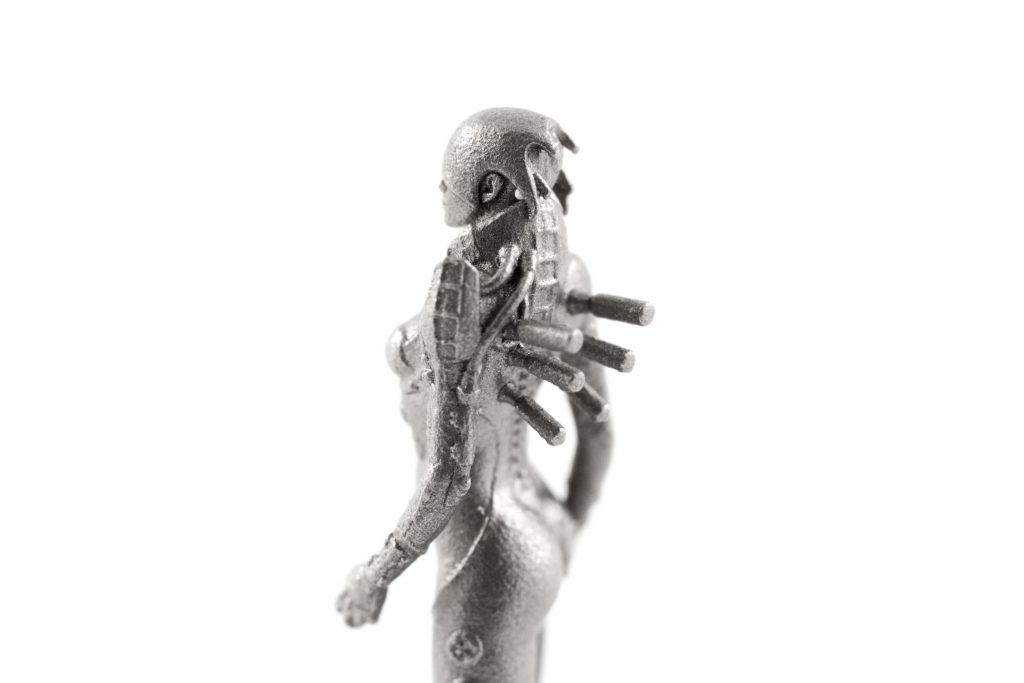 This metal has a reddish color and offers very high thermal and electrical conductivity. After oxidization, it develops a greenish hue. Copper is a very affordable option for 3D printing in metal.
The process for 3D printing in copper starts with wax 3D printing and lost-wax casting. The wax is printed using a resin-based type of Stereolithography. Read more about this process on our technology page.
Cooper is a robust material and a good electrical conductor. Look at the Bulbman figure: it's half copper, half electric bulb. Conductors are a good example of an interesting way to use copper. Discover more on our website. 
Just like we said, 3D printing in metal has so much more to offer than just jewelry or industrial parts. If you are thinking about 3D printing in metal but you're not sure which material is the best for your design, read the design guides on our website carefully or order some material samples. Holding a material in your hands is the best way to understand how it feels and weighs.
What is your favorite material for metal 3D printing?
We also have plenty of information about different materials and 3D printing technologies on our website! When your 3D design for metal is ready, upload it to our online platform and get an instant price quote for your metal 3D prints.
We love seeing what our community gets up to. Tag us on social media with #imaterialise for a chance to get featured!