Tutorial: Create Your Own 3D Printed Bracelet in a Matter of Minutes
by Fabian | April 27, 2015
Creating and 3D printing your own bracelet has never been easier thanks to free online apps like UNIQD. All you need is an Internet browser, a few minutes of your time, and some creativity. Here is our tutorial on how to 3D model and print your own bracelet in five easy steps. No software, installation, 3D printer, or prior 3D modeling or 3D printing experience is required!
1. Start the App
First, go to the UNIQD website. UNIQD is a place where anyone can create custom bracelets. No installation or registration is required. Simply click on their "Try it out" button at the top right corner and the interface of the modeling app will pop up.
The interface features two main parts: the grid that you work on (with the tools on the left hand side) and a black preview window that will give you a real-time image of your bracelet.
2. Draw and Move Lines
By default the "Draw" tool is selected. Left-click on the grid and place several dots on the surface. A line between these dots will automatically be created.
Hit the Enter key on your keyboard to finish with your current line and start with a new one.
Right-click in order to create a curve.
Switching to the "Move" tool allows you to select a previously drawn dot or line and move it to another place or position.
Play around with the drawing and moving tools and watch the video below to get a better understanding of the concept of UNIQD:
3. Modify Lines
Now, let's modify the lines a little:
Simply click on a line and make it thicker with the "Width" slider in the upper left corner.
If you want to modify or move several lines, hold the Shift key down and click on one line after the other.
In order to delete a line, select it and hit Delete on your keyboard. If you only want to delete one dot, select the "Delete Points" tool and click on the dot.
If you drew a line earlier and want to edit it again, go to the "Move" tool, select the line, then switch to the "Draw" tool and continue to draw this line.
Make sure to watch the video below to understand the tools we just mentioned:
4. Add Shapes and Rotate Your Model
Know that you know the basics, let's take a look at some more features:
Click on the "Shapes" tool to reveal a set of pre-defined shapes such as squares, circles, stars, letters, etc.
Select a shape or line and click on "Clone" in the top middle in order to create a copy of the selected object right next to it.
Click on the "Rotate" tool to rotate, resize or mirror your design.
If you have a closed shape (i.e. a shape with no loose ends), you can fill its surface by selecting the "Fill" option on the top navigation bar.
Take a look at these tools in the following short video:
5. Choose Material, Finish and Size
Happy with your design? Then it's time to set some final settings. The default material for UNIQD projects is Brass, which you can see in the box directly underneath the grid. Click "Change" in this box to choose between Brass, Bronze, Silver, and Gold. Each material also offers you several finishes. We advise you to visit our material pages to learn more about each material and finish. You can also change the size of your bracelet while using the "Change" feature. Refer to UNIQD's sizing guide to make sure you get the perfect fit.
And that's it! You can save your design or directly order a 3D print of your personal bracelet. Check out some of the great designs that have already been created with UNIQD: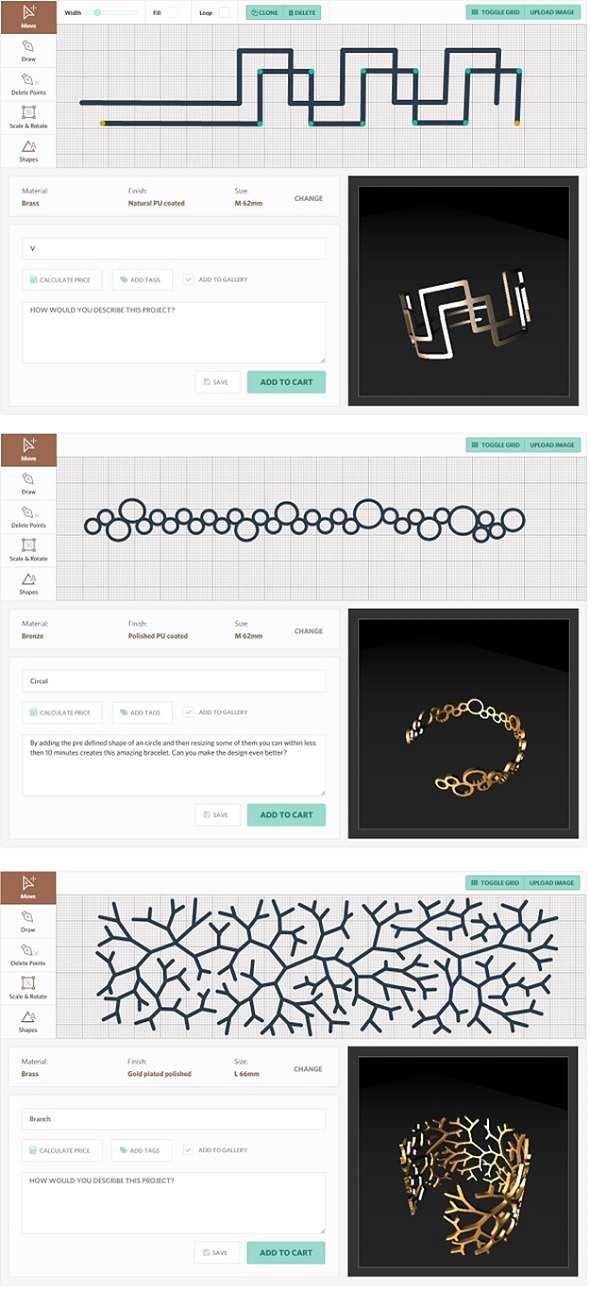 The 3D prints will be delivered directly to your doorstep. Check out some of the prints done with UNIQD:
Have you created 3D printed jewelry with UNIQD or i.materialise? Let us know by sharing your designs in our forum or tagging @imaterialise on Twitter. On our blog you can also find another beginner-friendly tutorial about how to create your own necklace and rings with free online app Jweel. If you are still in need of some inspiration before creating your own jewelry, we have the ultimate style guide for you here.