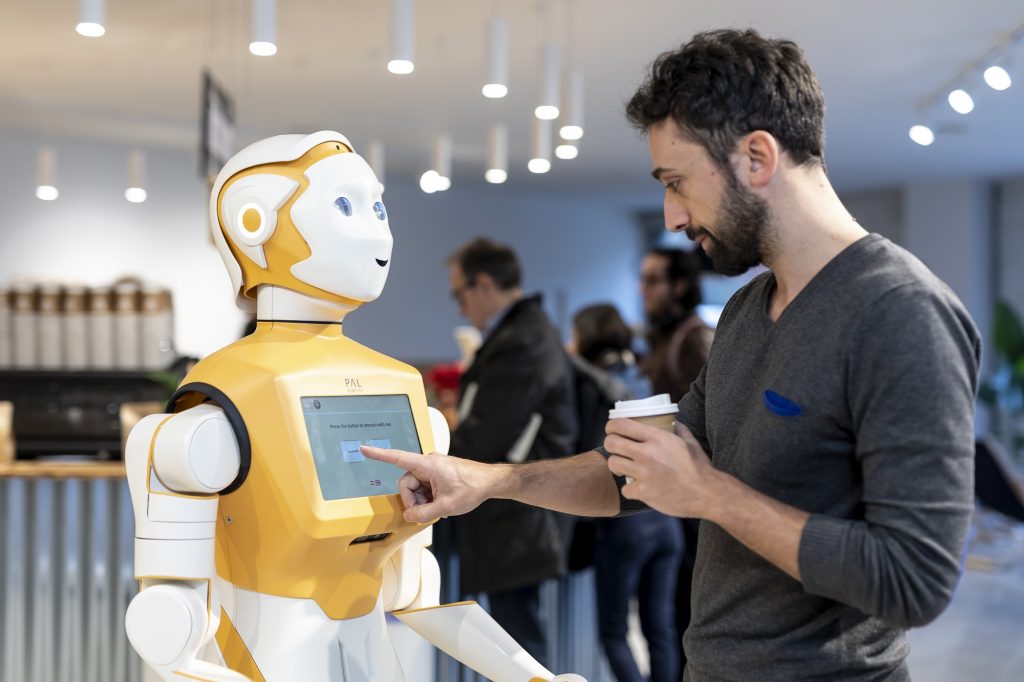 PAL Robotics Makes A Case For A Perfect Synergy Between Robotics And 3D Printing
The era of robots is already here.
Over the last decade, robots have slowly moved from secluded research labs and automated production lines towards more interactive fields, such as pharmacies, hospitality, retail, etc. They can contribute towards high-quality products, shorter turnaround times in the manufacturing sector, and are usually highly reliable. Combined with AI, robots can successfully work with humans in more collaborative and interactive ways.
One example is from the COVID-19 pandemic; there was a surge of medical and social robots powered by artificial intelligence technology. Social robots interacted with humans in a socially acceptable manner, and they supported humans in healthcare, residential homes, public spaces, and the hospitality industry. For example, social robots can act as receptionists to provide general information and control the flow of incoming visitors at hospitals. Thanks to their remote management, social robots can have social interactions and provide basic treatment without the fear of spreading the virus.
An example of a social robot is ARI, a humanoid robot created by PAL Robotics. To understand the process of creating such a complex machine and the intention behind it, we reached out to Tito Favaro, the Product Designer at PAL Robotics who created ARI.
"Working in robotics was my dream since I was a child, and an opportunity to work for a company that creates robots is a privilege. The PAL Robotics team can design, engineer, and manufacture any project from scratch. The range of professional profiles is great, and therefore, the technological advances are also great," says Tito.
Leading service robotics
PAL Robotics was founded in 2004 with a mission to improve people's lives through robotics. They specialize in producing different types of robots for five distinct business units: retail, intralogistics, social, research, and European research projects. Research and innovation come together in the best way possible at PAL Robotics, as they continuously try to understand how to improve robotics and find new meaningful applications.
One of their latest developments, ARI, is the most advanced AI humanoid they've created so far.  ARI talks, recognizes faces, waves, dances, and interacts via touchscreen. With the robot's powerful processing capabilities, thoughtful design, and a wide range of expressive gestures and behaviors, ARI is the ideal social robot for Human-Robot-Interaction.
Introducing ARI 
"ARI was born as a technological revision of the REEM robot. To create ARI, we found inspiration in our current technological references, in a new design of the proportions, and in simplifying the robot's construction," Tito explains.
The dedication and passion of the PAL Robotics team really shines through in this project. After a year and a half of hard work and four different prototypes, the PAL team swiftly developed the final design, manufactured, and officially launched ARI in 2019.
Combining 3D printing and robotics
Working on the creation of ARI, Tito and his team turned to 3D printing. 3D printing in robotics initially focused on building highly customized prototypes, but it has evolved into manufacturing in recent years. This journey parallels PAL Robotics' evolution as a company. Specific niches such as social robotics are focusing more on the product concept, without demanding production runs; that is why additive manufacturing has been increasingly fitting into their processes.
"3D printing fits very well with the type of product we make, both for robots used in research and robots for more social purposes. For example, 3D printing enables short and customizable runs that fit perfectly with the needs of researchers, who constantly seek to update the model that comes out on the market, with new sensors or more powerful computers, for example, to integrate them into platforms such as ARI. This is precisely why 3D printing is the ideal technology for our projects," explains Tito.
Since PAL Robotics started its journey over 15 years ago, Materialise has remained their reliable partner in expanding the synergy between robotics and 3D printing technology.
"For a robot like ARI, we need to manufacture approximately 50 pieces with sizes ranging from 20mm to 1200mm, with different materials and finishes. So, it is not easy to manage and secure a stock and control costs. Materialise integrates a multitude of 3D manufacturing technologies which helps to consolidate our collaboration," confirms Tito.
PAL Robotics' engineers and designers work closely with the Materialise team, especially when designing and selecting materials, finishes, etc. With 3D printing, PAL Robotics has freedom of design as it makes it possible to print complex and lightweight geometries that traditional technologies usually can't deliver. Through successful collaboration, they were able to reduce the weight and adjust the costs of parts of the robot.
Consistency in quality is another crucial element for PAL Robotics. Materialise manufacturing processes enable consistency by making sure each part is created according to high-printing and post-production standards.
When it comes to creating orders, the PAL Robotics team is in direct contact with our designated sales team in Spain for large-volume projects. However, they regularly use the Materialise OnSite platform to get price references or place smaller orders that need to be delivered fast.
"It's crucial for us to have a supplier that doesn't only deliver the printed parts, but that monitors each order and offers effective solutions," says Tito.
Enabling sustainability through flexibility
3D printing enables creative freedom and continuous improvement of design while delivering durable and high-quality solutions. It also helps PAL Robotics be more sustainable, as they only order and add new parts as they go, avoiding any additional waste.
"Materialise has helped us a lot with the finishes of the pieces in the last year. Being able to manufacture a piece that already has a final finish makes our products much more sustainable. Not only economically, but also environmentally," admits Tito.
"As we don't need to produce big batches, 3D printing is a much more adaptable and flexible solution that saves us money and time," says Tito. Flexibility is also visible in the techniques PAL Robotics uses for their production.
Their journey with 3D printing started with technologies like laser sintering and stereolithography. Following the market advancements, the PAL Robotics team also adopted a wider range of technologies, like vacuum casting and Multi Jet Fusion, that produce the finished look and extra functionalities. This way, they incorporated 3D printing in the entire production cycle, from prototyping to end-use parts.
Ready to shape the future together
"Innovation is critical for PAL Robotics. It's great to have a partner like Materialise that is a trailblazer in 3D printing technology. We usually make three or four variations of our designs in one year. Through traditional manufacturing methods, you could never do something like that!" explains Tito.
The fusion of robotics and 3D printing is something PAL Robotics will continue to explore. "We can change skins and colors of the robot's surface, maybe even add a shock absorber to stabilize any impact or modify the materials during the AM process so the robots can contain bacteria-killing chemicals. This would be done to address our customer's needs or to customize ARI for a specific purpose," explains Tito.
"We are convinced that robots will have an increasingly important role in our everyday lives. The mission of PAL Robotics is to design robotics that will improve our lives and work. To do that, we'll keep developing and improving our robots to meet the needs of society better. We consider additive manufacturing a big part of the discovery process to expand robotics and its value to society," he concludes.
If you want to use 3D printing in your next project or need advice on how 3D printing can help you develop your idea, get in touch!