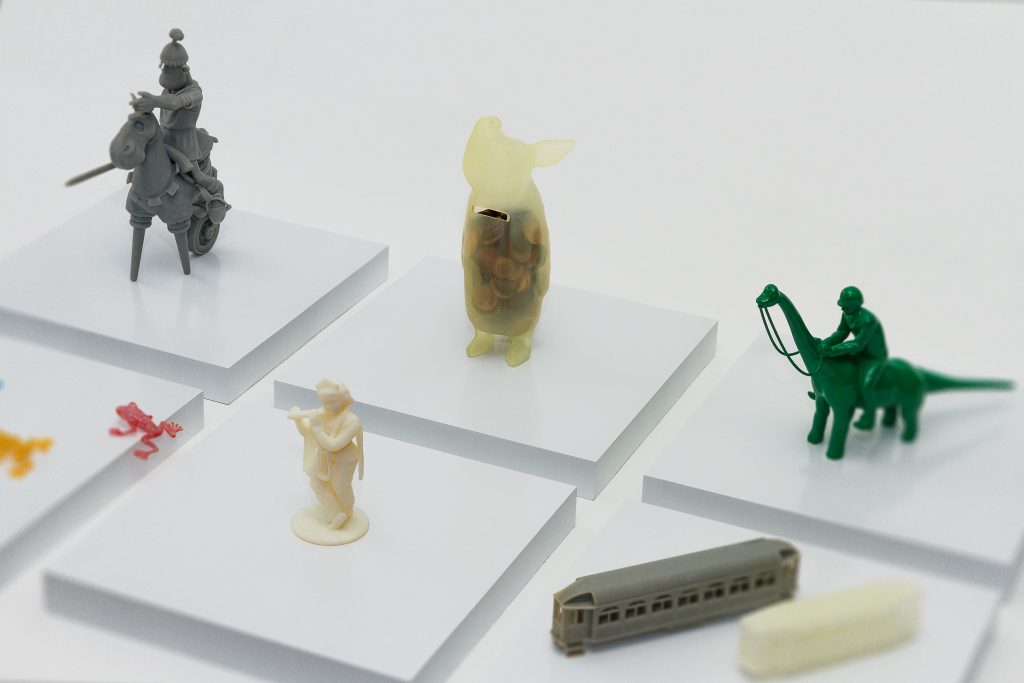 Which 3D Printed Resin Is Right for You?
by Erlinde | October 17, 2019
Are you thinking about 3D printing in resin? Would you like to know more about the technology behind 3D printing in resin? Or you just can't figure out which one of our five resins to choose? Then this blog post is perfect for you!
The Technology: Stereolithography
Stereolithography, the mother of all 3D printing technologies, has been around at Materialise since 1990. It is one of the most widely used 3D printing technologies for plastic 3D models. Instead of using powder or filament, Stereolithography technology uses a liquid resin to produce 3D prints. Since we are dealing with a liquid material, additional support structure is necessary for overhanging parts and cavities.

The 3D printing process takes place in a large tank filled with liquid resin. To start the process, a layer of UV-sensitive liquid polymer is spread over a platform. Then, by applying a UV laser, selective parts of the liquid are hardened, depending on where the laser beam strikes. The remaining material in the tank stays liquid. In the next step, the platform, together with the model, is lowered, making room for the next layer of polymer to be drawn on top of the previous one. Again, the laser beam is applied to harden selective parts of the liquid material.
This process is repeated until the model is finished. The required supports (for overhanging parts and cavities) are automatically generated and once the entire process is done, the model can be raised out of the tank and the supports are manually removed.
5 Different 3D Printed Resins
The main advantages of our 3D printed resins are smooth surfaces, high-quality, detailed prints and a huge variety of finishing and post-processing possibilities. But let's take a look at each of the five 3D printed resins in depth.
Standard Resin
Our most recently added resin is Standard Resin. It is a material that offers great quality at a low price, making it the ideal low-budget material. It is available with or without support; the support can be manually removed with tools and sanding paper. Standard Resin has a high level of detail, it is translucent, feels smooth to the touch and is easy to paint and post-process.
Gray Resin
Gray Resin, previously known as Prime Gray, is a very smooth resin, much smoother than almost all other 3D printing materials, and easy to paint. The standard finish comes in Natural Gray (Air Force Gray), but in total there are nine finishing colors to choose from: white, black, blue, green, yellow, gray, red, orange and brown. However, you can also paint it yourself. We've got just the right tutorial for you here.
As you can read on this article, Gray Resin is the perfect material to 3D print figurines.
Mammoth Resin
The main advantage of our Mammoth Resin material is that you can print in huge sizes: 2100x700x800mm. And it comes with the same high quality and smoothness as the other resins. So, if you want to print a large piece, hesitate no longer and choose our Mammoth Resin. Discover our favorite Mammoth Resin designs on this article.
Transparent Resin
As the name already reveals, Transparent Resin is the material of your choice if you want to print in a transparent material. The material is water-resistant by nature and ideal for smaller models that need a smooth, high-quality, transparent surface.
Learn how to get the perfect Transparent 3D print and get inspired by this amazing cathedral printed in transparent resin.
High-Detail Resin
Finally, our last resin, High-Detail Resin, doesn't use stereolithography, but instead uses a 3D printing technology called PolyJet. So how does this work? It jets ultra-thin layers of resin onto a building platform. Each layer is immediately hardened by UV light. This process is continued layer by layer until the model is completed.
Again, supports are necessary for complicated geometries, which can be removed by hand or water jetting once the printing process is finished. If you need a small model with an enormous level of detail and a smooth surface, choose our High-Detail Resin.
Are you convinced that Resins are the way to go? Are you looking for a smooth material that focuses heavily on a high quality-price ratio, that is easily paintable or features large sizes, transparency or high details? Don't look any further and choose your ideal resin.
Upload your 3D model, pick the material of choice and turn your idea into reality.
Don't forget to read the design guidelines for each 3D printed resin to make the most of your 3D prints!