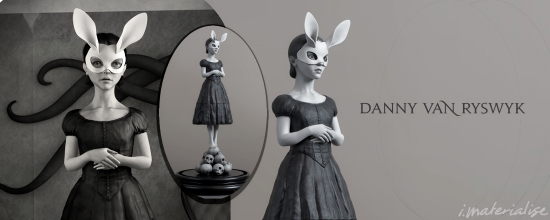 Every so often, an artist comes along who pushes the boundaries of what we believe is possible. Danny van Ryswyk is an acclaimed Amsterdam-based digital painter and sculptor who creates surreal, paranormal sculptures using 3D CAD (computer assisted design) sculpting software and hand-painting techniques. His sculptures and two-dimensional render-based paintings join childlike fantasy with the macabre and fantastical world of nightmares. His work is dark, brooding, and admired all over the world.
His sculptures are 3D paintings, instantly recognizable by their smooth surface, dark colors, and minute level of detail.
Ryswyk sat down with us for an interview about his sculpting and painting techniques, as well as the ideas and symbolism that compel him to create his haunting artwork.
Read on! Read more…