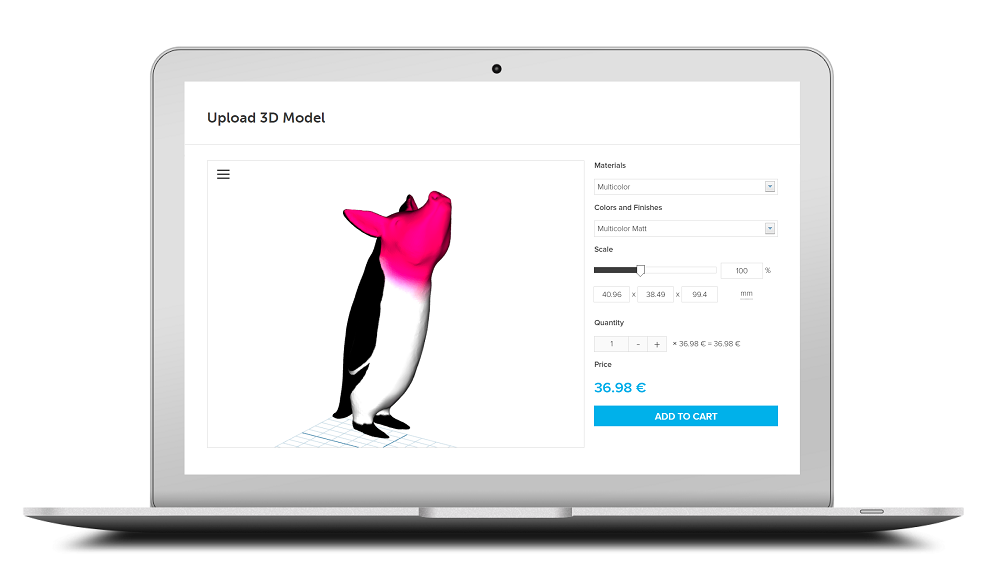 My 3D model has been uploaded – now what?
by molly | July 18, 2019
Ever wondered what happens to your file after it has been uploaded to i.materialise? In this post, we will walk you through all the steps that your model will go through, from automated and manual checks to file preparation, production and cleaning. We will deep dive into what happens from the moment you click "order" until your 3D print arrives to your doorstep.
 For a 3D print order to be completed, it naturally must start with a 3D model. This can be done vis-à-vis a 3D scan, designing it yourself using a 3D design tool, or using a professional designer to do the 3D modeling.
Of course, modeling for a 3D print job can be confusing. This is especially true if you are a beginner. In this case, it might be helpful to read our whitepaper "Beginner's Guide to 3D Printing," so that your order won't be canceled after it is uploaded.
A finished 3D model can be uploaded to i.materialise. Our 3D printing platform offers instant pricing, automated and manual checks, 8 different printing technologies, 21 different materials to choose from and over 100 color and finish combinations, and offers the capability to support many 3D file formats. As such, there isn't a one-size-fits-all approach when it comes to 3D printing and preparing the 3D model. It's not only about the printing (which usually only takes a couple days at most). Rather, it involves an entire process of file checking, planning, printing, cleaning, finishing, quality checking, packing, and shipping your products.
After the upload
Once your 3D model has been uploaded and your selections have been made, the model immediately goes into an automated check using our in-house software.
The software verifies if the model can be printed. It makes sure that some of the most common mistakes why a 3D model is not printable, such as wall thickness. If the wall is too thin, for example, this could mean that a 3D printer simply cannot build a wall, or that the wall would be very fragile and break off easily.
Another common mistake is when your model has edges or contours that are not closed or connected properly. These so-called gaps between the surfaces prevent your model from being watertight. This refers to the possibility that your model would "leak" because of these gaps. The gap is closed by welding or stitching the surfaces together in your 3D software program or creating a surface in between.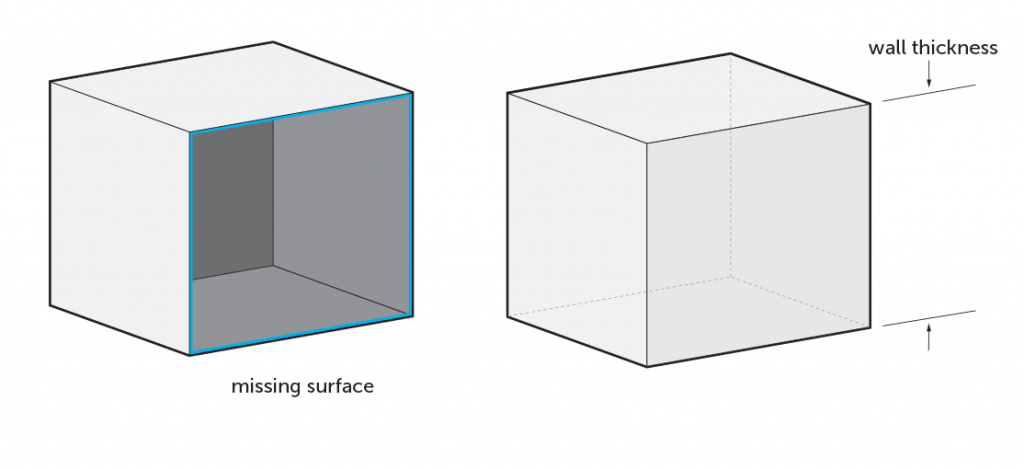 In some cases, our automated software can fix some of these mistakes. In other cases, if one or more of the automated checks fail and it cannot be fixed automatically, then the model is looked over by a member of the Customer Support team. They check and approve whether the model can be sent into job preparation. If there are still some risks associated with the model, they will reach out to the customer to see if they are willing to accept some of the risks (such as wall thickness), before it is sent to job creation.
If the model is not printable or considered acceptable, then the order is canceled (read more on "Why Was My Order Canceled?"). The customer is informed about the cancellation with a full explanation of what went wrong so they can ensure that the next print will be successful and they are also refunded.
Next step: production
 Once the 3D model goes through all of the automated and manual checks, then it is cleared for job creation and production. The production facilities contain over 100 printers, including 15 of the world's largest Stereolithography machines (printing up to 2100 x 680 x 800 mm).
Your parts are first cued and combined in a job file that will be sent to the printer. Most of the time many parts can fit in a single print bed, so there are other prints included in the job file. During this step, we orient, position and slice your model. Orientation and positioning will influence the surface quality and mechanical properties, such as the strength. Due to layered building process, our team has to select best orientation for each part. This last action is where the job is split up in layers, sending that information to the printer, which will be used by the 3D printer to construct the entire print job.
The printer is started, and depending on the size and amount of parts, the print job can take a couple hours or up to 2 days or even longer. This depends on the complexity of the job, material, finish and/or the size of the parts. Some additional buffer time is typically added to give room for production corrections and additional checks or print queues. More on lead times and production times can be found here.
Final steps: Post-processing, quality check and shipment
Once the model is printed, the parts are taken from the build and cleaning is required. The cleaning can differ depending on the technology used. For a powder-based process, like Laser Sintering and Multi Jet Fusion, the removal of residual powder is needed. For Stereolithography, the first step is the removal of residue liquid resin and then the removal of support. To learn more about the different types of cleaning and 3D printing technologies, you can read about it here.
Additional post-processing is done depending on the required finish or color. For example, if you ordered a Polyamide model with a red polished finish, once your model is printed, it will then be put into a tumbler with pebbles that vibrates at a high frequency to smoothen the surface. Then it will be dyed by putting it into a bath with red pigment.
The last step before shipment is a quality check. The printed parts are looked over for quality assurance and basic measurements are double-checked. Then, all of the parts for one order are gathered for shipment together in one package.
Your 3D print is now ready for its final step and last leg of its journey. All of the printed 3D models are shipped via UPS, with delivery times varying by region – check out our shipping time page for more info. Or, if you're in the neighborhood, you can also pick up your part at Materialise HQ in Leuven, Belgium. Either way, you get to hold in your hands the model that you imagined, created and designed.
Ready to print your model? Go to our upload page to get started.