Wall Thickness


In 3D printing, wall thickness refers to the distance between one surface of your model and the opposite sheer surface. A model made in PolyJet with a minimal wall thickness of 1 mm provides you with a strong solid surface.
Dimensional Accuracy


PolyJet Technology - the technology used to build your design in high-detail resin - is one of the plastic 3D printing processes with the highest dimensional accuracy. Dimensional accuracy doesn't relate to the detail of your model but to the deviation from the nominal size. The general tolerance of the material we offer is 0.1% with a minimum of ± 200µ.
The Right Space between Your (Moving) Parts


When you want to design something like a pearl or chainmail necklace, the spacing between your surfaces is crucial. It will determine the flexibility/bendability of your design. We recommend keeping a minimum space of 0.4 mm between designed surfaces. The more space you can afford the better.
The more complex your design is, the more complicated it becomes for the gel-like support material to exit the empty spaces. Try to visualize how the support material will be removed by jetting water.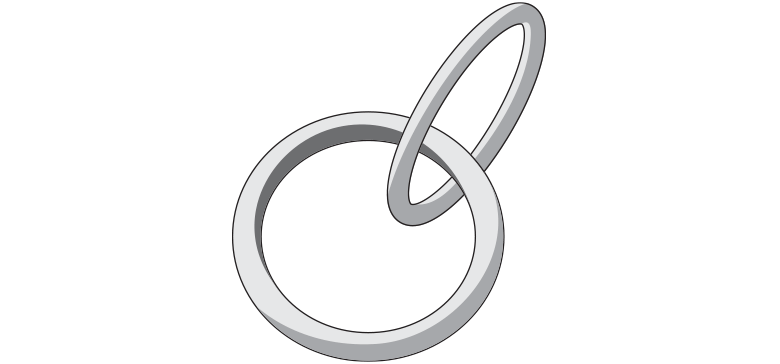 When you design something like chainmail, make sure you provide enough space between the rings in your 3D model. This will allow the gel-like support material between the rings to flow away when the model is taken out of the 3D printer and cleaned.
At least 0.4 mm of space should be kept between the rings - it can always be more. The space you create between your rings will purely depend on their size. With big rings, you can create a lot of space so you can print more of them in a confined space. With small rings, you will have to limit your space to keep a distance between the opposite horizontal or vertical ring in the chain.
Assembly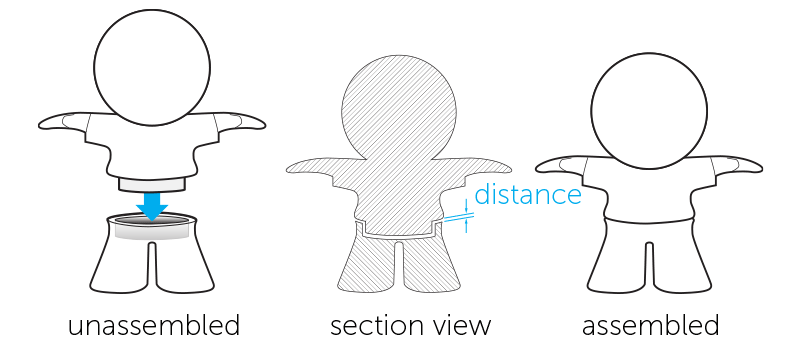 When designing models that need to be assembled, it's important to provide enough distance between the parts that will be attached together. A perfect fit in your software package does not mean a perfect fit after printing because your software ignores the friction present in the real world. Therefore, always leave at least 0.6 mm between the different parts.
Embossed and Engraved Details


For engraved text or surface details, we recommend letters with a minimum line thickness of 0.5 mm and a depth of 0.5 mm. For embossed text and surface details, we recommend letters that have a line thickness of at least 0.8 - 1 mm and a depth of at least 0.5 mm.
Design Specifications
Minimum Wall Thickness
1 mm
Minimum Details
0.2 to 0.3 mm
Accuracy
±0.1% (with a lower limit of ±0.2 mm)