It's smooth, it's soft…it's polished polyamide! Free finish for a month!
by Tatiana | February 20, 2013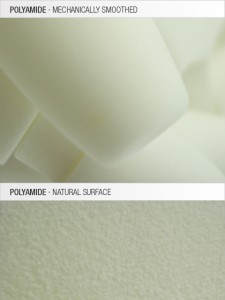 We're happy to introduce white polished polyamide to take your designs a level higher. To celebrate we're offering this finish for free until the 21st of March. Read all about it!
It's a hard knock life, but i.materialise comes to the rescue and softens the edges a little bit…with polished polyamide! It feels smooth in your hands and it looks great since the building layers of the design aren't that visible any more. Polished polyamide just gives that little extra touch and feel, which brings your design to a whole new level.
Polishing, also referred to as mechanical smoothing, is a special finishing process for polyamide. To achieve a polished finish, your model is put into a tumbler with small stones. While the tumbler vibrates at a high frequency the small stones smooth your model.
TIPS
To make sure your polished designs looks good, you'll need to follow some specific guidelines.You should have an overall wall thickness of at least 1 mm in your model. Due to the layered buildup of your model, it will always have 'weak points'. They can cause elements of your design to be more sensitive to the impact of the polishing stones. Therefore, if you are able to add some extra wall thickness to your design, it's better to do so. To know all the details about polishing, you can go to the material page and scroll down to the section 'polished models'.
Our product designer, Bert, created a complete design guide to help you through your design process for polished polyamide parts.
PRICE
The first month, until the 21st of March, the polished finish will be free of charge. Afterwards you'll have to pay an additional cost: for each polished model you'll have to pay 2,60 euro (approx. 3.5 dollar) extra. Go to our 3D print lab to try it out yourself.

Not convinced? No problem! You can order the sample kit to see, feel and compare all the materials. Or just order a loose sample, the polished polyamide sample is available from today on!