Ho ho ho….New Challenge: Christmas Ornaments!
by Tatiana | September 25, 2012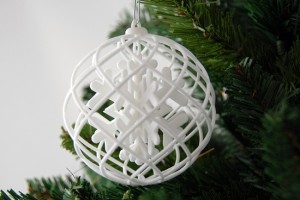 ABOUT THE CHALLENGE
Leafs are falling from the trees, the temperatures are getting lower and people are dressed warmer and warmer. Only three months before Christmas we want to present you our new challenge: The Christmas Ornaments Challenge! Christmas balls, little reindeer figures,…surprise us!
RULES
Participants need to upload their file here. You can find more information about the file formats in our FAQs under 'website'. The material for this challenge is polyamide.
There are limits on the size of the design:
Bounding box polyamide: 10 cm x 10 cm x 10 cm
SUBMISSION PERIOD
From today on you can submit your designs on the website until 1 pm UMT+2 (summertime), October 31st 2012.
THE JURY
We will put the renders on Facebook the 1st of November and let everyone decide until the 5th of November. The one with the most likes wins the challenge.
PRIZES
The designer with the most likes on Facebook wins its own 3D printed design. We will also put the winning design in the gallery and if someone buys your design, we will be very happy to give you your designer fee.