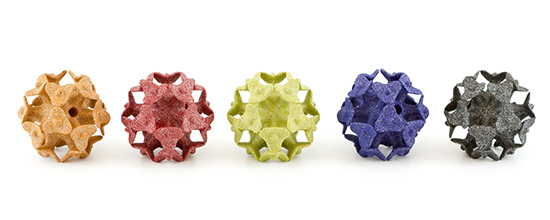 Dyed Alumide: Can You Handle All This Sparkle?
Starting today, we're really excited to share a new, exclusive line of 5 colors to our Alumide material: Asphalt Black, Brick Red, Rusty Orange, Sparkly Blue and Moss Green. Up till now you've been ordering Alumide solely in its natural color, mat aluminum, but that's about to change.
To add color to your Alumide designs, we use a dyeing process (approximate to the one we use for polyamide) here your model is submerged into a bath containing color pigment. This dyeing process is also referred to as pigmentation or impregnating. As with most post-finishing processes, extra labor is required.
Because the aluminum particles in Alumide are randomly distributed, no part will look exactly the same. The surface finish of your design can be compared to random, "noisy" textures such as asphalt. Please be aware that wireframe models are less suited to printing in Dyed Alumide because of the uneven surface texture, which may result in parts of your model being less sparkly than in models with larger surfaces.
The Details
Dimensions: maximum 200 x 150 x 150 mm
Pricing: a startup of 1€ (± $1.38) + 0.2 € per cm³ (±$0.28 /cm3) per model on top of the price for the natural color. The extra cost for dying is limited to a maximum of 3 € (± $4.5) *
Dying requires 2 extra working days.
* Price in Dollars may vary due to exchange rate with the Euro
Shops
These extra finishes for alumide will be available for all new shop items. Older shop items will be gradually updated.
Sample Kit
For those of you who might feel more comfortable in seeing and feeling dyed alumide finishes first, we have made them available as a separate sample kit. You can order them here. If you're not sure what to keep in mind when designing for Alumide, you can still check the design guide.
From Titanium to colorful Ceramics, Multicolor, Polyamide, 14K Gold, Dyed Alumide and more, i.materialise has got you covered. Using 10 different 3D printing technologies, 17 different materials and currently 90 possible color and finish combinations, we offer only the highest quality to make your ideas real.  So, what would you make with these sparkling new colors? Let us know in the comments below.