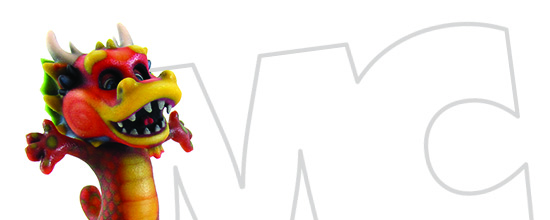 3D Printing Technologies: ColorJet Printing with ZCorp
Contrary to popular belief, there's not a one-size-fits-all approach to 3D printing. Although we offer 17 different materials and over 90 possible color and finish combinations, it takes us several different technologies to get the job done.  In general, 3D printing technologies can be split up into 2 groups: direct and indirect 3D printing. The main difference lies in the fact that the design is made from 3D printing (direct) or 3D printing was used in the process of creating your model (indirect). Let's move on with already the fourth part of this series with ColorJet, probably the most colorful 3D printing technology around and an example of a direct 3D printing technique. 
How it Works: ColorJet Printing with ZCorp
ColorJet Printing builds up the model from bottom to top, layer by layer. A roller puts a thin layer of powder on a platform and a print head places tiny drops of glue at specific locations, printing a thin layer of your model. The platform lowers and the roller spreads another layer of powder. Coloring is done by combining 4 different pre-colored glues to match the color requested. After the printing process the model is brittle, but is strengthened by putting it into superglue. A UV coating is sprayed on it to prevent de-coloration by sunlight.
ColorJet Printing with ZCorp: The Material
The only material that offers full color models at a good price
The Surface has a sandy, granular look
Allows a lot of freedom in design
Mostly used for non-functional items
ColorJet Printing with ZCorp: Printing Sizes
Trivia about ColorJet Printing with ZCorp
Did you know that?
The technology was first developed at the Massachusetts Institute of Technology (MIT) in 1993 as ZPrinting.
In 1995 Z Corporation obtained an exclusive license for the technology and at the same time trademarked the term "Three-Dimensional Printing" (3DP™).
Materialise has been using this technology since 2007.
Can't get enough of this exciting technology and its materials? Then dive into our elaborate material pages for a lot more information or get your ColorJet 3D print from a ZCorp machine via our online 3D printing service here.