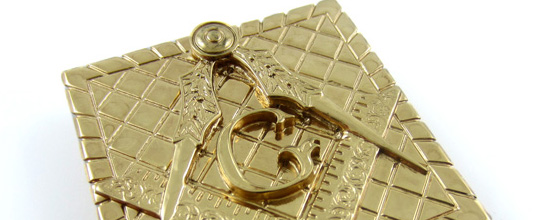 A Quad of Metals
by Billy | May 22, 2014
Don't struggle to find a custom gift for that special person. i.materialise has traditional and nontraditional materials that can be used to make all kinds of jewelry, including some you may not have thought of.
Brass
Brass may not be the first metal that comes to mind when you think of jewelry; however, 3D printing has opened up new possibilities and techniques to create beautiful pieces.
Belt buckles are a popular men's accessory and brass is a sturdy and frequently-used material of choice. A high level of detail can be achieved using brass, and we use plated brass that looks similar to 18k gold. Not only that, but we also offer a PU coating that extends the life of the plating.
Titanium
Titanium is an excellent material choice for jewelry because of its strength and the fact that it won't irritate sensitive skin. This four-strand, continuous, braided ring is made from unpolished titanium and is elegantly woven together. If you're a fan of multiples, stack many on top of each other.
Silver
What's not to love about the sweet shine of silver? Its popularity has soared in recent years and sterling silver is the best choice when choosing a type of silver for jewelry because of its durability and malleability.
Sculpture and form take center stage on this 3D sterling silver ring called "Woman".
Silver cufflinks customized with initials are always a classic, personal gift for the man you love.
Gold
"There is nothing more precious than gold." This precious metal often evokes memories of long-standing traditions and commitment. This Rod of Asclepius Pendant showcases the universal symbol of healing and is a lovely gift for a friend or family member in or entering the medical profession.
No matter what the material, i.materialise provides you with the tools to turn your ideas into reality. Visit our Creation Corner to find a list of options to point you in the right direction, and for a limited time, enjoy free shipping to the US.