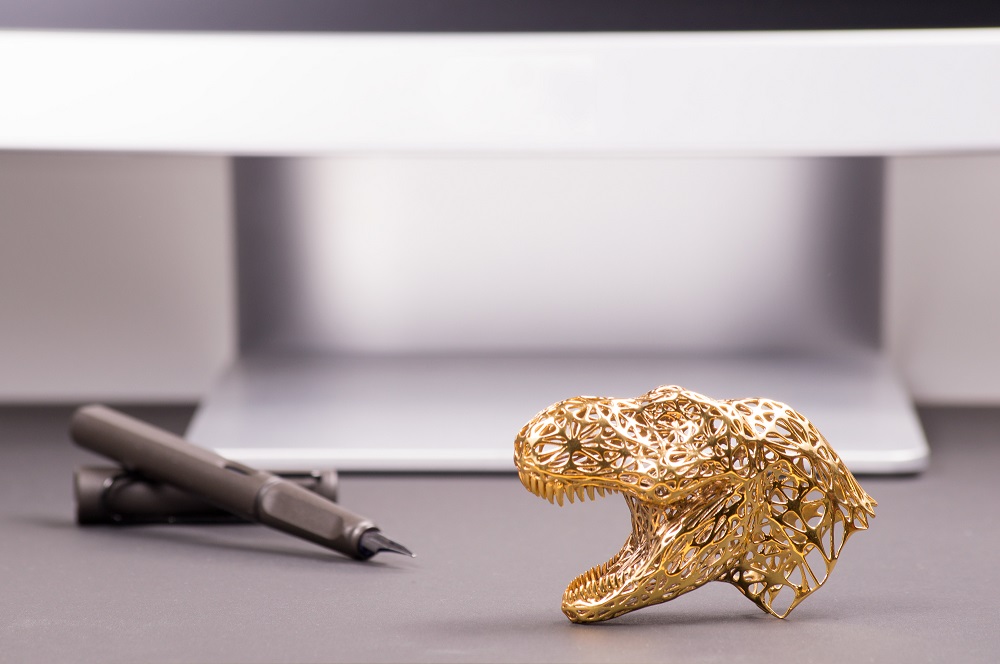 How To Get Your Perfect Brass 3D Print
by Erlinde | February 3, 2021
Are you thinking about 3D printing in brass? Would you like to know more about the material and all the available finishes? Are you interested in finding out how your 3D design is turned into a perfect brass 3D print? Would you like to discover some design tips and tricks for your next brass 3D print? Then read on, because you will find the answers to all your questions in this blog post!
The Material: 3D-Printed Brass
3D prints made in brass consist of an alloy of copper and zinc. Brass can be used in a wide range of applications. It is a fantastic material for detailed miniatures, sculptures, and jewelry and it is especially interesting if you are looking for a more economical alternative to precious metals. While brass has exactly the same level of detail as our silver and gold items, it comes at a cheaper price. And thanks to all of our finishing options, you can give it an incredibly stunning look. So in summary, Brass looks amazing, has the same level of detail as other precious metals, and comes at a low price.
The 6 Finishes of 3D-Printed Brass
Brass has by nature a yellow/reddish color, but you have the option to make your 3D print look even more stunning by choosing between five finishes, listed below.
Natural PU-Coated
The first option you can choose is just to have your 3D print coated with clear PU to protect it against scratches and oxidation.
Yellow Gold-Plated Polished and Red Gold-Plated Polished
Furthermore, we offer a Yellow Gold-Plated or a Red Gold-Plated Polished finish. Both are achieved through an electroplating process. Depending on which finish you choose, your model will be finished with an 18kt gold layer in yellow or in red. The PU coating provides extra protection.
Black Color-Plated Polished
The fourth option we offer is the Black Color-Plated Polished finish, which is achieved through an electroplating process, but this time in combination with a colored PU coating. Your model will first be finished with a very thin layer of palladium and silver. We then add black coloring by applying a liquid, colored PU coating, which is cured in the oven in the final step.
Chrome-Plated Polished
The Chrome-Plated Polished finish is achieved by electroplating a thin layer of chromium. Your model will first be given a very thin layer of copper, and then a layer of nickel which acts as a base for us to attach the chromium to. We then apply the chromium layer in the final step.
The chrome-plated layer offers a polished, appealing aesthetic, provides some corrosion resistance, and increases the surface hardness of your model. It is an affordable imitator of the chrome finish and its aesthetics. This decorative chrome plating is traditionally used on car parts and tools. Because the base layer of chrome-plated parts contains nickel, we do not recommend using this finish for jewelry. Some release of nickel might be possible during skin contact.
Rhodium-Plated Polished
The most recently launched brass finish is the Rhodium-Plated Polished finish and is perfect for jewelry items. This time, your model is electroplated with a thin layer of rhodium. The rhodium layer protects your design against scratches or tarnishment and has a cold white color tone. This new finish will give your brass object a shiny, white, and precious-looking surface, which makes it a great and affordable alternative to high gloss silver items.
Be aware that these finishes require additional processing steps, which is why some additional days need to be added to the standard production time. For more information on the number of days per finish, visit the brass colors and finishes page on our website.
The Technology: 3D Printing and Casting Brass
Your model is 3D printed in brass using the technology of lost wax printing and casting. But how does this work? To enhance the quality of the item, your model is not 3D printed directly. In the first step, your 3D model is printed using a resin similar to wax, on a Stereolithography 3D printer. Once the 3D print is ready and the support structures are removed, it is cleaned and prepared for casting.

In the next step, the 3D print is used to create a mold. This is done by placing the 3D print in a flask and covering it in fine plaster. Then, we remove the wax by placing the mold in an oven for several hours. The cavities created by the removal of the wax can now be filled with liquid brass. After the brass is completely poured in, the model needs to cool and solidify. Finally, the mold can be broken and your brass model is taken out. At the end of this process, finishing is done manually to provide you with the perfect brass model.

The Design: How to Get the Perfect Brass 3D Print
In order to get the perfect brass 3D print, you should take some tips into account. The most important ones are depicted below, but for more detailed information, please visit the brass design guides on our website.
For most models in brass, make sure to use a minimum wall thickness of at least 0.6 mm. However, for the gold- and color-plated finishes, 0.8 mm is necessary and for a wire structure design, such as a ring, at least 1 mm would be necessary. Be aware that if you use a wall thickness that is too thin, it can cause your model to break
Small details, such as decorative parts or engraved text, should have a diameter of at least 0.35 mm, a height of 0.4 mm and should be attached to a solid surface
Be aware that the maximum size of your 3D print in brass is limited to 88 x 88 x 125 mm
Make sure that if your design contains gaps, the distance between two parts is at least 0.3 mm. Otherwise, it might cause defects in your print. For example, if the distance is too small, parts can become fused during the casting of your model
If you decide to print a hollow model, we advise you to incorporate at least 3 release holes or slots with a minimum diameter of 1.5 mm, to remove the unprinted wax resin
Remember that nested objects or interlinking parts cannot be printed in brass
If you want to learn more about 3D printing in brass, visit our dedicated material page on our website. If you have already created a 3D file and are ready to turn it into reality, make sure to upload it via our 3D printing service. Choose the material of your choice, pick a finish, and you will be able to see the price in seconds.
Don't wait to order your brass prints! Up until Valentine's Day 2021, you can get 10% off on all precious metal, metal, and Multicolor+ prints. Just order here and use code FromImatWithLove2021 to save!