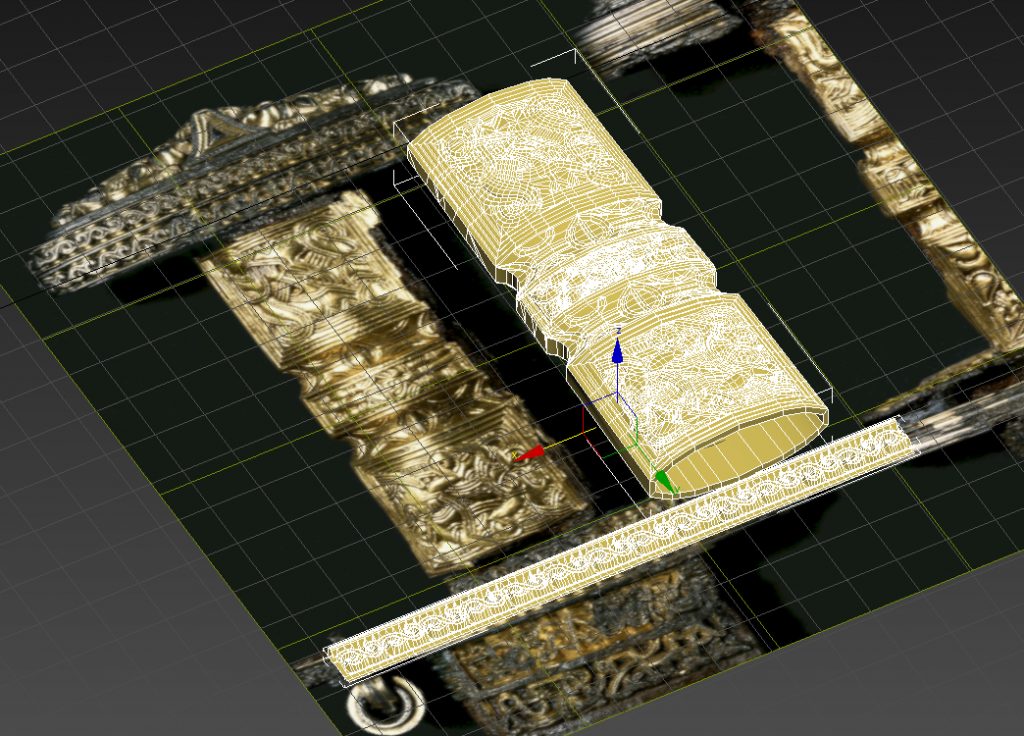 Top 20: Most Popular 3D Modeling & Design Software for 3D Printing (2017 Update)
by Fabian | May 9, 2017
Creating a printable design is the crucial first step in the 3D printing process – and everyone seems to have a different opinion on which software is the most suitable for getting this job done. So what's the most popular 3D modeling software for 3D printing? Read on to discover the top 20!
Ranking the most popular 3D modeling software for 3D printing isn't that easy. Simply looking at the number of users of a certain software would create a misleading picture: while some programs were created especially for 3D printing communities (like Tinkercad) others are mostly used by visual artists and game designers – and barely by 3D printing enthusiasts.
That's why we created an overview that takes several factors into account: the general popularity of the software as well as its use within the 3D printing community. In total, we looked at six different variables that made up the final score.
How we determined the most popular 3D modeling software
General popularity:
Social Media Score: The first factor that we took into account is the overall popularity of the software on social networks. This includes the number of fans, followers, and mentions on social media.
Website Score: This is a score developed by Moz that predicts how well a specific page ranks on search engines and includes various sub-variables (for example link counts).
While these two factors show the overall popularity of the software, they do not distinguish between using the software for 3D printing or for any other purpose. That's why we added some more factors that are related to 3D printing:
Popularity in the 3D printing community:
3D Printing Forum Mentions: We calculated how often the software is mentioned in leading 3D printing forums (e.g. 3dprintboard.com or 3D Hubs Talk).
3D Printing Video Mentions: This number shows how often the software is tagged in 3D printing videos on YouTube. It includes mentions such as "3D printing with XY", "XY tutorial for 3D printing", etc.
3D Models in 3D Printing Databases: This is a score that shows how often 3D models in 3D printing databases and communities were tagged with a specific software. A higher score means that many 3D printable models were tagged with the name of this software.
3D Printing Google Score: This number shows how often the software is mentioned in the context of 3D printing on Google.
One last reminder before showing you the results: this evaluation is not about how good the software is. It's simply about trying to put a number on the size of its 3D printing community. An outstanding software with a niche focus (e.g. sculpting software) will have a harder time scoring well because there are fewer 3D sculptors out there. Thus this list is all about the sheer numbers and does not make any statement about the quality of the software.
The results: the 20 most popular 3D design programs (updated: May 9, 2017)
But now, let's take a look at the results: here are the 20 most popular 3D modeling programs for 3D printing, based on various popularity variables.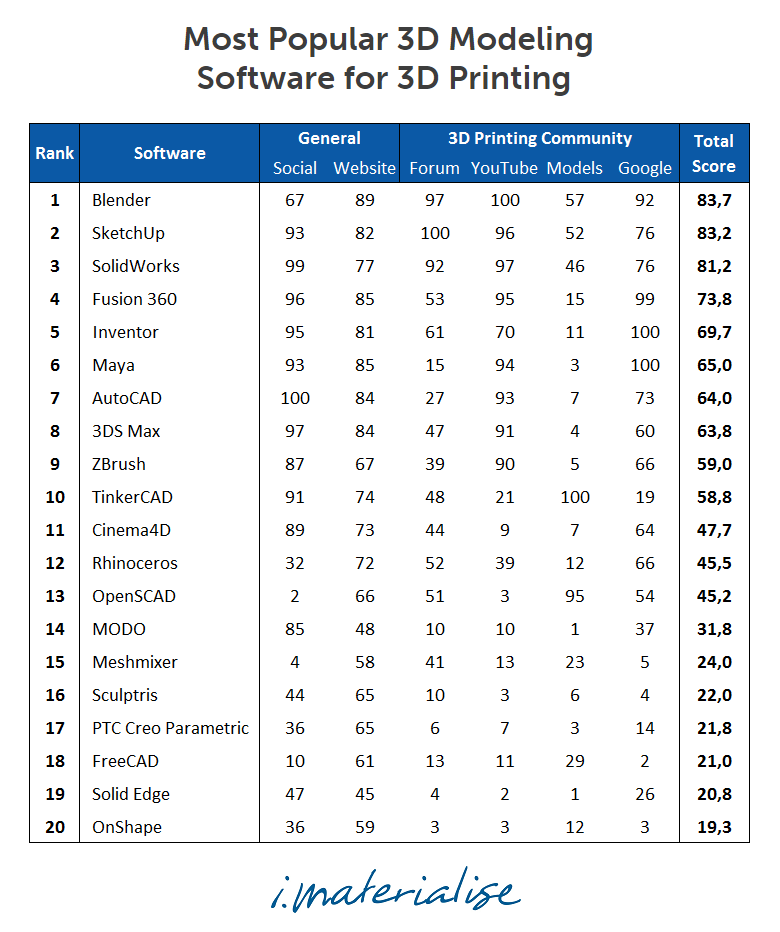 Blender and SketchUp top the list!

Rank 1, Blender: So here it is – Blender has the biggest, most active 3D printing community. The community is especially keen on sharing and spreading resources: Blender has lots of forum entries, YouTube videos and Google search results related to 3D printing content. This popularity is down to two reasons: first, Blender gives its users enormous design freedom with nearly innumerable tools, and second, it's a free open-source software. However, Blender is known for its steep learning curve and is often considered difficult for beginners.

Rank 2, SketchUp: SketchUp takes the silver medal in our ranking. It simply scored very well in each of the categories we observed. SketchUp is known for its beginner-friendly learning curve and features tons of tools for geometric objects. And the best thing about it: SketchUp comes as a free version. SketchUp also recently facilitated prepping and sharing 3D printable objects and thus its likely that its 'database score' will increase even further in the near future.
Rank 3, SolidWorks: Next in line is SolidWorks, a popular 3D design solution for engineers. It focuses on the rapid creation of parts, assemblies, and 2D drawings but comes with a hefty price tag.
Rank 4, Fusion 360: Fusion 360 is making quite a buzz lately. Over the last two years, this software increased its popularity ranking all the way from rank 15 to rank 4! This development is probably due to the fact that Fusion 360 is now available for free for students, enthusiasts, hobbyists, and startups. It combines the professional capabilities of a high-end CAD program with an user-friendly interface and workflow. That's why Fusion 360 is such a popular program among industrial designers.
Rank 5, Inventor: Inventor offers professional-grade 3D mechanical design, documentation, and product simulation tools. It is a very advanced 3D modeling program that requires a lot of training to master. As a high-end tool, Inventor is a direct competitor of Solidworks.
Rank 6, Maya: Maya brands itself as a 'computer animation software' rather than a 3D modeling software since most of its users use the program for animation, simulation, and rendering purposes. Nevertheless, Maya is considered one of the most popular tools in the 3D printing community.
Rank 7, AutoCAD: AutoCAD, a software for 2D and 3D CAD, was released back in 1982! However, its popularity within the 3D printing community decreased lately: during the last two years, AutoCAD fell from rank 4 to 7.
Rank 8, 3ds Max: While 3ds Max is mostly used by visual effects artists and game developers, the 3D printing community has started to embrace this professional 3D computer graphics program recently.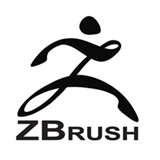 Rank 9, ZBrush: As already pointed out, niche products have a hard time scoring well on this list – which doesn't mean that they are any less worthy. ZBrush is hands-down the most popular digital sculpting software. When creating figurines, magical creatures, and any other organic object it's probably the mightiest software to go with.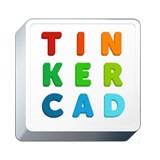 Rank 10, TinkerCAD: Beginner-friendly software also has a somewhat difficult stand when it comes to this list. Free online apps like TinkerCAD offer the most important basic design tools and make 3D modeling as easy as it gets. However, once designers master this tool, they are quite likely to advance to other, more sophisticated programs. This is why we were surprised to see Tinkercad as high as the 10th rank, only slightly behind its bigger, more professional, brothers from Autodesk (such as AutoCAD, Maya, 3ds Max and Inventor).
Ranks 11 – 15, Cinema 4D, Rhino, OpemSCAD, MODO, Meshmixer: Cinema 4D is mostly known for its animation, motion graphic, and rendering application. However, it also starts to be popular with 3D printing enthusiasts now.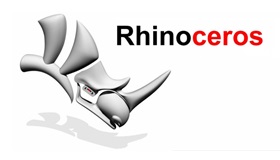 Rhino, or Rhinoceros, a powerful and versatile modeling software that is very popular among product designers, is ranked 12th. Script-based OpenSCAD, and the sophisticated MODO software take the ranks 13 and 14. Meshmixer, a free 3D editing, fixing, and sculpting tool, comes in 15th.
Ranks 16 – 20, Sculptris, PTC Creo Parametric, FreeCAD, Solid Edge, OnShape: Sculptris, a free and simple version of sculpting program ZBrush, comes in 16th. PTC Creo Parametric (rank 17), is often described as the most powerful, flexible 3D modeling software in the industrial/professional sector. FreeCAD (rank 18), on the other hand, is a free, open-source parametric CAD modeler that is a great entry point for mechanical engineers who are new to the world of 3D modeling. OnShape, the first and only complete cloud 3D CAD system that lets everyone on a design team simultaneously work together using a web browser, phone or tablet, manages to get the last spot in the top 20, just behind Solid Edge.
Software that didn't make it to the top 20, but might just be as equally suitable for your needs, are (in alphabetical order): 3Dtin, BRL-CAD, 3D Canvas, 3D Creationist, 3D-Coat, 3DPlus, 3DSlash, 3DVIA Shape, AC3D, Alias, Alibre Design Xpress, Anarkik3D Ltd, Anim8or, Animation:Master, Art of Illusion, Autodesk Revit, Autodesk Softimage, AutoQ3D, Bishop3D, Blink 3D, Bryce, Carrara, CASCADE, Catia, Cheetah3D, City Engine, Clara.io, DAZ Studio, DesignWorkshop, eDrawings, EIAS, Flux, Form-Z, fragMOTION, GDesign, Hexagon, Houdini, K-3D, K3DSurf, LeoCAD, MASSIVE, Metasequioa, MilkShape3D, Minos, MoI3D (also known as Moment of Inspiration), MorphiApp, OnShape, Poser, Pro/E, RaySupreme, Remo 3D, SculptGL, Seamless3D, Shade 3D, Silo, SOCET SET, SolidThinking, SpaceClaim, Strata 3D, Sweet Home 3D, TopMod 3D, TrueSpace, Unigraphics, Wings3D, Vectorworks, XSI, and Zmodeler.
What these scores tell us and what they don't:
To sum it up, these scores show us the following things:
3D modelers have a lot of choices when it comes to designing a new object for 3D printing. Scores are tight and there are lots of programs to choose from. This list can give a general tendency of how big the 3D printing communities for each of these programs are.
Freeware with a lot of design freedom (like Blender) have the most 3D printing users. These programs don't cost a dime and are suitable for a wide range of products.
What these scores don't show us:
They don't show us which program is the best 3D modeling software. It doesn't include any ranking on the interface, functions, price, etc.
They don't show us which program is the easiest 3D modeling software either. It doesn't contain information about how beginner-friendly a program is. However, we do have a guide about this right here.
Just because a software is popular doesn't mean that it's the right software for you. The best way to find your software is by visiting their individual websites, checking their prices, taking a look at objects that were created with them, and by thinking about the time that you're willing to spend on learning it.
If you're new to the world of 3D modeling, this article about how to get started with 3D modeling might be useful. If you already know how to use a 3D modeling software but you're having trouble with modeling for 3D printing, then avoiding these 5 common mistakes will definitely help. If you already have a printable 3D file, simply upload it to our website, choose from more than 100 material options, and let us take care of printing your object.