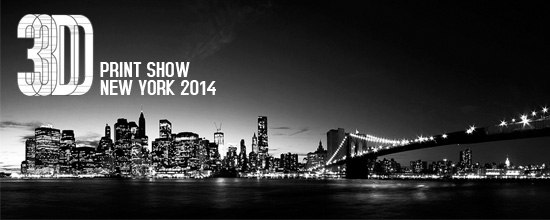 It's show time! Win a ticket for the 3D Printshow New York
by Franky | January 30, 2014
New York's calling all 3D printers as well as curious individuals, as it is hosting the very first edition of the 3D Printshow. From February 13th to 15th you can join artists, fashion designers, business people involved in 3D printing, and exhibitors – including ourselves, not wanting to miss the chance to showcase what we do.
Drop by our booth. If you are going to be in New York, head to the Metropolitan Pavilion (Chelsea) and look for booth A16. We will be awaiting you with some goodies (we will give away vouchers, observing our tradition) and we will take the opportunity to show you:
– The amazing designs made by some of our community members
– Our wide variety of materials and finishes (including metals)
– The amazing Tomato Paint Soup by Emanuele Niri, winner of the Andy Warhol Challenge.
If you are curious about how to boost your business with 3D printing, we have also prepared a seminar on the topic that we will host at the 3D Printshow in New York. And, of course, we will be happy to welcome you to our Materialise meetup there, where we can get to know each other better while clinking our glasses and exchanging ideas and wishes. Stay tuned for more information.
Win your ticket!
We are handing out four entry tickets for Thursday (Feb 13th), and four for Saturday (Feb 15th). The 8 lucky winners will be drawn on February 6th. All you have to do to have a shot at winning a ticket is to convince us why we should give it to you by leaving your comments here on the blog. For instance, share a cool project you have printed with us. Or simply amaze us.