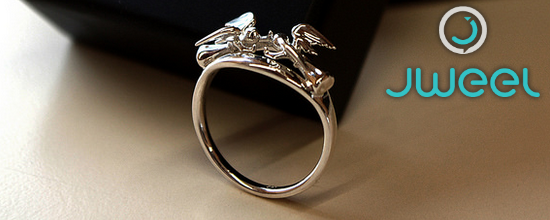 How to Design Jewelry With 3D Designing Software JWEEL
Want to learn to make your own 3D printed jewelry? You don't have to be an expert to get started! There is a free 3D jewelry design software called JWEEL that lets you create your own designs! This easy-to-use and beginner friendly jewelry CAD program lets you create customizable pendants, rings, bracelets, necklaces, etc. And best of all: no prior experience with 3D jewelry software is required – it's free and accessible for everyone. Once you finished your 3D design, you can order your pieces of jewelry in brass, bronze, silver, gold. 
How to get started with 3D jewelry design software
First of all, you might wonder: Why should you design and print jewelry in 3D? Because 3D printing can easily and affordably create intricate, high-detail pieces. 3D files, unlike handmade prototypes, can be resized easily. They can also be printed in metals such as silver or gold, brass, resin, or basic plastic (good for prototypes!). Best of all, 3D printed jewelry doesn't have chunky "casting seams."
JWEEL is good for beginners. More advanced designers may want to download Autodesk 123D for free via our Creation Corner (or, if money isn't an issue, pay for a professional software suite such as Rhino or 3Design.)
A beginner-friendly start with Jweel
JWEEL is ideal for people with no 3D design experience. Since it's browser-based, you don't have to download anything to start designing. Their interface lets you build jewelry free-hand, with strictly minimal use of premade templates. That way, you can legitimately brag about the custom piece you created "almost entirely from scratch."
Here is an interactive preview of a finished piece:
Note that JWEEL does not let you download your model as an ".STL" file. Presently, you cannot print your design from an at-home printer or store it on your computer. However, you can save and back-up your design file on their server for free. You can also send your design to a printer directly inside the program, and do not have to worry about checking wall thickness or "proofing" your design.
To use this software, you will need
A two-button mouse with a clickwheel.*
Your computer. **
* It is possible to use Jweel without a mouse, but it takes longer and isn't as easy.
** Considering to use a mouse with no click wheel? Please don't.
Key Strokes for JWEEL:
Zoom: Hold down Z and roll the click wheel
Rotate view: Hold down right click and move your mouse.
DELETE = First press D, and then Left click. Do not click both at the same time.
Make a new "limb:" Double click on a sphere. Another ball will appear for you to move around.
Move "balls" or "limbs" around: Click a ball. Hold down the left mouse button and drag your mouse at the same time.
Make a "ball" larger or smaller: Click a ball and roll the click wheel back and forth.
Tutorials for creating your first pieces of jewelry
Now let's get to it and design our first pieces.
Click here to view our tutorial on how to create your own 3D printed rings in JWEEL within minutes. This manual is intended for beginners and starts with the very basics.
Click here to see our how-to guide on creating your first pendant and necklace pieces in JWEEL. Once again, no prior knowledge of using 3D modeling software is required.
Would you like to give it a try yourself? Visit JWEEL's website here. Do you already have your own 3D design that your want to print in metals? Upload your 3D design here and choose from metal options such as sterling silver, 14k & 18k gold, bronze, brass via our online 3D printing service. If you're new to 3D printing and 3D modeling, start with this beginner-friendly article and don't forget to take a look at the 10 best 3D printed silver designs that we've seen so far.