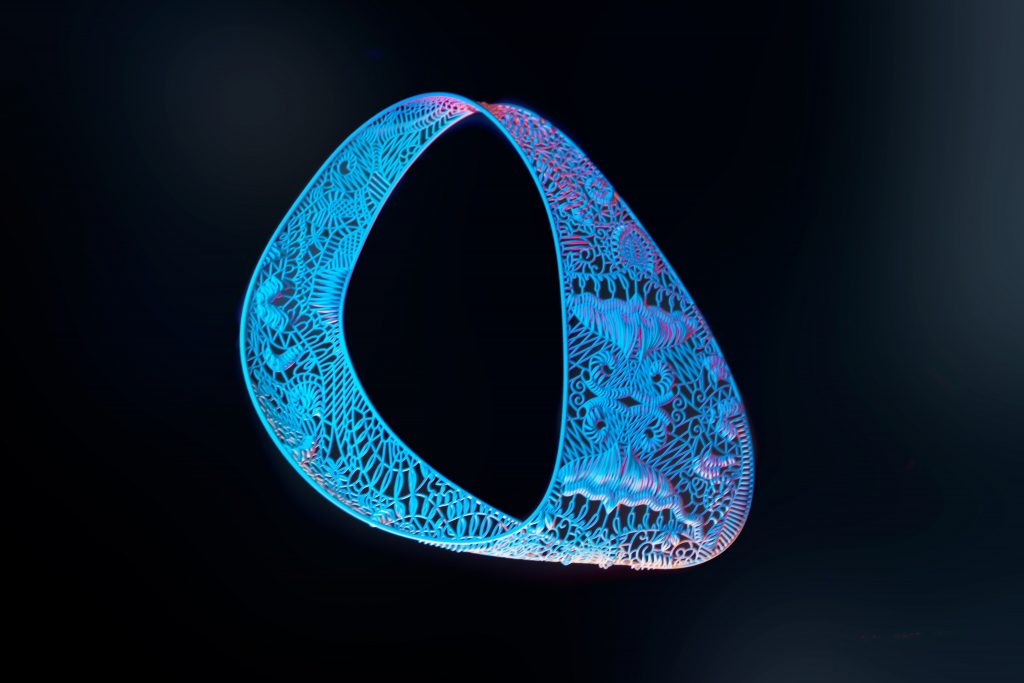 How 3D Printing Won an Oscar
by Elizabeth | March 14, 2019
Austrian designer Julia Koerner had a rather delicious surprise last month: Head Costume Designer Ruth E. Carter, with whom Julia collaborated closely, won the Academy Award for her work on Black Panther. The cherry on top: Ruth wore a custom 3D printed piece created by Julia for the Oscar festivities.
Julia Koerner is a long-term partner of our parent company's, but when the designer reached out to Materialise again to work together on a 3D-printed design for a movie costume, no one had a clue that the ride would lead all the way to the red carpet. From the 3D-printed mantle and crown worn by the character of Queen Ramonda in Marvel's Black Panther to an Oscar victory for the film's lead costume designer Ruth E. Carter, the latest collaboration between Julia Koerner and Materialise has been a star-studded adventure!
To Julia, the nomination is an acknowledgment of the innovation in design that Black Panther demonstrated. With this victory, Julia continues, it's become even clearer how important it was to incorporate novel technologies like 3D printing to enable the complex aesthetic and elevated designs that the story called for.
"I felt very excited about the Oscar nomination. Black Panther was my first time working on a movie, and it is very rewarding to be a part of this success."
– Julia Koerner
3D printing goes couture with Ruth E. Carter
The collaboration between Julia Koerner and the costume designer didn't stop at the 3D-printed pieces featured in Black Panther. Academy Award winner Ruth E. Carter wanted to wear something special to the 21st Costume Designers Guild Awards and the Vanity Fair Oscars Party, something that would pay homage to Black Panther. To do so, she counted on Julia Koerner's design genius. And Julia, in turn, knew she could count on Materialise to bring her inspiration to life.
Drawing on her years of experience in designing for 3D printing, Julia created a 3D-printed statement piece for Ruth that definitely exuded that wow-factor, whilst also showcasing the possibilities of 3D printing in couture and fashion.
The neck accessory was inspired by African designs and patterns, together with gala dresses by Balenciaga from the 1950s and the oeuvre of Malian photographer Seydou Keïta. The result was a filigree design, with high-detailed structures that resembles three-dimensional lace with enough stiffness to stand on its own.
Combining digital technologies with traditional techniques
Once Julia's design was ready, it was printed by Materialise in PA 12 using SLS technology and sent back to the designer within the week. Julia then hand-embellished the ornament with Swarovski crystals to give it a special sparkle.
The 3D-printed statement piece designed by Julia Koerner
"The crystals intensify the detail of the piece even more. This was the first time that this process of trickling crystals was performed on a 3D-printed piece: it's a great combination of digital and traditional craftsmanship," Julia tells us.
The accessory is unique for one more reason. The design itself was custom made for Ruth E. Carter, starting with a 3D scan of her head and shoulders. While her designs are usually based on measurements, explains Julia, this was one of her first times using a 3D scan to design a custom accessory.
To create a cohesive visual statement, the dress worn by Ruth on the red carpet was designed by the New York-based designer b michael America, with the 3D-printed neck accessory in mind.
All in all, we're convinced the 91st Academy Awards will prove to be an unexpected landmark for 3D printing in fashion — we're proud that our parent company was part of it!
Itching to start making your own Oscar-worthy pieces? Upload the 3D file of your model to our online 3D printing platform and we hope to see your designs on the silver screen ASAP!