3D Printing in Gold Just Got Better: Lower Prices and Faster Production Times
by Fabian | June 10, 2015
Our good news for jewelry designers and gold enthusiasts just won't stop. After introducing 18k gold in February, we are now happy to announce a drop in prices and faster production times!
As of now, prices for printing your 3D design in gold have dropped by an average of 9% for 14k gold and 8% for 18k gold. The exact reduction depends on the volume of your model and your choice of color – in the best case, the reduction will be no less than 16%.
We're also happy to announce that gold prints ship out of our 3D printing factory faster than ever: production times have been improved by 2 days. This means that the lead time for gold is down to only 10-13 business days instead of 13-15.

Let's take a look at two examples to get a better understanding of our new and better prices. The pendant in the screenshot below − 7.88 x 6.21 x 10.56 mm in size − used to cost about €125 in 14k gold. From now on, it will cost only €105. That's a price reduction of 16%!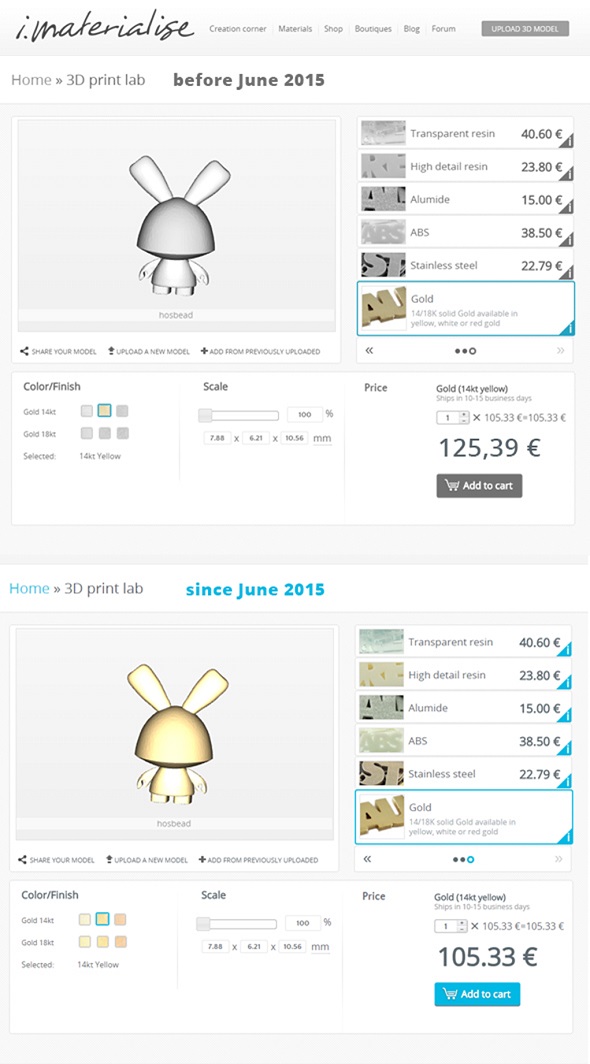 The 3D printed gold ring below − 22 x 22 x 1.93 mm in size − used to cost about €152 in 14k gold. Due to our improved production processes, it will now only cost €131 – 14% less than the former price!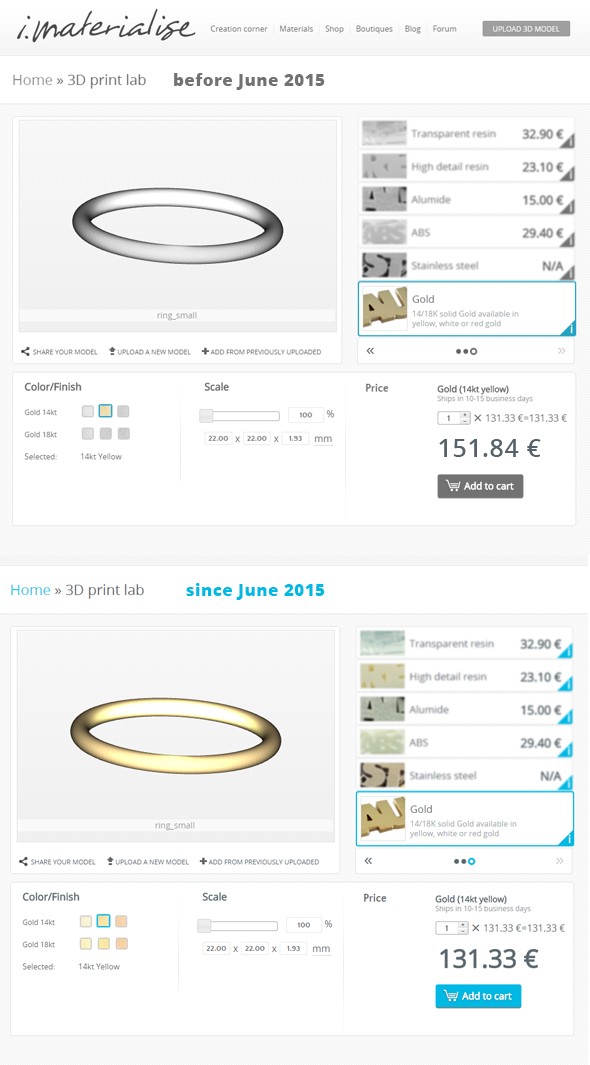 These changes show once again: prices for our materials are never static – they depend on various variables such as market prices of (raw) materials, overhead costs, production processes, and printing technology. Our new gold prices have mainly been achieved by improving production processes and reducing overhead costs. This is also the reason why gold prints ship out faster by 2 days now.
Nevertheless, the market price of a material is still an important part of our price algorithm. It is constantly updated on a bi-monthly or monthly basis. But even in times when the market prices of (raw) materials increase, we always try to counter this with better, more efficient production processes and technologies.
To benefit from our new, faster lead times and better gold price, simply upload your design here and get an instant price quote. To learn more about the printing process and color options for our 3D printed gold, take a look at this blog post.