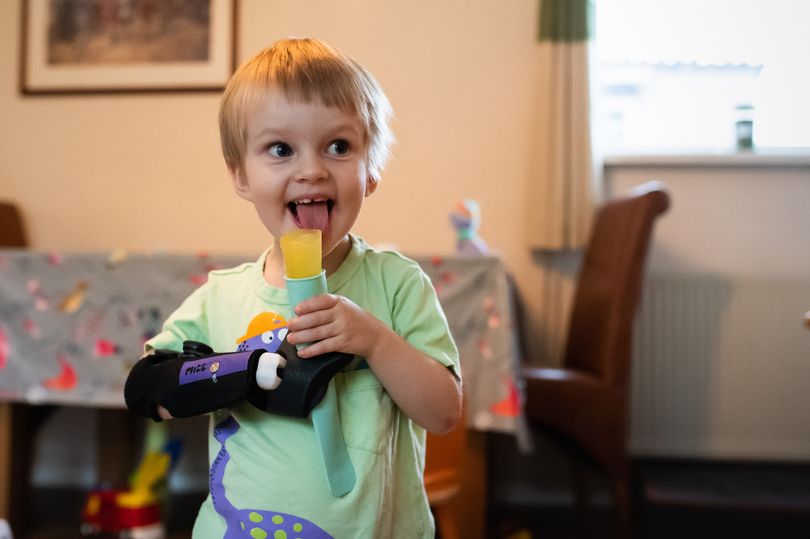 Democratizing Prosthetics Through The Power Of 3D Printing
by Elizabeth | May 13, 2020
The refinement of prosthetics has been an ongoing challenge since their first creation around the time of ancient Egypt. Although new technological developments have enabled huge improvements to be made, the quest for a prosthetic that can replace the functionality of a missing limb while also being widely available, affordable, and comfortable still eludes even the top design and medical professionals.
A UK start-up wants to change that. Recent recipients of the Disruptor of the Year Award at the London Business Awards, Mitt is looking to reinvent prosthetic design with an eye to also improving access. With only one out of ten people with limb loss currently able to obtain, afford, or comfortably fit a prosthetic, the young team saw an opportunity to use powerful manufacturing tools like 3D printing to revolutionize the way prosthetics are made.
Collaboration As Cornerstone
Unlike many Silicon Valley-style start-ups, Mitt knew they couldn't succeed by tackling this project alone or thinking they had all the answers. Which is why they've integrated collaboration into their principles from the start.
Early in their project, the team was introduced to a user of prosthetics, Alex Lewis. A quadruple amputee, Alex has used prosthetics to incredible achievements, but when he showed the team the kind of product most amputees were given, they were stunned. "This completely changed everything for us," explains Nate, "meeting somebody who actually wears them and seeing that they're big bits of plastic that still look like the exact same designs that were made in WWII."
Not only are these standard prosthetics heavy, making them uncomfortable for most users to wear, they also can be expensive with a single arm costing up to £25,000, just for a basic model.
Learning this completely changed how the team looked to approach the project. Instead of focusing on complicated features such as bringing in sensation or trying to simulate digits, they decided that the best thing they could do would be to try and remove these common barriers and hopefully create a device that was accessible to anyone.
Mitt knows that they can truly do more together than apart. By learning from and working with users, clinicians and partners that have been in the industry for decades, they hope to continue to grow in their quest to make a gold-standard prosthetic that can be replicated easily around the world.
So far, it seems to be working. By the time they had their first prototype, Alex's response was already overwhelmingly positive. "The key thing for us," explains founder Nate Macabuag, "is to keep listening to the people wearing them." And it's this positive approach to feedback that have led Mitt to real innovation in their prosthetic design.
Designing For The User
When the Mitt team first started to design their prosthetic, they looked to clothes as their inspiration. Due to the limited force going through an arm for most tasks, they knew that the entire structure didn't need to be rigid, which gave more room to design a product that was as comfortable for the user to wear as an article of clothing. By creating a base that was a combination of fabric and injection-molded parts, they could ensure the prosthetic would still hold up to daily tasks, but could also be easily adjustable and soft on the arm.
The true versatility of the Mitt, however, is in the series of interchangeable tools that attach to the end of the arm. "When people sign up to get one [of our Mitts], the first thing we ask is just, what do you want to do? And that is really important because instead of them just trying to fit to our range, we can learn what is important to people."
Incorporating this kind of adaptability is really important to the team at Mitt. If the prosthetic isn't doing what it needs to do or solving problems for the user, then it isn't truly successful. So that's where they turned to 3D printing and i.materialise.
Innovation Driven By Function
The ability to customize parts and avoid having to print large orders for each unique piece makes 3D printing cornerstone for companies like Mitt that have a potentially large and variable user-base. The Mitt can be built to fit users of all ages – from infants all the way up to the elderly – and needs and wants of each of these users differs widely. From essential actions like holding a fork to more delicate movements like picking up a wine glass, 3D printing gives Mitt the freedom to design whatever strikes their fancy.
"The way we use 3D printing, is for what it's great for – rapid customizability. Because everyone has their own unique thing they want to do, we can make a really robust product that is also mass-customizable, which is super useful, especially in this kind of field. And this means the world is our oyster – we can put whatever we want on the end of one of our arms," Nate explains.
Case in point, one of the most unique tools in the Mitt arsenal is the LEGO attachment. Functional, but constructed purely for the joy of play. "Kids love it, I love it," says Nate. "A lot of healthcare industry is focused on what is functionally necessary for a human to eat and work. But there's so much more to being a human that that. You just want to be able to do different things, you want to build an attachment because it's cool, and I think that's what makes it exciting."
The choice of materials i.materialise offers also helps make customization a reality. All of the Mitt attachments are currently made out of plastic using SLS (laser sintering) technology for its rigid and professional finish. However, if a user ever requested something that needed to have more force while still remaining light, the flexibility exists with the technology to print parts out of both plastic and metal to ensure it is strong where it needs to be but the weight won't overwhelm the person using the tool.
As Mitt is proving, ingrained flexibility is the key to unlocking a truly accessible and functional prosthetic.
Democratizing Prosthetics
"I think the really exciting thing with 3D printing," Nate enthuses, "is that we've designed it specifically for the end attachments – essentially there's a little adapter that we have that clips on, and onto that adaptor you can build anything."
What this means is that a user with their own 3D printer and software could actually create their own unique tool to attach to the Mitt and there's no worry that the fit or strength of the base prosthetic isn't there because it has already been constructed to address those needs.
Mitt turned to 3D printing through i.materialise to quickly produce a lot of components to fit into the end of arms and clip in the interchangeable tools. Image credit: Mitt ®
By combining this interchangeability with a product that a person can fit themselves and that can be rapidly produced, the rules of the game for prosthetics have completely shifted. Waiting times are no longer a factor and, notably, all bodies can be accommodated equally. Whereas traditional prosthetics need to be remade entirely if you change in size, the Mitt adapts to your body the same way clothing does and can be made as large or small as needed.
As Nate explains, "Because the Mitt is really simple, you can mass-produce it and it makes it incredibly affordable. The prosthetics that we're making now, they're 100 times cheaper than anything else, just because of the way they are made. It's exciting because it means you can essentially democratize prosthetics."
For someone that has lived through the trauma of losing a limb or has been born without a limb, this kind of access has huge implications for their quality of life and makes a real difference in their ability to function independently. With the Mitt and the power of 3D printing, patients all over the world now have a real choice in what they wear or don't wear, and full autonomy over their prosthetic is finally within reach.
Discover how 3D printing can improve your creative business or get started today by uploading your 3D designs to i.materialise.
Get our latest 3D printing news straight to your inbox each month by subscribing to our newsletter.