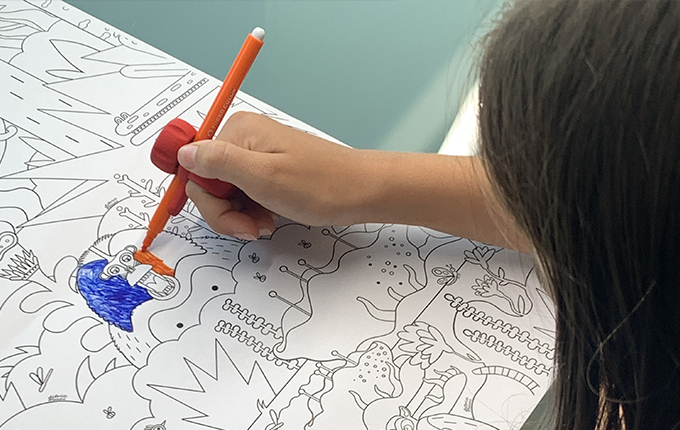 Creating Opportunities for Creative Expression Through Custom Writing Aids
by Elizabeth | October 28, 2020
The slightest sketch of a pencil may just mean the world. Those scribbles, even when unrecognizable, are full of joy and enthusiasm. And they can change a child's life.
Creative expression is arguably one of the defining aspects of being human. It allows us to express ourselves as individuals and bring satisfaction and joy to ourselves and others. Sadly, not all of us are born with the same opportunities for creative expression, a situation that can be particularly frustrating and disheartening to those with physical or neurological disabilities.
Thankfully, Milan-based OpenDot, in partnership with the Together To Go (TOG) Foundation, have just launched a Kickstarter campaign to support the new design of Glifo — a 3D-printed custom aid that helps children with disabilities achieve autonomy in writing and drawing.
Expression Is Not Exclusive
The idea of Glifo was born to satisfy a specific need: help children with complex neurological disorders write and draw, so that they can leave their marks. The first version of the Glifo was created in 2014 after therapists from the TOG Foundation witnessed how important it was for children to engage in writing and drawing activities like their schoolmates, and even more if they could do it autonomously.
Most of the aids available at that time had limitations – they often added pressure or made contraction of the limb worse – so there was a need for something that wouldn't create any more pain or add additional challenges for the children.
Glifo's design was created to work on the dorsal part of the hand, which discourages the contraction of the limb and allows it to be easily and effectively used in school and home environments. The portability of the device was critical to making a true inclusive solution. The choice to use 3D printing for the project also allowed Glifo to flexibly develop from a basic prototype to a well-refined design after gathering feedback from the therapists, patients, and families who had been using it.
As Martina Giulianelli, Project Manager at OpenDot explains, "Having feedback from the families that used it, we learned that it was functional, but it was too big. You couldn't fit it into a pencil case to go to school with, there were parts that could break. And so it needed to be something that was a bit more resistant and even smaller."
Kickstarting Creativity
Glifo's latest design takes all this feedback to heart. It is lighter, smaller, easier to use, and capable of holding more types and sizes of pens, pencils, and markers to let kids choose how they channel their creativity. But the real groundbreaking feature of this new, improved Glifo, is the ability to truly customize the device to the user's anatomy.
Through their Kickstarter campaign, OpenDot is raising funds to develop an online configurator that will enable anyone to personalize their own Glifo, tailored to their specific needs and taste. The configurator will allow users to choose the correct dimensions, tilt, and color using a simple and accessible interface.
OpenDot's designers and UX staff are currently working with Glifo users to refine the best ways to instruct people how to get these measurements. As Martina relates, "It's like if you want to buy a bicycle online, you've got a list of measurements, but you're not always certain about what these measurements mean or how to get it."
3D Printing For Customizability And Scale
Since the beginning of their work on custom orthotics and assistive devices, OpenDot has been looking for technologies that would allow them to produce single, customized, and beautiful products at an affordable price. For the Glifo project, scalability was also important, which is what led them to i.materialise.
Through the i.materialise platform, OpenDot was able to use SLS (selective laser sintering) to manufacture the Glifo, which also allowed them to choose a material that would be smoother and nicer to wear on the skin. The COVID-19 crisis made in-person testing impossible, but by using i.materialise, OpenDot was actually able to prototype the new design and test right away how the full process of going from the configurator to having the Glifos shipped to users would work in this new reality.
"Combining a customizing web platform with an industrial scale 3D printing network like i.materialise, we'll be able to further reduce the design and production cost, have an outstanding product with virtually no limits to scale up the project, and with a more worldwide reach."
Providing access to an affordable tool like Glifo as widely as possible is essential in lowering the barriers for people living with disabilities. Even more so, having those tools be high-quality and thoughtful lets people know that their needs are as important as those with different abilities.
"When you've got a disability, even the slightest change can improve the quality of the object that you're wearing or using," Martina explains. "And, therefore, having something that can be easily adjusted is very important. These customizable objects couldn't have been done if not with 3D printing."
OpenDot's embrace of digital manufacturing and open-source sharing has been key to their success so far and they hope the momentum gained in the healthcare maker movement over the past year continues.  "If this is a successful thing, if we see that people are interested in these things, that inspires us for the future to take it to the next level and see what other aids can be tailor-made according to people's needs."
The feedback from users and therapists on the new Glifo design has so far been overwhelmingly positive. Now with the launch and hopeful success of their Kickstarter, the first set of new Glifos will soon be helping children make their mark.
Glifo is part of a series of objects that goes under the brand of UNICO – a collection of custom made aids designed to help children with disabilities achieve autonomy and quality of life – created by OpenDot and TOG Foundation.
This campaign is supported by careables.org, a project funded by the European Union.
Materialise's mission has always been to innovate product development to create a better and healthier world. For more on how we can help you achieve these goals, visit i.materialise, or talk with our team of design specialists.