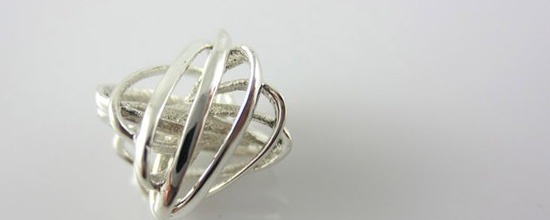 A Beginner's Guide to 3D Printing in Silver
by Billy | July 15, 2014
Long valued as a precious metal, silver is the perfect material for creating 3D printed jewelry. Here is a beginner's guide to make you a  jewelry designer!
Create your design
It starts with your design. Using an app like Jweel from Skimlab even the novice designer has the ability to create a custom piece in silver. Jweel is browser based with no software to download, offering a user friendly experience.
If you're uploading your own 3D model on our 3D print lab, you'll have 4 silver finishes to choose from:
High gloss – offers a shiny and smooth surface
Gloss – a magnet finish. not as smooth as high gloss with uneven surfaces
Satin – a brushed surface finish to obtain the effect of line on the metal
Sandblasted – a matte silver look that leaves a smooth and even surface finish
Before proceeding be sure to review our tips and tricks silver design guide to ensure a quality printed piece.
3D Wax Printing & Casting
Your design is used to create a wax 3D print using a stereolithography process. Simply, stereolithography is a process for creating solid objects by printing thin layers of a wax-like resin one on top of the other.
From there, the wax model is used to generate a casted mold in plaster. Then, molten silver is poured into the casting to create your design. But we're not quite done yet. Once your piece has cooled, the mold is broken to remove the piece in order to complete one of the four finishes based on your specifications.
Drawing Inspiration
The i.materialise shop is full of amazing creative pieces 3D printed in silver. Look through to develop a better understanding of the finishes available. Your muse could be your name or turn to nature to inspire you like this silver daisy ring from Tweetonig.
Here are few other examples of silver jewelry printed through i.materialise.
This ring designed by designer Luigi Vaghi and printed by i.materialise is comprised of eight rings running around an axis using silver high gloss finish. The high gloss finish is what gives the ring its shiny and smooth surface.
Starfish by Michaella Janse van Vuuren
As part of the .MGX Summer Collection this Starfish piece by Dr. Michaella Janse van Vuurn draws inspiration from the fantasy world of images from mythology and sea. Printed in a silver high gloss finish the piece is available for purchase in the i.materialise shop.
With no limit other than imagination, what will your first design be? Share your thoughts in comments below!