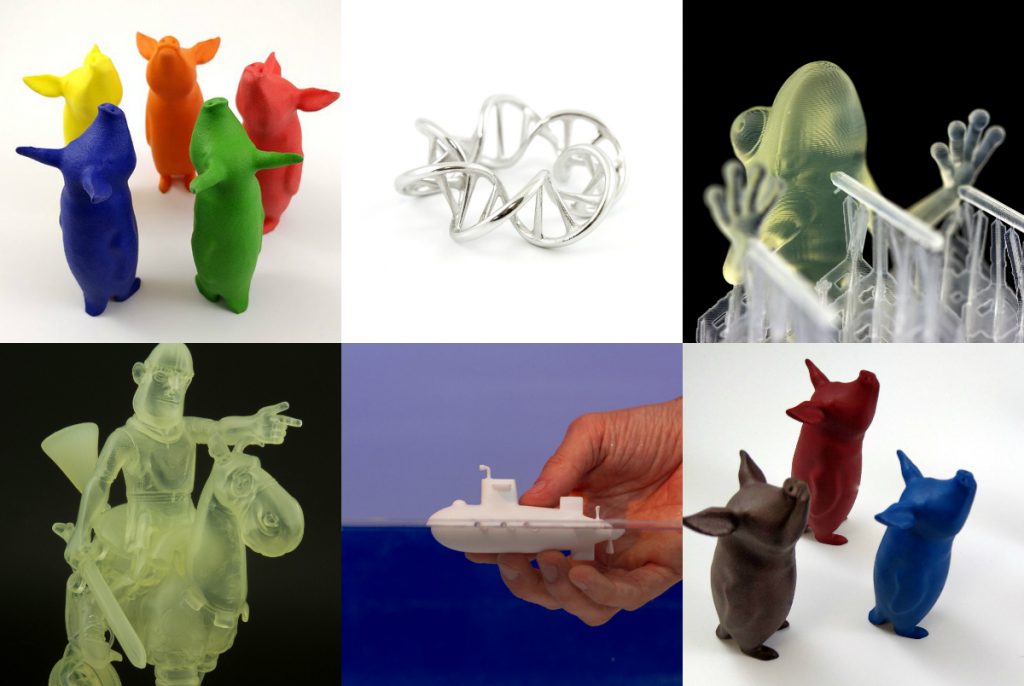 A Year of 3D Printing News
The end of the year is approaching fast and this is the perfect time to remember the past year. 2017 has been full of exciting improvements and updates for i.materialise.  In case you missed something, join us in looking back at the news this year brought to i.materialise: new finishes, colors, features – and a brand new technology!
Polyamide (SLS) at its best
2017 has been a good year for Polyamide (SLS). It all started with a brand new waterproof finish. Since October, is possible to finish your polyamide prints with a watertight solution. Look at our Piguin enjoying a bath!
Another new finish we added this year for Polyamide was the improved polished: the usual polished finish for polyamide, but smoother to the touch. We also came up with a new satin finish to complete our offer for polyamide finishes. Which one do you prefer?
But that's not all for Polyamide (SLS) because we now have three new colors for your prints in this material: Bordeaux, Petrol Blue and Brown. Read more about the new colors for polyamide in this article.
Polyamide (MJF), the new kid on the block
This year we were also happy to welcome a new technology to the i.materialise family: HP Multi Jet Fusion.
MJF is a powder-based technology that does not use lasers. The new material, Polyamide (MJF), can have two finishes: a natural finish in gray, with a granular look; or a black dye finish. Polyamide (MJF) offers a very high level of detail and smaller wall thickness for your prints. Have you used the new HP technology for your prints?
Affordable luxury with rhodium-plated brass
Brass is a long-time favorite for 3D printing jewelry designers and 2017 saw the launch of our rhodium-plated finish to give a luxurious touch for your brass prints. Rhodium plating is a new addition to the already beautiful finishes available for brass: natural, yellow gold plating, red gold plating, black color plating and chrome plating.
Rhodium plating gives brass a shiny, white, premium look, while keeping prices down. It also increases the long-term durability and brightness of jewelry models and is hypoallergenic. What are you waiting for? Go ahead and try it out!
The resin family grows
Our Stereolithography options have also welcomed a new member this year: Standard Resin. This is an economic alternative for your high-quality prints. Standard resin has a high level of detail, feels smooth to the touch and is available with or without support structure.
With this new inclusion to our family of resins, we also changed the name of Gray Resin to Prime Gray, and Printable Resin became Mammoth Resin. Transparent Resin and High-Detail Resin complete our resin offer.
Improvements on the i.materialise platform
Our 3D printing platform has also gone through some really good improvements this year. The website was updated to make your 3D printing experience better and to make our platform even more user-friendly.
Uploading designs and printing became easier with the redesign of the upload and instant pricing page. Another big improvement was that the overall design of the page was improved and the material selection and menu became clearer. This year we also made the multiple file upload possible!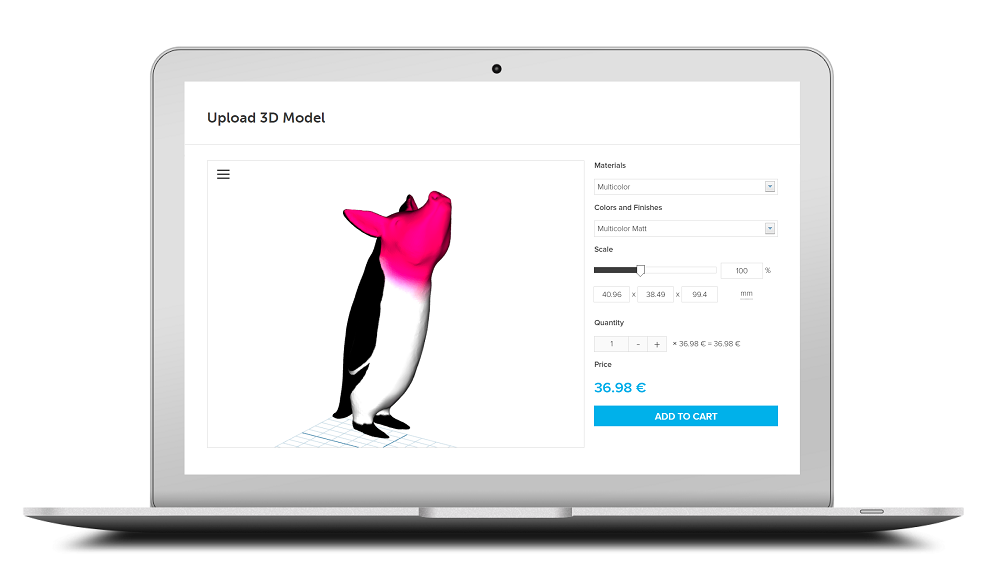 Now it's possible to upload up to 20 files with a simple "drag and drop" system.  All the uploaded models can be managed on a single-page overview. Read more about the new features of our 3D printing platform on our blog.
Lending the i.materialise community a helping hand
Communication is key for i.materialise, so this year we launched a new tool where you can easily find the answers to all your questions: the i.materialise Help Center. Discover how it works in this article and find out everything you ever wanted to know about 3D printing.
The i.materialise Forum also got a makeover and was improved with a new design. This is the best place to share your 3D printing projects and meet fellow designers!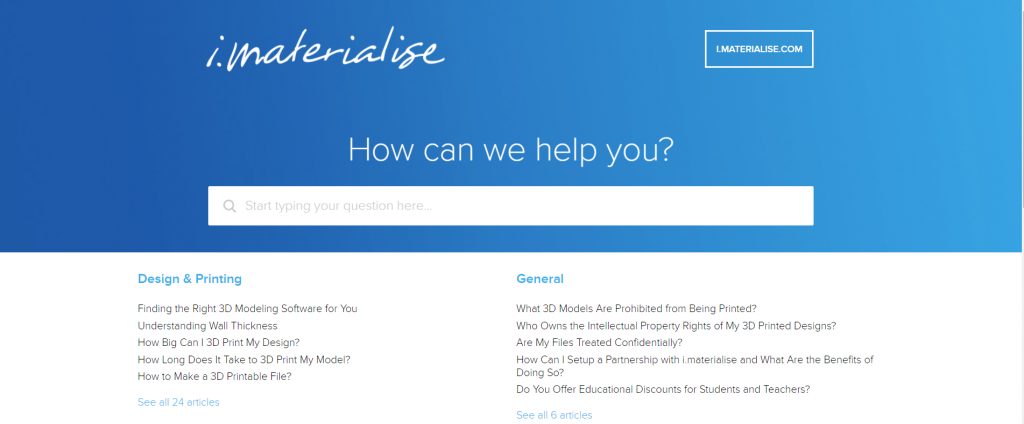 2017 has definitely been a year of good news for i.materialise. What about you? What have you printed this year? Show us your 2017 creations on the forum or through social media with the hashtag #imaterialise.
The year is not over yet so you still have some time to upload your models to our platforms and get your last 3D prints of 2017 – or your first prints for 2018.
Who knows what 2018 might hold? We look forward to finding out together with you!