3D printing in contemporary art: Nick Ervinck
by Franky | November 22, 2010
3D printing is becoming more and more the technology of choice for artists nowadays. Artists' models often employ a variety of different materials involving small and intricately detailed pieces with various shapes and curves, and special kinds of finishes that accentuate artistic elements. 3D printing allows artists to manufacture forms and shapes that cannot be fabricated in any other way. A lot of them are collaborating with Materialise because sometimes the unthinkable becomes a tangible reality. Meet Nick Ervinck.
"I make sculptures that are on the edge of the physical and digital realm in terms of sculpture and architecture. The art of sculpting has evolved through history with the help of technology. Because architects design mainly with computers now, a new type of language is created. In light of this, I see this new world of architecture as a precursor for what will happen in the world of art and sculpture. It's great that high-tech companies like Materialise are helping artists, like me, to realise what we have in mind." – Nick Ervinck
Nick Ervinck (1981) is a Belgian contemporary visual artist and sculptor. Ever since he first came to Materialise in 2006, he keeps on pushing the boundaries of 3D printing and challenging a lot of our colleagues. He uses 3D printing to create thin, complex forms you cannot -make by hand (because you can't reach them).
Nick Ervinck is truly a master in creating the most complex 3D images (by using 3D Studio Max). Unlike many artists nowadays he doesn"t use any programming or alogorithms, instead he models everything "by hand". You will quickly find out he loves signal yellow, which has become the trademark of his work.
Ikrausim
What is really remarkable about the 3D images Ervinck creates, is how he executes them in a variety of media. Let"s take "Ikrausim" as an example.
In 2009 "Ikrausim" was part of the "Fantastic illusions" exhibition in the Museum of Contemporary Art in Shanghai, China. Â In the museum not only the 3D printed "Ikrausim" was on display. Visitors of the exhibition could also see an animation where they almost get sucked into the object.
YARONULK 2009-2010
Then there"s YARONULK 2009-2010 which I consider to be one of the most impressive 3D printed art pieces he has done so far. YARONULK 2009-2010 is a model of the National Basilica of the Sacred Heart in Koekelberg in Brussels, displayed in an exhibition "New Monuments" in Antwerp's Middleheim Museum earlier this year.
While the replica is more than 100 times smaller than the life-size basilica, the entire reconstruction was a grand task in itself. The rusty-colored exterior frame was made with laser sintering, and the interior yellow tent was made using Materialise"s Mammoth stereolithography. Completed in just one month, the YARONULK 2009-2010 looks very impressive and it would have taken months to finish it using another technology.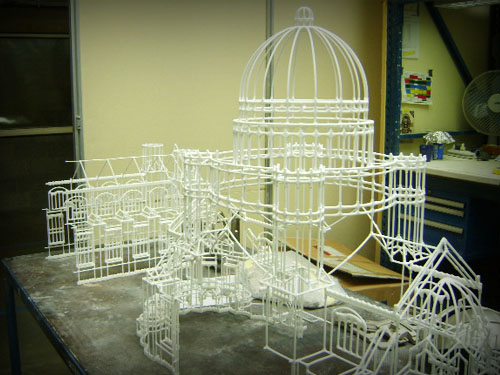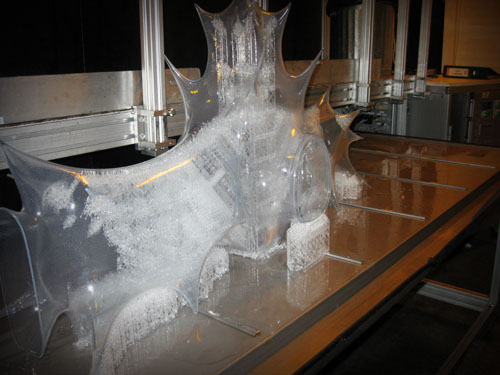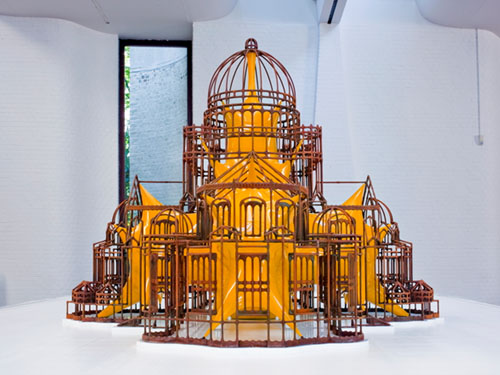 Photo: YARONULK 2009-2010, Nick Ervinck (Photocredits: Karin Borghouts) in Middelheim museum, Antwerp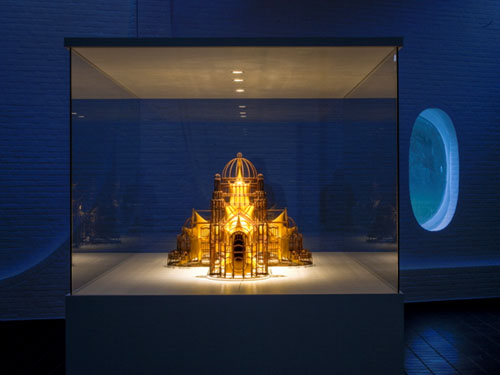 Photo: YARONULK 2009-2010, Nick Ervinck (Photocredits: Karin Borghouts)
Below is a small interview interview with Nick Ervinck about the basilica. Unfortunately it"s in Dutch only but the images speak for themselves.