3D Printing in 5 Different Silver Options: Introducing Our New Antique Silver Finish
Fantastic news for jewelry designers and metal-printing enthusiasts: After just launching 18K gold last month, we are already expanding our metal options, this time with the new Antique Silver Finish! This means that you can now order a 3D print of your item in five different silver finishes. Read on to see some examples and learn about each type.
Models printed in Antique Silver have very shiny and smooth outer surfaces, whereas recessed areas are darker and unsmoothed. This contrast leads to great results and a beautiful antique look.
This antique look is achieved in two steps: First, your model will undergo an oxidation process. A sulfur mixture causes the silver to become duller and darker. Then, the elevated surfaces of your model are polished manually. Because this final polishing is a manual process, each model will be truly unique.
Since only the surface areas are polished, recessed or sunken areas are left untouched and therefore stay darker than the elevated, polished areas. This contrast is the aim of a good antique silver print. To be on the safe side, the sunken parts of your model should at least be 0.4 mm deeper than the surface. They also need to be at least 0.4 mm long and wide. The deeper the sunken area (such as the holes for the eyes and nose of the skull in the picture below), the bigger the contrast.
This polishing technique is quite aggressive: it will erode your model's outer surfaces by approximately 0.10 to 0.15 mm and will round sharp corners. Therefore, this technique results in the lowest level of detail for silver, but provides the highest level of smoothness and shine. It is thus good to take the amount of erosion from these finishes into account when you are designing your model.
Comparing Our Five Different Finishes
Silver is available in five different finishes. Besides antique silver, i.materialise offers gloss, high gloss, satin, and sandblasted finishes.
Gloss: Gloss models are post-processed in a magnetic tumbler. This technique is the least aggressive process for silver. This finish is best suited to maintain a high level of detail; however, surfaces will be left uneven and not as smooth as high-gloss models. Ships in 8-10 business days.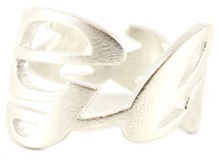 High Gloss: High Gloss models will undergo the same manual mechanical polish as Antique models. The polishing technique is thus quite aggressive and will round sharp corners. Therefore, this technique will result in the lowest level of detail for silver, but provides the highest level of smoothness and shine.Ships in 10-15 business days.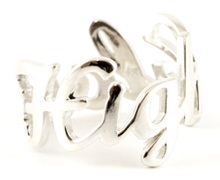 Satin: Satin models are manually post-treated with a wire brush and obtain the effect of lines on the metal. Ships in 10-15 business days.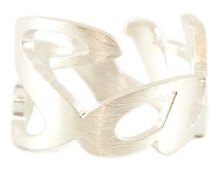 Sandblasted: Sandblasted models are post-treated with an abrasive blasting operation. The surfaces of your model will get even and a smooth, matt look. Ships in 10-15 business days.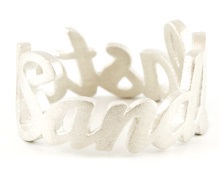 Antique: Antique Silver is the newest option to our silver family. It featured very shiny and smooth outer surfaces while deeper areas are darker and unsmoothed. Ships in 10-15 business days.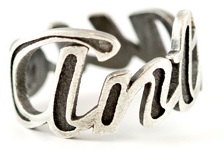 How Our Silver 3D Prints Are Created
To create a print in silver, a wax cast of your item is first 3D printed and is then covered in a fine plaster. When the plaster dries, it is baked in an oven to the point when the wax is completely burned out. The silver is then poured into the empty cast and your silver item is created. During the final step, the item is polished and finished manually. Click here if you want to find out more about the technological aspects of printing with silver.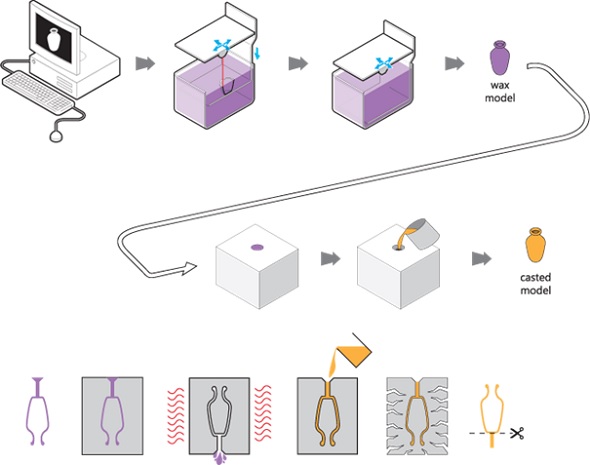 Are you interested in making a 3D print in one of our precious metals? Make sure you check out our material page about silver and also read our design guide. Not quite sure which metal to use for your prints? Compare silver with any other material here. New to 3D printing and 3D modeling? Then you might want to read more about Jweel, a browser-based free app that lets you easily design your own jewelry. Did you already print with us? Let us know by posting in our forum and reaching out to @imaterialise on Twitter.