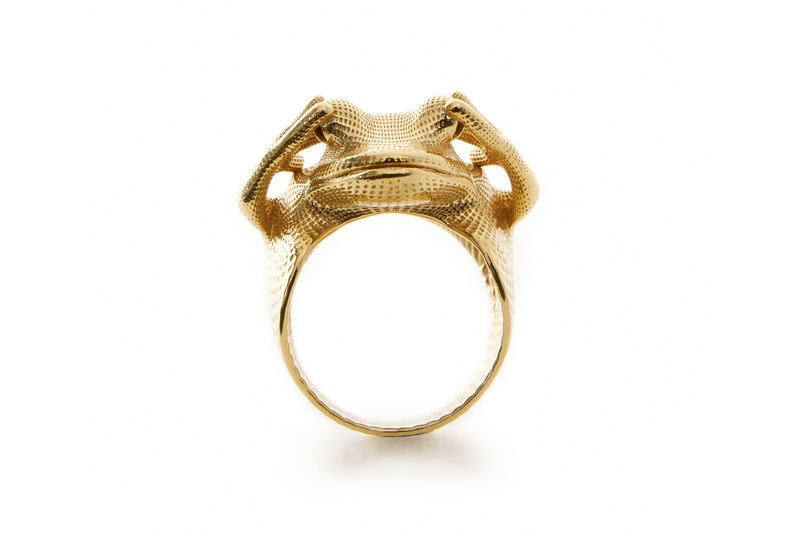 3D-Printed Jewelry: Why Jewelry Designers Join the 3D Printing Revolution
The times when 3D-printed jewelry sounded like an idea from a sci-fi movie are over. More and more jewelry designers print their designs today. Since 3D-printed pieces of jewelry look and feel exactly like traditionally casted objects, 3D-printed jewelry is on the verge of becoming mainstream. Let's take a closer look at this design revolution.
What do you need to 3D print jewelry?
Actually, there is no single, easy answer to this, since 3D printing includes many different technologies. While some printers work with filament, others use powder, and yet others work with liquid resin or wax (we'll talk about which one we think is most suitable for jewelry below).
However, all 3D printers have one thing in common: they need a 3D file. This 3D file holds the information about what object the printer is supposed to print. 3D files are generated with special 3D modeling software. These programs range from beginner-friendly free modeling apps like Tinkercad to high-end programs specially designed for jewelry makers, such as RhinoGold.
Once the 3D file is generated, the printer can use this information to print a real physical object. Using online 3D printing services like i.materialise, the designer does not even need to own his/her own 3D printer. When we receive the 3D file via our website, we know exactly what the client expects.
Which are the latest 3D printing technologies used in the jewelry industry?
For creating jewelry in gold, silver, bronze, copper, and brass, we use Lost-Wax Printing and Casting. This technology builds upon modern 3D printing technology as well as traditional metal casting.
It all starts with 3D printing your 3D model in wax. The 3D printer uses a wax-like resin as printing material. Next, one or more wax sprues will be attached to your model. Then your model will be attached by the sprue to a wax 'tree', together with several other models. The tree is then placed in a flask and covered in a fine plaster. When the plaster solidifies, it forms the mold for casting the metal. The plaster mold is then put in an oven and heated for several hours to the point where the wax is completely burned out.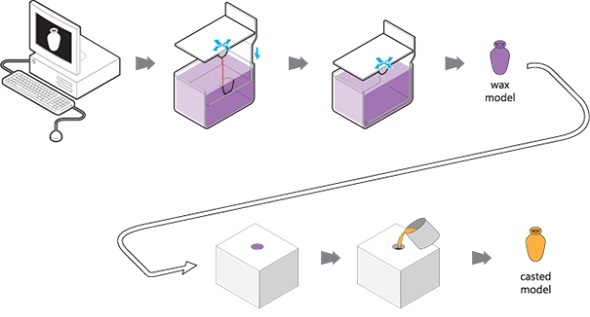 What are the benefits of this technology?
The process described above is a mix of 3D printing and traditional jewelry making. So far, this is the best and most economical way to create 3D-printed jewelry. It will produce a real, solid piece of jewelry with a smooth surface. Depending on your wishes, the object can also be finished manually with post-processing (see more about this below).
The biggest advantage for jewelry designers is that they no longer need to worry about production. Once the 3D file is generated, a specialized supplier & online 3D printing service such as i.materialise can take care of producing the jewelry. With a 3D file, we have all the information we need to get our 3D printers going. Printing jewelry without an online 3D printing service is much more difficult, as this typically requires industrial 3D printers and does not work on common home printers.
Another big advantage is that 3D files can be easily edited. A 3D model can be printed as a plastic prototype first to check if the quality and design are correct. Changes can simply be made in the 3D modeling software, and the final design can then be printed in the desired metal.
Last but not least, 3D printing comes with an incredible amount of detail. Words can hardly do justice to this — simply take a look at the stunning designs below. The first one is a zoomed-in picture of a 'Frog Ring' designed by Peter Donders. The second image is a zoomed-in 'Tree in a Cross' pendant by Desmond Chan. We printed both designs in gold-plated brass.
What materials & finishes do jewelry designers use for 3D printing?
The most common materials for jewelry designers are metals. As you can see in the list below, online 3D printing services like i.materialise not only offer a wide range of metals but also a lot of finishing options that are especially useful for jewelry designers:
Since we don't want to go into too much detail here about each and every finish, let's just take a look at three different Silver finishes for the time being. As you can see in the image below, your choice of finish has a big impact on your final print. Antique Silver (left) has a beautiful black & white contrast, sandblasted Silver (center) comes with a matte look, while high-gloss Silver (right) features a very smooth and shiny surface. To learn more about each material and finish, simply click on the links in the list above.
Besides metals, jewelry designers also use other 3D printing materials such as Polyamide (nylon plastic, see image below), Alumide (a mix of polyamide with aluminum powder), and Rubber-like (flexible plastic).
How much does it cost to print jewelry?
Now that's a tough question. The price of a 3D print typically depends on the size, volume, and most importantly, the material. So each and every design has its unique price. In order to get your exact quote, you need to upload a 3D file to our website. You will instantly see the final price it will cost to print your object in each and every material and finish.
Beginner tip: If you don't have a 3D file yet, you can visit Thingiverse.com and download a publicly available 3D model there (for example, search for 'ring'). You can then upload this model to our website and you'll get an idea of how much a 3D-printed object would cost.
But let's look at a concrete example now. The following ring was printed in PU-coated Bronze and costs 33 EUR/35 USD. In Brass, the price would be 30 EUR, in gloss Silver 57 EUR. So as you see – the prices are quite affordable! In 14k yellow Gold, the ring would cost 802 EUR (well yeah, the material cost for gold is somewhat higher, of course).

If you want to learn a bit more about cutting down printing costs for your 3D model, make sure to visit this blog post.
Is there a risk of losing the human element?
Even though we talk a lot about 3D printers and cutting-edge technology, the human touch still plays a very dominant role in the entire jewelry-making process.
The jewelry designer uses 3D modeling software for creating the design – this ensures that the inspiration and style of the jewelry are as personal as possible. An eye for design and talent to turn ideas into reality can't be replaced.
During the printing and production process as well as post-processing, the manual labor steps are still present. This means that the human element is still a major success factor in creating stunning jewelry. Our skilled personnel will take care of this.
3D printing allows for more people to start editing and creating their own, personalized jewelry. One of our partners, Jweel, programmed a beginner-friendly app that lets everyone become a jewelry designer. The jewelry designs that are created in this app are then sent to us for high-quality 3D printing. So in a sense, 3D printing has opened up the world of jewelry design to more people.
What do jewelry makers need to get started with 3D printing?