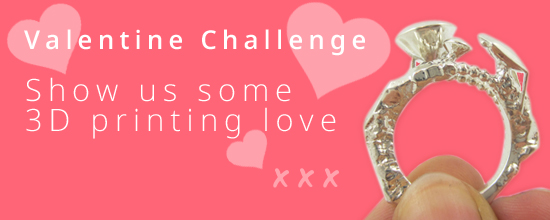 3D print some love with our Valentine Challenge!
by Tatiana | December 11, 2013
A few more months and Valentine will enter our houses. We loved the results of last year's Valentine Challenge so much that we're organizing a new one. So  get ready to show us some 3D printed love!

All you need is love on a Valentine's Day, but a little jewel now and then doesn't hurt, right? So start designing a jewel (ring, brooch, pendant, …) for your loved one and surprise him or her!
MATERIAL & PART VOLUME
The materials you can use for this challenge are brass (natural or gold plated) and silver. Make sure you read the design guidelines to make your jewel 3D printable.
There are limits on the size of the design:
Part volume : 2 cm³
PRIZES
We will select 1 winning design. The winner will receive his or her 3D print.
WHO CAN ENTER
This challenge is open to all designers, professional and amateur, regardless of sex, age or nationality.
CHALLENGE PERIOD
Submissions will be accepted up to 23:59 Central European Time, January 5th, 2013.
HOW TO PARTICIPATE
There is no limit on the number of entries per contestant. To enter, you need to upload your design(s) on the challenge page. Don't forget to provide a clear explanation (under 'description') in at least 50 words and tell us in what material your design needs te be printed.
You can find more information about the file formats in our FAQs under 'website'.
JURY
The i.materialise team.
Note that the jury selects upon the 3D renders you put online, so make sure to make a very clear, visible render.
GENERAL CONDITIONS
i.materialise's general terms & conditions apply to this challenge, for more information visit: http://i.materialise.com/legal/terms#challenge
All entries must be unique and never 3D printed before.
i.materialise reserves the right to amend these rules at any time. Any amendment to competition rules will be posted on the i.materialise website.
Prizes must be accepted as awarded. No cash alternatives or substitutes will be allowed. The decision of the jury will be final.