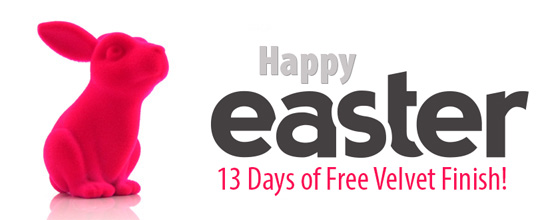 13 Days of Free Velvet Finish for the Easter Season!
by Yui Takahara | April 18, 2014
Today starts the Easter holiday weekend! You've probably already noticed "Easter is in the air" by the smell of spring and pastel-colored decorations all around. But have you ever celebrated Easter with your own 3D printed ornaments ? If not, you should try it out with polyamide while we're offering free velvet finish!
Whether it be colorful eggs, bunnies or chicks, a velvet finish can add a smooth furry texture to your 3D print. To do this, we use a process called flocking, which puts an adhesive on polyamide and uses static electricity to arrange the individual threads of fabric. Flocking can only be used with polyamide, but you can add this option to all 8 available colors.
This free velvet finish is available from the 18th to 30th of April. When your 3D model is ready, go to the 3D print lab, upload your model, choose the color, and then, of course, check the "velvet finish" option.
Also, keep in mind that there are some special tips to designing velvet models. Read it through, and make sure your model is printable with velvet finish.
We'd love to see your artwork with the smooth velvet. When you "unbox" your finished product, share your excitement on our forum.
Happy Easter to everyone!