Design Specifications
Minimum Wall Thickness
1.7 to 2 mm (depending on dimensions)
Minimum Details
0.8 to 1 mm
Interlocking or Enclosed Parts?
No
Basic Rules, Tips and Tricks
Wall Thickness


length of X, Y or Z
Minimum wall thickness
length of X, Y or Z < 100 mm
1.7 mm
100mm < length of X, Y or Z < 250 mm
2 mm
250 mm < length of X, Y or Z
3 mm
In 3D Printing, wall thickness refers to the distance between one surface of your model and the opposite sheer surface. Since your design is only held together by a small amount of glue, small details have a higher chance of breaking while being taken out of the 3D printer. In order for them to survive the de-powdering process, keep in mind the following guidelines regarding wall thickness:

The minimum wall thickness for supported walls is related to the overall size of your design. We set up some rules based on the maximum dimensions of X, Y or Z of your design. For models where all individual dimensions are below 100 mm each, the recommended minimum wall thickness is 1.7 mm. When designing models where all individual dimensions are below 250 mm, our recommendation is to use a thickness of at least 2 mm. If one of the dimensions is higher than 250 mm, you are advised to maintain a wall thickness of at least 3 mm.
To be absolutely sure that your large and complex model does not break, you can choose to go for a wall thickness of 5 mm so that your model becomes more solid and safer to handle. At 10 mm and higher, your model will be stronger and we recommend using this wall thickness for supporting surfaces like the base of a house. However, remember that multicolor is still a fragile material. Even with thicker walls, your model will most likely break if dropped.
For unsupported walls, we recommend a minimum wall thickness of 3mm. An unsupported wall is only connected to other walls on one side. The recommended minimum was determined by our experiences with removing powder from the print bed in the printer and cleaning it. If walls are too thin, they are likely to break during the unloading, the cleaning process or the shipment of your model.
To ensure the successful production of your design, make sure the walls are thicker than the minimum requirement shown above. If they are not, try making them thicker or adding supports. You can see tips in the section on supporting the fragile parts of your model.
Hollow out Your Model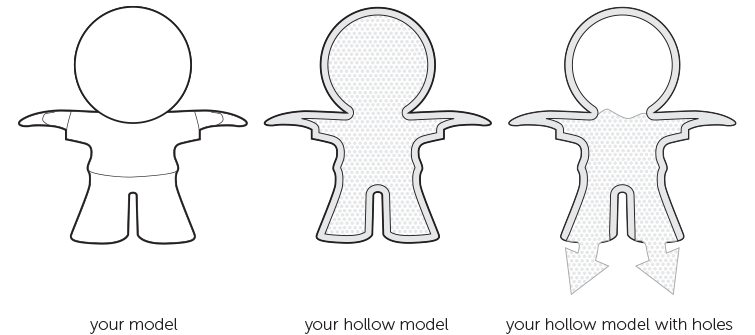 The pricing for multicolor is volume based. The less material you use, the less it will cost you. This means a hollow model will be cheaper. A rule of thumb for hollowing out your models is to maintain a wall thickness of 2 to 3 mm. Add at least 2 holes with a diameter of 5 mm so the trapped powder can escape. The reason is that a hollow model full of trapped powder is in danger of deforming and the weight of the powder can cause thinner sections of the model to break.
Big Flat Planes Can Cause Deformation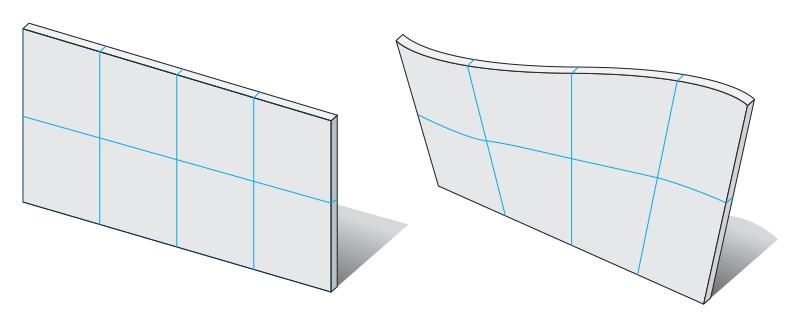 Designing a big, flat plane the size of an A4 page or a U.S. letter-sized page is a bad idea: in most cases, your model will deform. The infiltration process is an important step to give your model more strength and more pronounced colors; however, during this process, an intense, quick chemical reaction takes place which often produces a lot of heat causing slight deformations in the models with large surfaces and/or large thin walls. Please be aware that this technique and material are not suited for very dimensionally precise parts. Especially for large parts, this limited accuracy adds up. The key is to avoid big flat planes and large thin walls.
Support the Fragile Parts of Your Model

Long, heavy items that hang in midair (e.g. outstretched arms on a figurine) will break off when they are designed too thin. Don't ignore gravity when designing your model. Instead, we recommend using bent arms or arms holding an item that touches the ground (e.g. a shovel). The same applies for designing hair on a character. Make sure the hair is supported by something like the character's shoulders. Also, when putting models on a pedestal, it's advised to have 3 contact points between the model and the pedestal. Figures with tiny legs can snap off a pedestal during transport, even when they're very carefully packed.
Assembly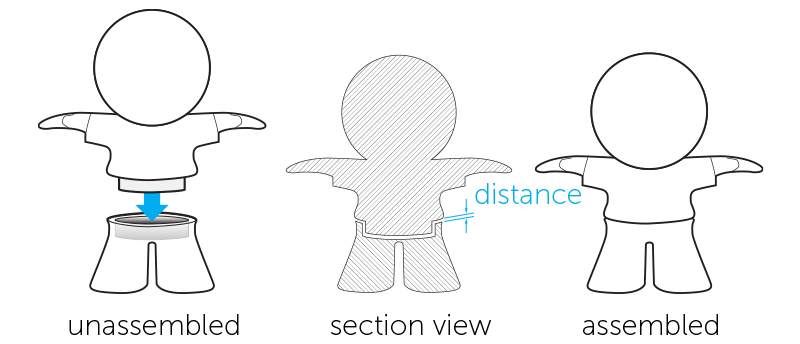 When designing models that need to be assembled, it's important to provide enough distance between the parts that will be assembled. A perfect fit in your software package does not mean a perfect fit after printing because your software ignores the friction present in the real world. Therefore, always leave at least 0.4 mm distance between the different parts.
Watch out for Humidity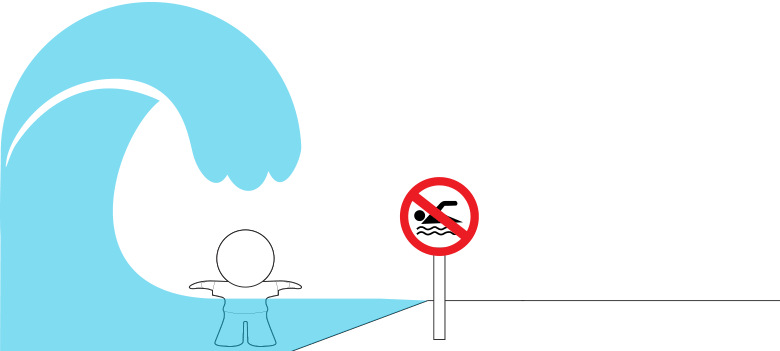 We spray a special varnish over the multicolor model to resist UV and keep the colors vivid. However, it's not enough to protect your model from water drops or moisture. Just like a drop of water on a freshly printed page, water will stain your model and make the color fade away.
Textures


If your model has textures, make sure you upload all info to our site. How to check? Well, if you see your texture in the 3D print lab preview, then we have the info. However, if you see a mono-colored or un-textured model, it's possible there is some info missing. If this happens, check your export settings and the file format used.
Some file formats are able to include textures in the file (e.g. colored STL, VRML, SKP, X3D, and DAE), while others store the texture in a separate image file and map file (obj). In the latter case, group all files related to the model into a zip file and upload it to our 3D print lab. To show and handle the textures correctly the archive should not contain any additional folders, this way we will be able to process all necessary info to print it the way you want.
Improving Colors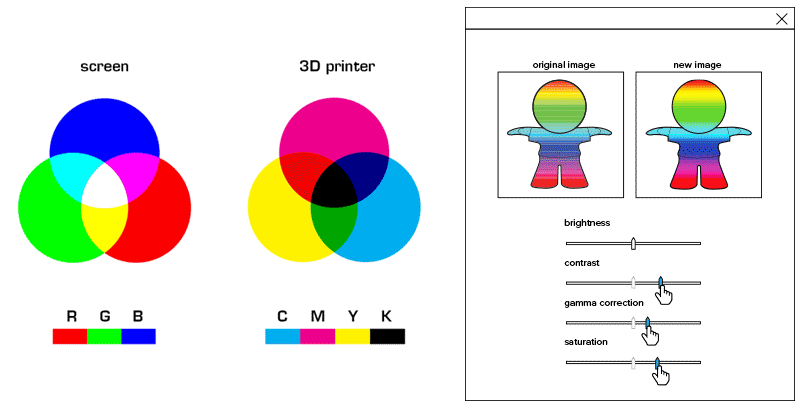 A short physics lesson in colors will help you get the best possible hue on your print, because the color you see on your screen can differ slightly from the printer's colors. A pixel on your screen is composed of Red, Green, and Blue (RGB), while multicolor printers use Cyan, Magenta, Yellow, and Key (Black). Since your screen and our printers do not use the same color system, the set of colors might shift slightly. In both CMYK and RGB, mixing these basic colors creates new color options. CMYK works pretty much like the box of paints you used back in school. If you don't have the painting color you're looking for, you need to mix two existing colors together. Adding colors together usually means that the new color will be slightly darker. That's why this system is called a 'subtractive color model'. It will lead to a somewhat darker color. Adding all colors together produces black. Screens, however, do not work like our box of paints. Instead of using paint or ink, they use light. The colors of light are red, blue, and green (RBG). When the colors are added together, the result gets brighter. When all three colors overlap, the color becomes white. That's why this system is called an 'additive color model'.
When colors are converted from RGB to CMYK, the color intensity changes a bit. So, what you see on your screen and what comes out of the printer might look slightly different. Bright colors on a screen tend to look duller and darker in CMYK. Generally, the brighter, more vivid and vibrant the colors on your screen are, the bigger the difference between your 3D model and your 3D print will be. We advise you to make the contrast, gamma correction and saturation higher. This can be achieved in Photoshop, IrfanView, GIMP or other photo editing software.
Another problem is that computer screens have adjustable settings – so factors like brightness, gamma and color temperature can make a huge difference. Monitors also can vary greatly in color accuracy, depending on the technology (TN, PVA, IPS, OLED) and the calibration setting. Besides, the color gamut or complete subset of colors on the printer is lower compared to the screen. Does this color difference make a huge difference? In most cases, it really doesn't. But if you need a really precise color that must not change even slightly – let's say for a 3D model that features skin color – you might want to order a smaller test print first and experiment a little to get the color exactly the way you want it.