As we reach towards the end of the month, we look back at the awesome events that took place in the world of 3D printing. In this sense, the month of March was quite an interesting month with successful Kickstarter projects, a superb Free Universal Construction Kit, a cool guide on how to build a 3D printer yourself and much, much more. Let's have a look at with this month had in store for us so far…
On the Kickstarter forefront we've found two wonderful projects that have successfully been funded. These two projects are The Stelliform Owl (A Sculpture project in Tracy, CA by Grant Miller) and The Sparklab: the educational build-mobile (An Open Hardware project in Stanford, CA by SparkLab). Both projects seem like great contributions to the 3D printing community.
In New Zealand Weta mastermind Sir Richard Taylor opened a new $15 million block at his son's private school on the 2nd of March. The interesting little detail here is that among the features of the new building were computer suites, a graphics and 3D printing facility, a robotics workshop, seven acoustically-designed and sound-proof music practice rooms, a rehearsal studio and a performance theatre. So if you want to get into 3D printing at a young age, you know where to go… You can find more on this news item in this article of the Dominion Post.

At i.materialise we branded this lovely month as a very colorful one with The Month of Multicolor. It brought our community a lovely promo-code with a nice discount for all who would print in multicolor. (Note that this action is still valid until the end of this month!) It also brought forth the adorable Letter Eater by Monja Petri and if that wasn't enough, we also introduced a limited offer for our dyed polyamide pricing (also valid until the end of the month).
To cover the topic of sound… For the solo exhibition of Alicia Framis in the Rabobank headquarters Utrecht, the Netherlands, Joris van Tubergen made an interactive installation using an Ultimaker 3D printer. Together with software developer Miguel Jimenez he developed the 'Screaming Room': A stand alone installation where the scream of a visitor is instantly translated into a shape printed by the Ultimaker. Read more about this on Ultimaker's blog.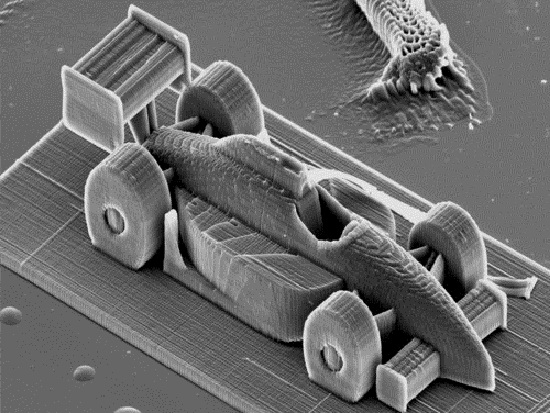 Researchers at the Vienna University of Technology (TU Vienna) have made a major breakthrough in speeding up two-photon lithography. With this technology, tiny structures can be fabricated on a nanometer scale and oh… they also broke a world record doing it. Read more about this amazing achievement here.
Another fun 3D printing series we found were the "How to build your own 3D printer" on CNET. It follows the necessary steps from beginning to end over a five-day period. It's definitely interesting  as it comes with instruction videos per day. Read more about it here: DAY ONE, DAY TWO, DAYS THREE AND FOUR and the WEEK WRAP UP.
Then i.materialise also announced their first meetup to be held on March 30th where visitors will finally get to have a look inside the walls of Materialise. What can be seen? A collection of 60+ printers, a presentation about the services of i.materialise and the community will finally get the chance to meet the people behind their 3D prints.
And for those of you who like your Lego's, Duplo's, K'Nex and more of these lovely building blocks… this one is for you! Introducing the Free Universal Construction Kit by F.A.T. It's the ultimate way to combine all of your favorite building blocks to create an even better experience. I can't wait to 3D print a couple of their pieces myself.
We know that the month isn't over just yet, so we'll make sure to add some of the last items of this month in the next one. Have yourselves a lovely weekend!