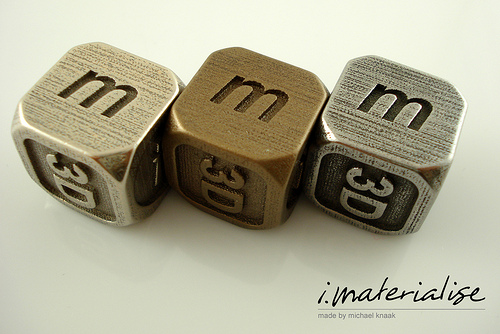 Today we launch Stainless Steel 3D printing. You could 3D print in steel previously so this is not huge news  as the Titanium 3D printing launch is. But, this is still a valuable addition to our line up. This will allow designers to 3D print in steel and give them more freedom to design beautful things. This is especially true because in addition to the regular Stainless Steel finish we have two great new finishes: Medieval Pewter and Wheat Penny. These finishes allow you to get your steampunk on and 3D print wonderfully old looking new things.
TomyTones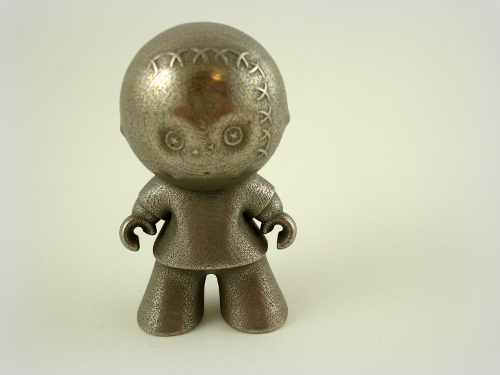 Our Mascot for Stainless Steel is TomyTones. TomyTones is an adorable character that is the center of a multimedia project by i.materialise Community Member Tommy Rombouts. TomyTones goes on adventures, is featured in animation and music as well as 3D printing. You can get involved with TomyTones too by downloading and remixing the TomyTones music video or mashing up the audio track. You can also add your own photos to this fun interactive multimedia project. You can print out TomyTones (as in on paper) and have him travel around the world with you. Get involved here.
The Finishes
Stainless Steel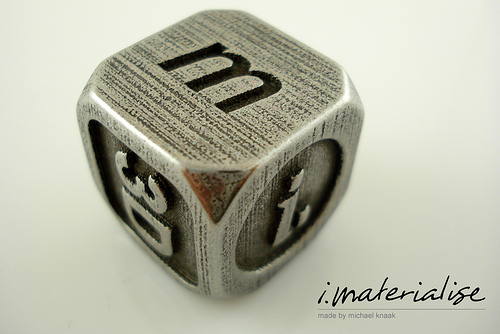 Medieval Pewter (Get medieval on your..3D printing)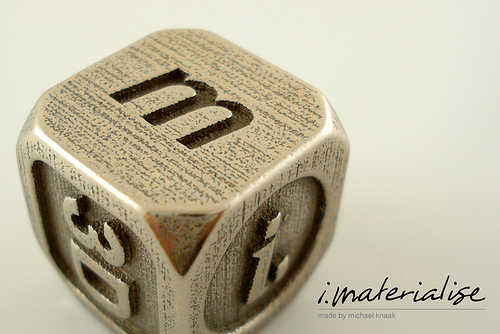 Wheat Penny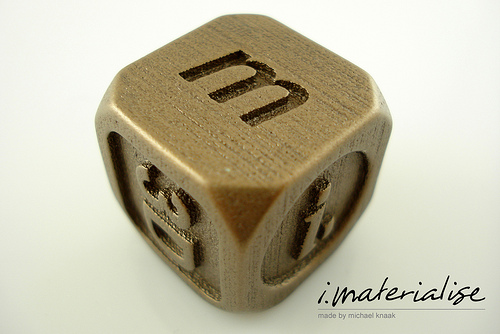 The process
This video runs you through the entire Steel 3D printing process. Watch it, I've watched it three times already.

The process itself takes 5 days and involves a lot of steps, machinery and labor.
Stainless Steel powder is spread out in the printer
A printing head deposits binder on the parts that will become your design.
A heating lamp dries the layer.
A roller rolls out a new layer of powder for the next layer of your design.
Repeat.
The model is now very fragile & porous. It is put in a curing oven for 24 hours.
After this the loose powder is removed.
Bronze powder is added.
You design then goes into another oven for 24 hours.
The bronze is infused into the design and hardens.
Supports are then removed and the model is given its finish.
Pricing & all that goodness
You can upload a model to us and we will get back to you with a price. Delivery is estimated to take 21 days.
Our pricing is based on volume. Any model up to 5 cubic centimeters cost $35.
You pay $8 extra per cubic entimeter above 5 cubic centimeters. This is for any model between 5 to 40 cubic centimeters.
We give you a discount on larger models. So above 40 cubic centimeters you pay $7.5  per cubic centimeter on top of the initial $35.
Shipping is extra as is tax if you live in the European Union.
Since compact models are cheaper to produce we will give you an extra discount
If you have an 11 cubic centimeter design it would cost you $83 and a really large thing (for 3D printing steel then) of 45 cubic centimeter would cost you $326. Our pricing model is meant to stimulate you to make larger objects. In our mind household fittings, doorknobs and decorative items for use around the home are the best things to make with this material. Engineering things are also possible. But…
Expectation Management & Truthiness
The process has a minimum detail level of 1mm. Because the model is fragile during production you can not make very thin walls. A 3mm wall thickness is advised. In some cases you can make thinner walls but only if this does not cause the model to collapse on itself during production. So if we were to give TomyTones a hat the rim might be as thin as 1mm. But, his neck could never be that thin because it would break off. We have a basic design guide with some design rules for you here.
If you need any help or advice you can email contact (@) i.materialise.com.
As you can see from the images Stainless Steel 3D prints have a somewhat handmade rustic look. Uniform smoothness is hard to achieve with this process. The final step is a polishing step. This means that lower areas of your design will look rougher and darker than higher areas. Round or exposed areas will shine more and be smoother.
Stainless Steel 3D printing is still a very new and very experimental process still in development. Sometimes models may warp or bend in the ovens. This means that the dimensional accuracy of the process will vary somewhat. High levels of precision required for mechanical and engineering uses are difficult to achieve consistently. Color differences between models have also known to occur.
You can not make very fragile or very thin models. Nor can you make interlinked chains or designs that have very thin unsupported structures emanating from them.
You could make jewlery with Stainless Steel 3D printing. But, please be aware that the material contains bronze and skin irritations and redness have been known to occur.
Technical Specifications
The maximum build volume is 100 by 25 by 43 cm.
The process is reasonably accurate at 1mm.
Minimum wall thickness is generally 3mm.
Density is 8.07 grammes per cubic cm.
Ultimate tensile strength is 682 MPa.
Young's module is 147 GPa
Hardness as measured on micro Vickers is 26 – 30 HRC
The melting point of the material is 830 Celsius.