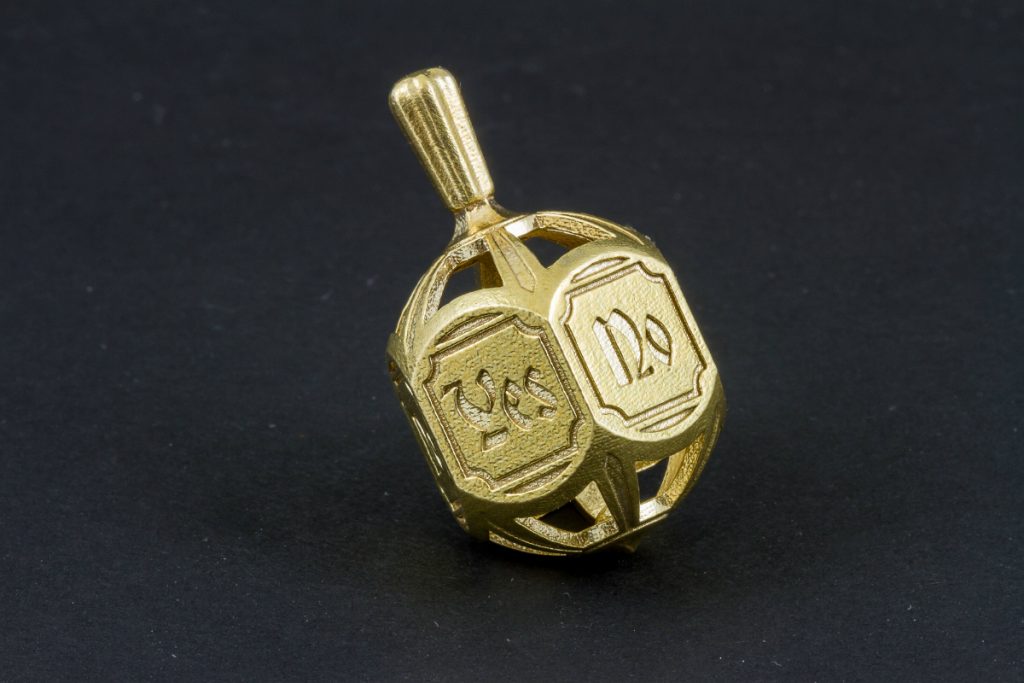 Just Brass! Introducing Our New Untreated Brass
by Aura | February 1, 2018
Brass is an all-time favorite in our metal assortment for 3D printing and it can be finished in so many ways that it is the perfect material to unleash your creativity.
Due to popular demand, we wanted to make brass even more affordable and give makers and beginners the opportunity to access this wonderful material. From today onwards, we offer our brass in its original state: Untreated Brass.
This new basic brass gives you the opportunity to print your creations in "just brass", without polishing, coating or plating. This option will be added to the wide range of existing finishes for brass and it brings many advantages.
With untreated brass, you can get a vintage look for your jewelry or other 3D printing creations, as it will oxidize over time. The color in its oxidized state can range from brownish to green to almost black. If this is not the effect you are going for, you may want to PU coat your piece to delay the oxidization process.
Untreated brass models don't go through post-processing, which means recessed surface areas maintain better quality. This is perfect for small details on your jewelry or miniatures!
Print lines may be a bit more visible than with our post-processed brass alternatives, so you may want to polish it afterwards.
This is the most economical option for your 3D prints in brass. The lack of coating or plating makes it the best alternative for 3D prints on a budget, for beginners pushing their creative limits or for test prints with jewelry designs.
Brass, the first stop for precious metals
Brass is an alloy of copper and zinc and is well-known for being a versatile material with a good level of detail. Commonly used for jewelry, small sculptures and miniatures, brass has the shine of gold at a better price!
Technology and design guides for brass
Brass is 3D printed following a process of wax 3D printing and lost-wax casting. Models are printed with a type of Stereolithography that uses a wax-like resin. Learn more about the 3D printing process behind brass on our website.
Before designing for 3D printing in brass, read the design guides of the material carefully to learn all about wall thickness, sizes, hollow models, etc. and to obtain the perfect 3D prints in brass.
Other finishes available for brass
Our new Untreated Brass is the most basic option for your 3D prints in brass, but we offer many different high-end finishes:
Natural PU-Coated Brass
Don't confuse this with our new Untreated Brass. Natural Brass is PU coated, giving the models a smoother and matte finish, but Untreated Brass doesn't undergo any treatment and will have a shinier, more detailed surface.
Yellow Gold-Plated Polish
We apply a thin layer of 18K yellow gold plating to your brass model and an extra coat of PU for protection.
Red Gold-Plated Polish
For this finish, a thin layer of 18K red gold plating is applied to the model, as well as an extra coat of PU for protection.
Black Color-Plated Polish
Your brass models can also be finished with an edgy and elegant black finish. Read how it works on our website.
Chrome-Plated Polish
A good option for car parts and tools. Your brass models are finished with a chrome layer that makes them harder and provides some resistance against corrosion. The finish also has a very elegant aesthetic.
Rhodium-Plated Polish
Applying a thin layer of rhodium to the brass model prevents it from getting scratched or tarnished. The color of the finish has a cold, white tone.
As you can see, brass is the material to go for basic jewelry prints. If what you want is brass in all its simplicity, 3D print your models in our new Untreated Brass.
Upload your models to our 3D printing platform, choose your material and finish and get an instant quote and shipping date for your 3D prints in Untreated Brass.