Tutorial Thursday: Don't underestimate the power of search!
by Tatiana | April 25, 2013

Not everyone can be a pro when it comes to Search Engine Optimization (SEO). But if you want people to find your designs in our gallery, then it's important to follow some basic rules.

1. Use keywords
When people go to the i.materialise gallery, they often use the search field to find nice designs.  Use the description field to explain your design in a few sentences and add a good title. Designer Michael Mueller, who created this 'Decision Spintop' uses a good description for his product with some quirky sentences. You know immediately what it is (a spintop), what material (gold plated brass) and the use (pendant).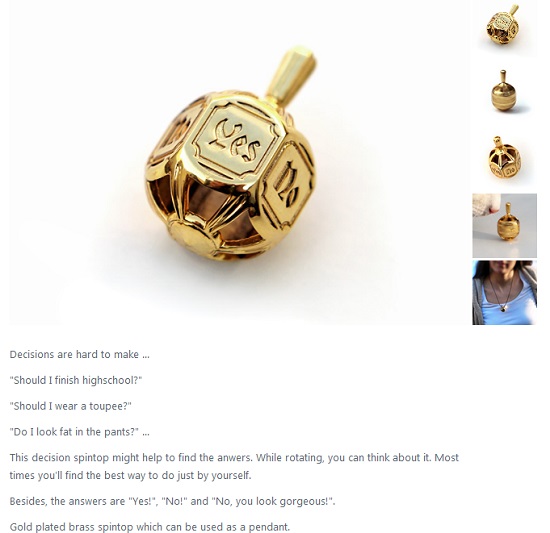 2. Tags
It's very important to use enough tags (try to find 5-10) that describe your product. To give you some inspiration: use your designer name, the material, the use, the category, the color and the name of your design.

We see a lot of designers don't use tags for their designs, which gives them less chance to be found with our gallery search option.
2. Choose the correct category
Some people just like to see all the designs of a certain category (such as jewelry) and scroll through it. For these people it's very important you choose the correct category to add your designs to. So think about and choose the right one!
Do you have any other tips? Feel free to share them with our community through Facebook, Twitter or just comment on this article!