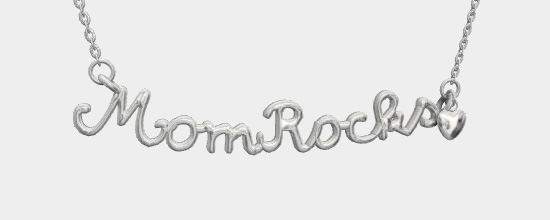 Stand Out on Mother's Day with 3D Printed Gifts
by Billy | April 9, 2014
Mother's Day. The time of year that gives us the chance to celebrate Mom and thank her for the years of laughter, unconditional love and generosity. This year give Mom a unique gift that she will be sure to remember.
3D Printed Flowers
3D printed flowers have a tech twist on a long standing traditional Mother's Day gift. And they don't need water, only love. Twikit lets you personalize the petals and send a message of love.
3D Printed Necklaces and Bracelets
The standard for Mother's Day – all time classic silver necklaces and bracelets by designer Anne Zellien – are a heartfelt way to commemorate and congratulate mom. Twikit's customization tool allows you to personalize your message.
3D Rings
Express your love on Mother's Day with custom, elegant 3D rings with Jweel. Jweel's browser based software lets you choose the letters, shapes, words or you can experiment with your own graphics. Once you've chosen your design it can be printed in gold, brass, steel, silver or titanium.
Snowy Owl Brooch
The elegant and light hearted snowy owl brooch from Artizan Work is a colorful accessory to brighten your mom's special day. The brooch's articulation clips fastens onto almost any garment and animates when it is shaken or moved.
Do you like what you see? Send Mom a special Mother's Day gift by placing an order today, or browse our shops and boutiques for Mother's Day ideas.