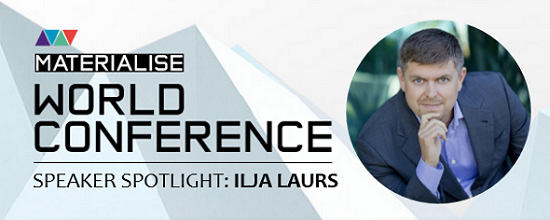 Speaker Spotlight: Ilja Laurs on Customizable 3D Printed Game Characters
The Materialise World Conference is fast approaching and we would like to take this opportunity to present some of the inspiring speakers who will illustrate the many ways that 3D Printing services and solutions can add value in the realm of consumer products. See them in person on April 24th and 25th in Brussels and Leuven and participate in our two-day program full of workshops and conferences that will give you inspiration and the technical know-how to turn your ideas into 3D printed reality. 
This week, our featured presenter is Ilja Laurs, venture capitalist behind the customizable 3D printed game characters Cut the Rope, Pou, Talking Tom and the Tribez.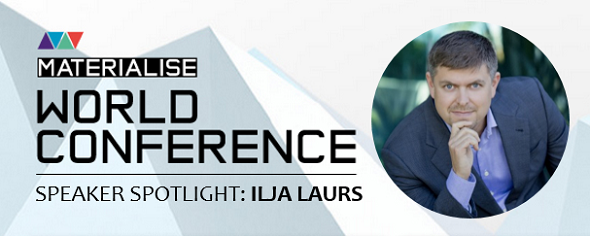 Ilja Laurs is one of the most successful entrepreneurs and venture capitalists in Eastern Europe. After selling GetJar – the world's largest independent app store – he founded Nextury Ventures and now invests in the most promising tech companies in the region, from 3D Printing to mind-reading and beyond.
Ilja was named "European Manager of the Year 2011" by the European Business Press Association and one of the "25 European Tech Leaders" by the Wall Street Journal, was ranked one of the "Top 40 Most Influential People in Mobile Communications" by Informa Telecoms and Media, and TIME believes that he runs one of "10 Startups That Will Change Your Life".
A serial entrepreneur since 1999, Ilja has launched a diverse range of successful projects including Lithuania's largest hotel reservation system, LithuanianHotels.com, mobile payment service MicroPay, mobile games studio Midas Mobile, and GetJar, a successful mobile app marketplace.
In 2014, Ilja co-founded the company Toyze, the first "app store" for 3D Printed customizable game characters. From smartphone to shelf, it allows gamers to 3D model and print their favorite game characters. Toyze aims to democratize and stir up the toy market by offering game developers of all sizes the opportunity to extend their branded characters to custom merchandising.
Laurs started the company as part of an early-stage investment fund he created in Lithuania. Zeptolab, whose games have been downloaded more than 500 million times, liked the idea so much that they became an investor and gave Toyze permission to create characters based on their game "Cut the Rope".
Once they've downloaded the app, users can find, customize and order 3D Prints of their favorite characters from "Cut the Rope", "Talking Tom and Friends", "Pou" and "The Tribez". Earlier this month, the company announced that more than 1 million 3D models had been created via its app.
Ilja believes that this success is a result of the customization that 3D Printing has to offer: "You will be able to print your own Superman. And nobody else in the world will have exactly the same toy." He also thinks that his company "will help brands build communities and expand their merchandising" even further.
Toyze and i.materialise worked together to ensure the figurines are 3D Printed in one of the highest-quality materials fit for public consumption – multicolor gloss. This material prints in color and is solidly weighted (similar to smooth stone or wood). Its smooth gloss finish intensifies dark and vibrant colors, a necessity for printing bright cartoon characters.
"Toyze takes your favorite game characters out of the game and brings them to life in 3D. Now even a 3-year-old can design his/her own 3D toy. It's that engaging and that easy. Our plan is to eventually feature all the major video and computer game characters – and then go beyond that to comics and movie characters."

– Ilja Laurs
Ready to meet serial entrepreneur Ilja Laurs? Then join us to celebrate the 25th anniversary of Materialise at the World Conference on April 24–25, 2015 in Brussels and Leuven. Come hear inspiring speakers such as Ilja who will speak about "Customizable 3D Printed Game Characters" or Zbyněk Krulich (Designer & Owner of Blueberries Jewelry) and Caroline Das (Co-founder DAMN), who will illustrate how 3D Printing services and solutions can add value to the realm of consumer products. Stay tuned on our blog as we announce and present new speakers every week.

Our two-day program at the World Conference will give you the inspiration and technical know-how to turn your ideas into 3D Printed reality. Don't miss our workshops to see and feel designing in action as our top-notch experts guide you through a creation experience. Whether you're a novice, a 3D Printing design startup, or an established business looking to venture into 3D Printing for customizable products, we have something for everyone with an eye for design and a head full of ideas.
The early bird catches the worm, so get your one-day ticket or full weekend pass now with our early bird discount. Tickets can be purchased here, or for more information about the Materialise World Conference, please see our event website.