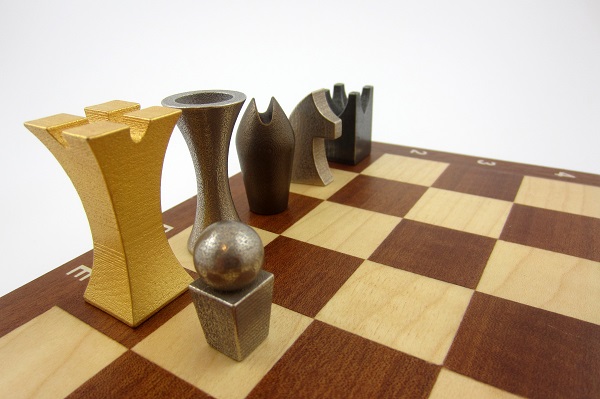 3D Printing Chess Pieces & Chess Sets
Jonny Anthony loves chess. And what's cooler than customizing and 3D printing your own chess set? Read on to learn how to create your own 3D printed chess pieces and take a look at Jonny's stunning result: a 3D printed chess set in steel!
The Idea of 3D Printing a Chess Set
"I am no Grandmaster but I play ever day and have done it for years. It was about time to have my own chess set," tells Jonny Anthony, a graduate from Chelsea School of Art in london. "I am obsessed with chess. For my own set I wanted to design a contemporary chess set that was modern and stylish but that could still be readable midway through a game, which I hope I have achieved. Often I see modern chess piece designs which look great at the start of the game when the pieces are on their ranks, but are confusingly similar when the board is mixed up."
How to 3D Model Chess Pieces
Would you like to create your own chess pieces! Good news: there is free 3D modeling software out there and online 3D printing services that can print your designs in highest quality and in all kinds of materials (even metals).
To get started, head over to our tutorial for free 3D design software Blender. You'll learn all the basics of how to create a 3D printable chess piece here.
Jonny's Result: 3D Printed Chess Pieces in Steel
"I am so very pleased with the way the pieces printed in stainless steel, with their subtle color tones of wheat penny and old silver they look fantastic and are lovely to handle and very playable. The weight of the metal gives them a satisfying authority which is important when playing chess."
"The set is known as The 'Hypermodern' set. As you may know, Hypermodern is an art term as well as a chess term, so it has a double meaning which I think suits the abstracted, modern style. The pieces are designed along the lines of the 'Staunton' style, tournament set, but with a modern twist. The Pawn is designed to look like a foot soldier. The Knight is an abstract form of the horse's head. The Bishop is reminiscent of the hat a bishop wears, the Mitre. The Rook is a turreted tower with heraldic shield cut outs. The Queen is designed with aesthetic feminine curves. The King's design is that of a Trophy."
Want to 3D Print Your Own Designs?
It couldn't be easier to print your own designs! Just upload your creation here, select from over 100 different materials and finishes and let us take care of creating high quality prints and delivering them to your doorstep!