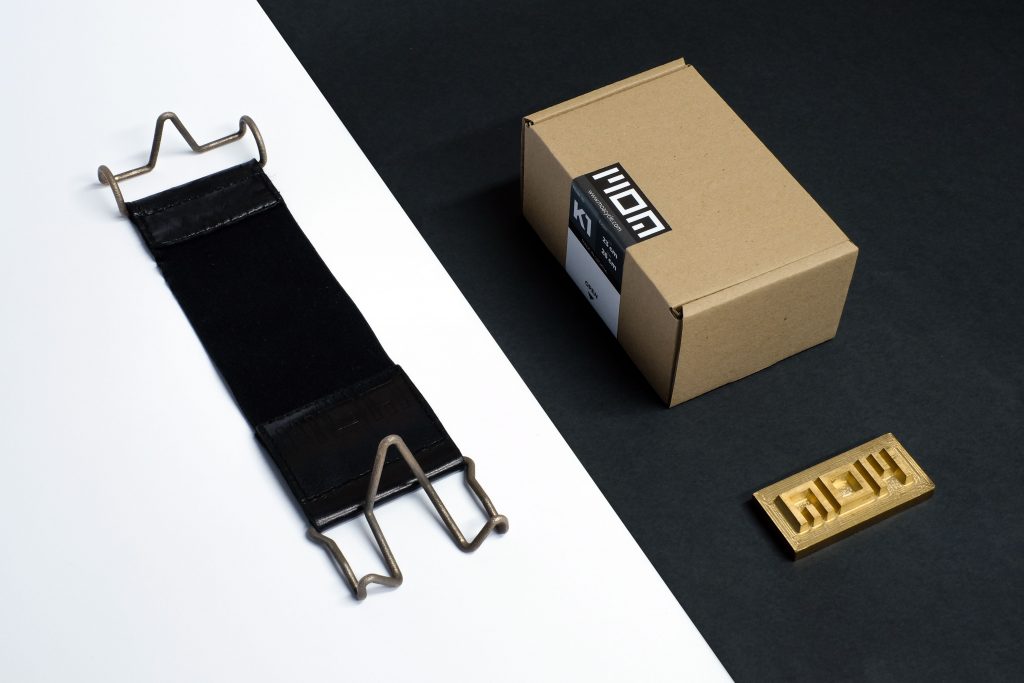 MOA: The 3D-Printed Bicycle Strap You Didn't Know You Needed
by Stephanie | July 26, 2018
Sometimes the simplest ideas can make our lives a whole lot easier. That was the thinking behind MOA, a start-up creating a leg strap that keeps you clean and tidy while biking – all while looking great! Designer Alen Zubic told us all about his idea behind the project, and why 3D printing was crucial for making a proper prototype.
What is the idea behind MOA?
"MOA's purpose is to keep you clean and cool throughout the day while riding a bicycle. If you cycle and you want your pants to be protected from stains and tears from the greasy chain, then this is what you would want to have on your leg to guard you.
The idea is to solve identified requirements and seamlessly integrate the best solutions into 3D design so that all the costumer notices is pure satisfaction while using it.
Constant use shows MOA's real benefits. I practically live on my bicycle throughout the whole year and I used different products as a leg strap. I'm not easy to please so I designed my own."
Tell us a little bit about yourself.
"I'm a mechanical engineer working in the IT industry and MOA is my side project. So far it's only me who's pushing things forward, but at the same time it's a very inclusive process. Sketches, ideas, design blueprints and testing went through the people surrounding me and therefore I like to think it's not only me who created this product."
How is MOA different from other leg straps?
"Timeless design. When you see it, touch it and try it you immediately appreciate the thought put into it. City commuters who use their bikes regularly will instantly notice unprecedented differences from what they've seen and used so far. It's made from beautiful leather, combined with top-quality elastic material and a metal buckle. MOA is here to stay – it's durable, fashionable and functional.
All elements combined form aesthetics unseen on the market. Its unique look is a combination of all the elements, but the buckle shape is what really makes it stand out. Together with leather materials and carefully selected elastic pieces this is a high-quality, durable product which is resilient to transience. The bicycle is a timeless machine, resistant to change and therefore MOA should be the same."
How did your design process go for the strap?
"The design process was a pleasurable experience in the first place, but the final product only comes after really hard work. There were many iterations in terms of changing dimensions, shape and materials.
All elements had to comply with tough criteria. Throughout the design process, there were a couple guiding rules: functionality first, intuitive use, simplicity and finally, aesthetic. The aesthetic came as a result of following given principles without any references to current trends. MOA created its own aesthetic!
The testing of each prototype was done through extensive use and by taking into account feedback from my test subjects."
Why did you decide to use 3D printing for the prototypes?
"After getting the right dimensions and after validating that everything fit together as a whole, MOA had to be ready for real world testing. The real test would be using it on a daily basis and 3D printing the buckle in polymer materials wouldn't be able to provide enough stiffness. In this case, a steel 3D-printed buckle was the only option.
A second major factor was the cost of the buckle production, which is very high for 3D wire bending. To make the product suitable for mass production, the buckle was made with wire bending in mind. Every radius has its function and a reason why it exists, but it only becomes cost-efficient for larger series after the tooling is ready. 3D printing the buckle in steel lowered the testing costs and therefore helped validate the final design."
Is this your first design and the first time you use 3D printing?
"This is my first time using steel 3D printing and I couldn't be happier with the outcome! I printed polymer pieces in the past, but not all test cases can be covered without the properties afforded by metal. Using i.materialise's service was an effortless experience and I'm thinking already thinking about a limited-edition gold buckle in the future – I'm going a bit crazy!"
When will you launch the product?
"This MOA K1 model is due to be launched in Q2 or Q3. Now I just have to start the company so I can open an online shop and start selling. All the suppliers of raw materials and my assembly partners are in place and ready to go!"
Interested in buying the MOA for yourself? Keep an eye on Alen's website to see when it will launch!
Or get inspired by these other steel prints by reading about our favorite steel prints.
Do you have an awesome project just waiting to happen? Be sure to check out our steel tutorial, upload your 3D model to our online platform and get an instant quote!