3D Printing in Flexible Rubber-Like Material
3D printed dresses, 3D printed handbags, 3D printed wheels – 3D printing just got more flexible: discover our new strong, flexible rubber-like material for your next 3D printing project. Create a stunning 3D print with this bendy material.
The flexible rubber-like material
What would you create if you had to opportunity to print in a flexible material? Rubber like can be used for accessories, haute couture models, designs that need shock absorption, squeezable models, gadgets, scale models, functional designs, and many other projects. Once again, thanks to 3D printing, there is no limit to your creativity.
3D prints in rubber-like are built layer by layer from an off-white, very fine, granular powder. The printed object will be strong, flexible and durable. The surface of this material is somewhat sandy and granular. It's technical name is TPU 92A -1, a Thermoplastic Polyurethane.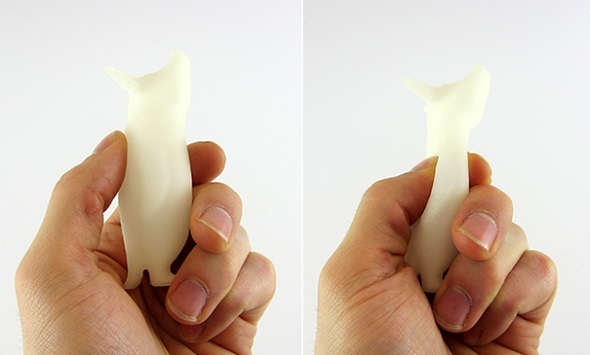 Laser sintering is used to build your rubber-like print. This means that the printer spreads out a very fine layer of powder and a laser melts and bonds this powder together at specific spots. After the printing processes the sintered, 3D printed rubber-like object is cleaned from the un-sintered powder. You can take a look at the 3D printing process of this flexible material in the video below.
The first designs in our rubber-like material
The first designs made of our new rubber-like 3D printing material come straight from the catwalk – a 3D printed dress designed by Iris van Herpen and Julia Koerner.
Italian designer Pasquale Bonfilio designed this stunning handbag with our flexible rubber-like material.
The color options of our flexible material
Our new flexible rubber-like material comes in black and white. It is white in its natural form and can be dyed in black color.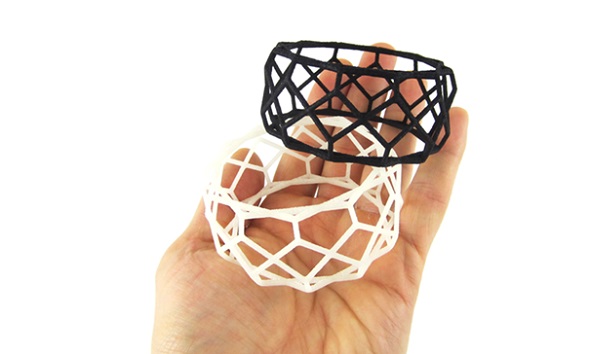 Modeling tips on our flexible material
Here are some further background information about this fantastic material:
Rubber-like gives designers a lot of freedom. Since it is laser sintered, it allows for interlinking parts such as a chainmail pattern.
Our printers let you print rubber-like objects up to a size of 32 x 27 x 30 cm. Since it is a flexible material, you can 'roll in' your 3D model for the printer, and 'expand it' once it comes out of the printer.
Note that the material is not as strong as real rubber. The material is flexible, but of course the elasticity is limited – hence the title of 'rubber-like' material.
Unfortunately, at this time, we cannot sell or distribute objects made from this material in the United States. This restriction also means that our customers cannot import objects made from this material into the US.
How flexible is this rubber-like material?
In the end the flexibility of your object will also depend on its wall thickness. A rubber-like print with thin wall thickness will be more flexible, a design with thick walls will be less elastic. Take a look at the images below to get a better understanding of how flexible this material really is.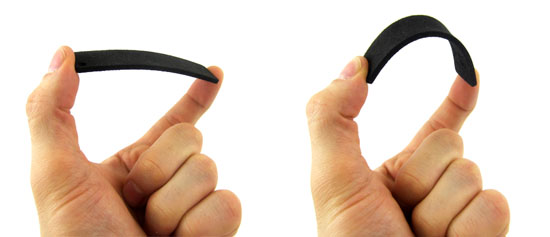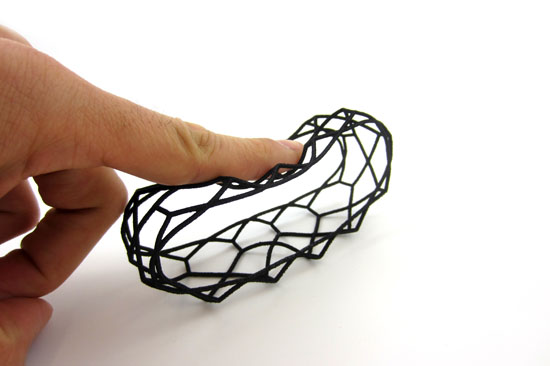 Are there other flexible plastic materials?
If you are looking for another flexible plastic material, you might be interested in out polyamide material. With a thin wall thickness, polyamide prints are somewhat flexible and ideal for smartphone cases or anything that you need to 'clip'. However, polyamide is much less elastic than our rubber-like material and will break if you bend it too much. Discover our polyamide material here.
To learn more about our flexible rubber-like material, visits its material page here. Interested in other 3D printing materials? Take a look at all the materials that we offer here. Ready to order your design? Simply upload it here, select your material and see the price of your 3D print instantly. We'll take care of printing it on high quality industrial machines and shipping it to your doorstep.