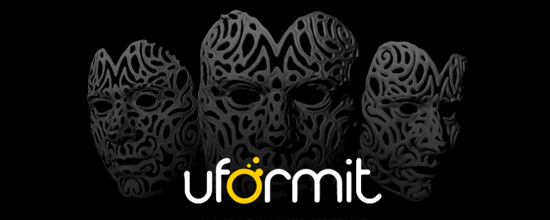 i.materialise Now Partnering to Let uformit: A New 3D Design App Featuring Joshua Harker
by Yui Takahara | April 24, 2014
Imagine a world where you could easily customize products designed by leading artists. What if you could even make a design as unique as yourself, by combining it with your biometric data? It's now possible on uformit, a 3D design app that takes you to a new era of design and technology.
i.materialise's latest 3D design app partner uformit serves as an ecosystem for designers and an online marketplace for personalized designs. Since the website launch at the 3D Printshow in New York in February 2014, they had intentionally kept a low public profile, to allow for some time to test the concept. But it's the time to break the silence: after some major updates, uformit has just released a revamped kick-ass website on 10th April!
CEO of uformit, Hans Christian Gjøvik, says, "uformit is blurring the line between the creator and consumer, allowing anyone to participate in the design of the objects." Indeed, their products, including the Self Portrait Mask designed by Joshua Harker and Ion Cufflinks produced by Turlif Vilbrandt, can't be completed without your participation.
Self Portrait Mask
This mask is a spin-off from the 21st Century Custom Portrait Project by Joshua Harker, an American artist and a renowned visionary in 3D-printed art. This unique decorative mask combines a filigree pattern with Joshua's actual biometric face data. Thus it is an exploration into the latest technologies applied to one of the oldest artistic representations, a portrait. On uformit's website, you can modify the design by importing your own face scan and 3D print it as the ultimate modern-day self-portrait.
Ion Cufflinks
These elegant cufflinks are originally designed by Turlif Vilbrandt, uformit's master digital crafter and co-founder. Personalizing these cufflinks is as easy as choosing two letters. Uformit's software beautifully combines your choice and instantly shows the 3D model. Try rotating the model of your desired letters to see how the shapes of alphabets interplay to make a unique, artistic design. The personalized cufflinks are currently 3D printable in four materials: silver (gloss), titanium, gold (14k, yellow) and brass (gold plated).
i.materialise is proud to be the "preferred production partner" of uformit, and we're all excited about our quest to make personalized designs available for everyone. We will soon have uformit on our creation corner page. Until then, you can simply go to www.uformit.com to enjoy the whole new personalized design experience!