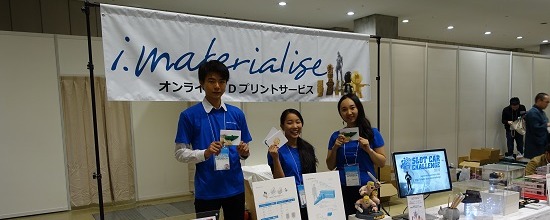 Highlights and Our Favorite Moments from Maker Faire Tokyo!
by Yui Takahara | December 12, 2014
The third annual Maker Faire Tokyo was held on November 23rd and 24th at Tokyo Big Sight, gathering more than 13,000 visitors and 300 exhibitors. The Maker Movement in Japan seems to be getting bigger than ever, and we were very happy to see how passionate you all were about 3D Printing. Here's a wrap-up of the two-day event from the i.materialise Community Outreach team in Japan!

Weird and impressive Japanese makers
Japan is known for its weird, funny and cool subcultures, and the Japanese Maker Community is no exception. When we arrived at the booth of Daily Portal Z, an "alternative" online magazine, we were confronted with some strange inventions, but ones that also made us laugh!
These students from Tokyo High School of Science and Technology made a 3D Printer that prints food, but with Japanese twist: it prints your STL file in sweet bean paste (called anko or wagashi in Japanese). To make this machine, they tweaked a normal home 3D Printer by replacing its filament extruder with a plastic syringe. But why was there a cracker underneath the 3D Printed sweet bean paste? The students' answer was: "because it makes it easy to pick it up and eat when it's done!"
Other funny handmade items we found at Maker Faire Tokyo included: three wooden robots that make a hot sandwich for you using a flamethrower; an auto-signature machine; a life-size R2D2; and many more. Maker Faire Tokyo may still be small compared with other Maker Faires around the world, yet its creativity was definitely world-class.
Fantasy made real
Every fan of Hayao Miyazaki's animated films must have dreamt of flying over mountains on a Möwe at least once. This glider that appears in Nausicaä of the Valley of the Wind, one of Miyazaki's fantasy adventure films, came to life at Maker Faire Tokyo thanks to Takahiko Wada. This Möwe flight was powered by Oculus Rift, a virtual reality headset for 3D gaming and unity, a cross-platform game-creation engine. The virtual experience combined with a fan to make you feel breeze and a glider of foam polystyrene made by Takahiko himself, really enhanced the enjoyment the riders of this Möwe experienced – they seemed to be enjoying the flight in the world of Nausicaä a lot!
But this was not the only thing that looked like it came out of a fantasy world: people formed a long line in front of a huge robot called Skeletonics – a high-tech skeleton you can ride and that is easily controlled by hand movements. Maker Faire Tokyo was one of the rare occasions for robot anime lovers to actually ride and control a huge robot like this, just like in Gundam and Neon Genesis Evangelion.
Geek is the new sexy
Some people might still think that being a geek is uncool. But these fashionable and stylish items we found at the Faire would likely change their mind. Especially for geek girls, we recommend the earrings made by Maris. He transforms printed circuit boards (PCB) and LED lights into charming pop accessories!
There were many other stylish items presented at the Faire, such as this Raspberry Pi case by FabLab Kamakura, and kendamas (a traditional Japanese toy with a spike and a ball). Both are made of wood with beautiful designs carved using laser-cutting machines.
The i.materialise booth!
Finally, here's a look at the i.materialise booth! It was great to see how excited you all were to know we can 3D Print in non-plastic materials such as metals and ceramics. Although the community of designers making 3D Printed jewelry or ceramic tableware isn't that big yet in Japan, we hope to see it grow quickly in the near future.
Another 3D Printed item that surprised visitors to our booth is this slot car designed by creative unit "t-o-f-u." 3D Printed in Prime Gray then carefully polished and spray painted metallic, the car looked very authentic and surpassed everyone's expectations of what can be made using 3D Printing. In fact, the same slot car went to EuroMold in Frankfurt to join the Slot Car Championship, and won "the Most Innovative Use of Additive Manufacturing" award!
Want to see more creations by Japanese makers? Here's a video that covers the whole event in 14 minutes.
Pictures of many other fun booths from the event can be found here. If you want to get regular updates from Japan, don't forget to follow i.materialise Japan on Facebook and Twitter!