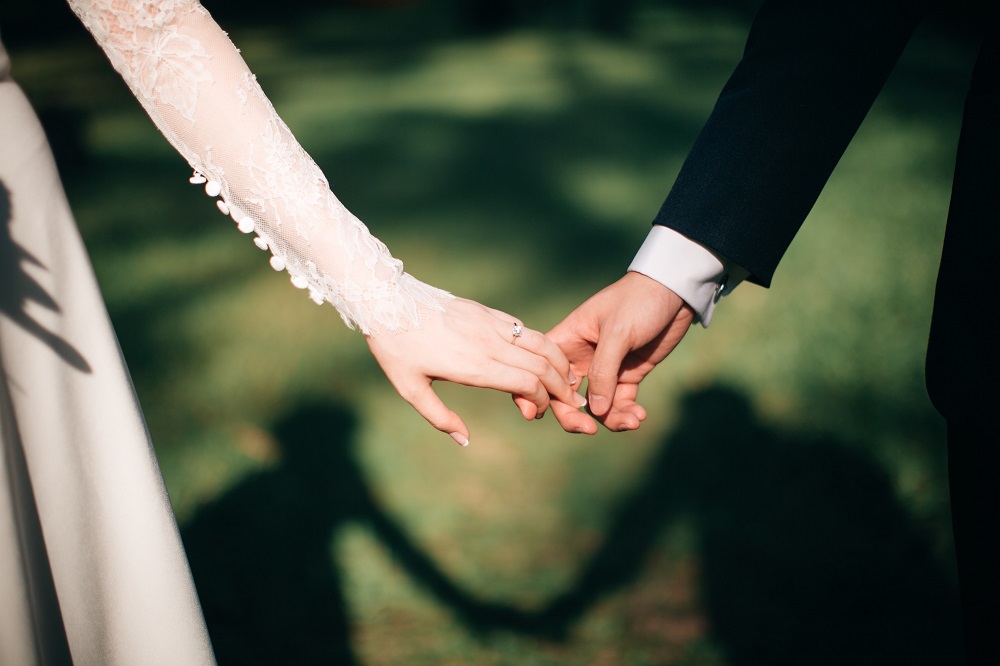 A Groom-To-Be Creates His Own 3D-Printed Wedding Band For The Most Special Day Of His Life
by Iva | February 10, 2021
Wedding days are special days for everyone, and Daniel Weinberger is no exception. To celebrate love and to tie the knot with his beloved wife, this creative IT professional decided to make a custom-made 3D-printed wedding band.
Based in California, Dan has been a long-term fan of 3D printing. Back when he was still in school, he was fascinated with SolidWorks, a 3D CAD software that helps designers create authentic design experiences. Even though he built his career in IT, his interest in design and 3D printing didn't cease.
"I've known about 3D printers for years! Currently, I work in medical device production, and our R&D department has resin printers to quickly prototype and design products we make. It's nice to have the possibility to see how 3D printing works!" says Dan.
Creating a personalized wedding band is a beautiful way to honor a unique bond with your partner. Dan decided to make his own wedding band because he couldn't find what he wanted in the traditional jewelry shops.
"The idea of 3D printing a wedding band came from the lack of options in the retail market. We were looking online for jewelry shops, as many shops were closed during the first wave of the pandemic. However, there wasn't anything that seemed personal enough that we liked. Ideally, a wedding only happens once, so of course, you want everything to be perfect. I thought it would be nice to do a DIY wedding band. It was the right time to dust off those 3D design skills and see if I could make something with a personalized touch," admits Dan.
Once the idea was there, Dan started his research to find the best way to realize this significant project. "I was looking specifically for services that could do 3D prints with precious metals. When I found i.materialise, I was delighted! Your platform offered exactly what I was looking for!" Dan continues.
The i.materialise platform turned out to be the perfect solution, especially because of ease-of-use and a wide range of different materials and finishing options. To Dan, every detail mattered. "The most important thing was that i.materialise has options to create designs in precious metals, especially white gold was combined with palladium as opposed to nickel, making it more hypoallergenic and removing the need for the rhodium plating." 
His creative process started from scratch, creating the right ring sizing. Dan used a 3D generator on Thingiverse to create a rough design of the ring. In the next stage, he used Tinkercad to modify the ring with further embossing and design edits. Then it came in handy that he could use 3D printers at his work to create prototypes. "I made different variations, but once I had a final design, I took the STL file to the office and tested out little prototypes using the resin printer at work. After a few more alterations, I uploaded the file to i.materialise, and that was it," explains Dan.
Once he ordered the wedding band, the only thing left to do was wait for its delivery. "I was very excited when it finally arrived. I was surprised by how elaborate the details were. It looked better than I imagined – I'm delighted with the end product! The band slipped on my finger perfectly. It felt right," confirms Dan.
However, their wedding bells were ringing slightly differently than usually due to the pandemic. Dan and his wife had an online wedding ceremony, which was a very peculiar experience. "It was a strange, surreal experience, but it's going to be a great story for our kids. In the end, it was a very convenient way to bring everyone together without having to worry about people getting on planes. Still, I hope one day we'll do a vow renewal and have everyone get together for the real party!" says Dan.
The wedding band might be his first 3D design, but Dan has more ideas he would like to bring to life in the future. He also encourages everybody to try to create customized 3D-printed designs. As for sharing tips and tricks for people who want to dabble in 3D design, Dan recommends doing comprehensive research and find the best software to create your design before uploading it to i.materialise.
"Take the time to explore the options. I tested three or four different software options before I found one that was intuitive for me. With the right tools, like i.materialise, 3D printing is accessible and feasible for everyone. And don't let yourself get discouraged. Learning how to design in three dimensions takes time, but the results are very satisfying," concludes Dan.
To join the celebration of love, we have a special Valentine's Day offer! Until the 14th of February (incl.), you will receive an exclusive 10% discount by applying the promo code FromImatWithLove2021 while ordering all 3D prints made of precious metals (Gold, Silver, Bronze, Brass, Copper), standard metals (Aluminum, High-Detail Stainless Steel, Steel, Titanium) and Multicolor+.
Upload your model today and apply the code to receive your unique gift in time for Valentine's!