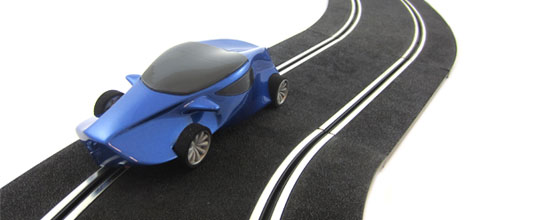 Gear up for our Slot Car Challenge!
by Tatiana | December 16, 2013
Get fast and furious with our Slot Car Challenge. Show us your most beautiful 3D design and you might win your very own slot car!


We're challenging you to make the coolest slot car design. You create the shell, we provide the chassis, motor, axels and wheels (which cannot be modified).
Our parent company Materialise is organizing a series of races for slot cars made with 3D printing technologies, to be held at AM events worldwide throughout 2014. If you win the i.materialise challenge, you are free to race your own 3D printed slot car at one or more of these events. For now RAPID 2014 and EuroMold 2014 are confirmed.
What is slot racing? Slot car racing is racing with miniature cars on a track. An electrical engine powers the cars. The motor is connected to a guide that is positioned under the chassis of the model. To the guide are copper braids connected and is positioned in a slot in the middle of parallel rails. The slot car gets speed if the driver gives power to the rails by means of a hand held controller.
MATERIAL
The materials you can use for this challenge are prime gray, polyamide and transparent resin.  Make sure you read the design guides to make your slot car model 3D printable.
OVERALL DIMENSIONS
To make sure your design fits around the motor, chassis, axels and wheels you can download this 3D file and model your design around it.
Your car must not be wider than 83mm. The length of your car should not exceed 200mm and the height is limited to 70mm.
FITTING THE BODY
The body will need to be glued to the base. The area to mate properly is indicated in blue in the image below.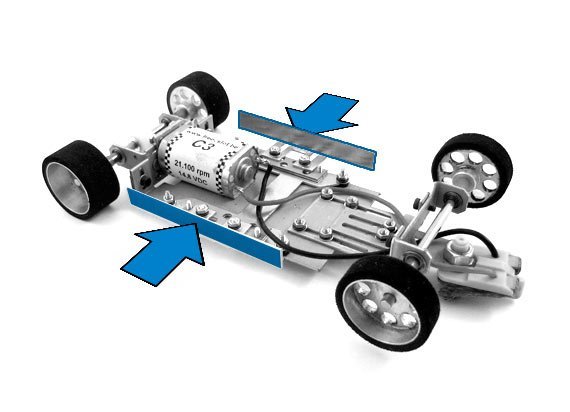 PRIZES
We will select 1 winning design. The winner will get his or her own print and a 20% discount on his or her next order in the 3D print lab.
WHO CAN ENTER
This challenge is open to all designers, professional and amateur, regardless of sex, age or nationality.
CHALLENGE PERIOD
Submissions will be accepted up to 23:59 Central European Time, February 16th, 2013.
HOW TO PARTICIPATE
There is no limit on the number of entries per contestant. To enter, you need to upload your design(s) on the challenge page. Don't forget to provide a clear explanation (under 'description') in at least 50 words and tell us in what material your design needs te be printed.
You can find more information about the file formats in our FAQs under 'website'.
JURY
The i.materialise team.
Note that the jury selects upon the 3D renders you put online, so make sure to make a very clear, visible render.
GENERAL CONDITIONS
i.materialise's general terms & conditions apply to this challenge, for more information visit: http://i.materialise.com/legal/terms#challenge
All entries must be unique and never 3D printed before.
i.materialise reserves the right to amend these rules at any time. Any amendment to competition rules will be posted on the i.materialise website.
Prizes must be accepted as awarded. No cash alternatives or substitutes will be allowed. The decision of the jury will be final.