Design 3D Printed Glasses with Tinkercad
by Tatiana | December 13, 2012
It's always hard to look for some nice glasses, but now people can customize and 3D print them to find that desired look. Pekka Salokannel (Technical Artist at Tinkercad) took the lead and put his 3D printed glasses online.
Step 1: The Idea of 3D Printed Glasses Created in Tinkercad
During the 3D Printshow Pekka was wearing his 3D printed glasses and people loved it. They loved it even so much they wanted to design one for themself. One of Pekka's Tinkercad Workshop attendees from 3Dprinting.com, decided to give it a shot and print himself a pair of nice glasses.
Step 2: Get The Right Measurment for your Glasses
Anne-Pieter Strikwerda: "One of the first steps you need to do is to find the right measurements. There is a very good website to guide you through this process." The only difficulty with the glasses can be to find an optician who wants to fit in the lenses. "I was lucky to find a really helpful optician close to my home in Amsterdam."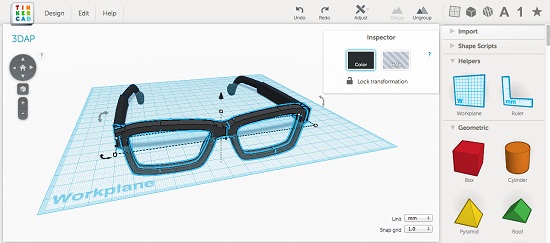 Step 3: The Design Process
"The designing process was not too difficult. I adjusted Pekka's model (that he created in Tinkercad) with my measurements. Tinkercad is very user-friendly and easy to learn. Click here for a complete video tutorial.
Step 4: The 3D Printing Process
"I 3D printed my glasses with i.materialise's online 3D printing service." Anne-Pieter wanted to make a prototype model so he chose to print it in multicolor, since it's the cheapest material and just costs 24 euros, shipping included. But remember: to really wear the glasses it's better to print it in a nylon-like material like polyamide. Multicolor is too fragile to wear. "I decided to print it as one piece. But if you want to create glasses to wear, it's better to print it in polyamide."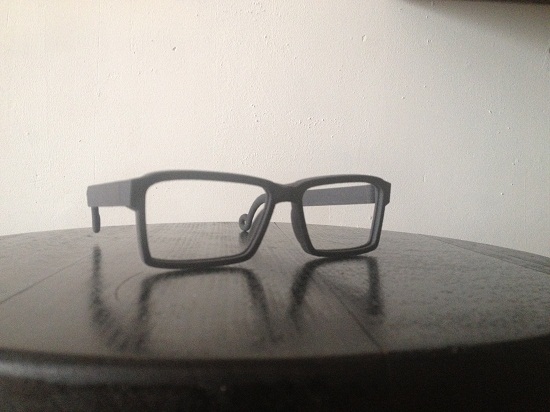 Step 5: The 3D Printed Result
"My prototype arrived exactly two weeks after I placed my order. It looked super and fitted exactly: now I'm ready to go a step further and design a model in three pieces to wear every day."
Do you want to 3D print a product yourself? Simply upload your 3D file here – you will have the chance to choose between more than 100 different 3D printing materials and finishes and you will see the price of your 3D print instantly!