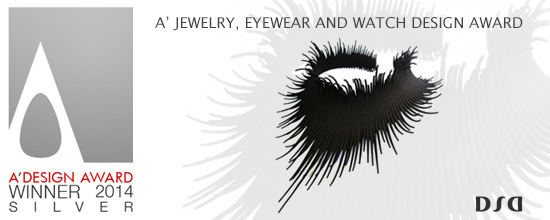 Dario Scapitta's 3D Printed Neck Piece "Extravaganza" Won the Design Silver Award
by Yui Takahara | April 17, 2014
We're excited to announce that Dario Scapitta's 3D printed neck piece "Extravaganza" won the A Design Silver Award 2014, under the "Jewelry, Eyewear and Watch Design" category. Congratulations, Dario, from everyone here at i.materialise!
This chic avant-garde artwork was inspired by ruffs and neck decorations from the 16th and 17th century. Dario's sketch was made into a virtual 3D model, then printed in our flexible rubber-like material. Dario, who beautifully combines cutting-edge 3D Printing technology with his elegant creativity, said in an interview, "Technology has the main role in this design."
Dario grew up in a family full of jewelry designers in Valenza, Italy. After moving to the Netherlands in 2010,  he began exploring in the world of 3D printed fashion and turned to  i.materialise to print his designs.
3D Printing technology turned out to be a great tool to materialise potential of the jewelry design gene in Dario. His necklace inspired by simple and essential form of stone won the 2nd place in our 3D Printed Jewelry Contest. He has also produced a hat that was chosen as one of the 20 best designs for our "Hats Off to 3D Printing" Challenge.
Want to try out Dario's unique accessory and be an avant-garde fashionista? Then check out the stone necklace available on the online shop!